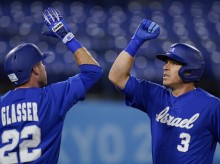 Israel's Ian Kinsler (3) celebrates with Mitchell Glasser after hitting a home run in the third inning of a baseball game against South Korea at the 2020 Summer Olympics, Thursday, July 29, 2021, in Yokohama, Japan. (AP Photo/Sue Ogrocki)
America's national sport has tried unsuccessfully to make inroads in the Holy Land for decades. Perhaps a successful showing in Tokyo will finally win the game some fans at home. Op-ed published in The Times of Israel
On paper, it should go down as one of the greatest feats in Israeli sports history: a high-profile team that not only qualified for the Olympic Games but has a theoretical 50% chance of winning a medal.
For a country like Israel that is starved for sporting success and stops its collective breath for far more modest athletic achievements, such a story should be dominating the national conversation.
Here's the issue: the team sport in question is baseball.
America's national sport has been trying to make inroads in the Holy Land for decades, with little success. Despite valiant efforts from a dedicated American immigrant community of baseball enthusiasts, the game simply has never caught on with grizzled sabras who generally dismiss it as slow, arcane and boring.
In a land where soccer and basketball reign supreme, and where individual Olympic success has come exclusively in martial arts and water sports, baseball feels like an alien species. It doesn't help that nearly the entire 24-member team in Tokyo is comprised of American Jews who don't speak Hebrew, have little connection to the country and only secured their citizenship so they could compete.
I can relate to the frustration. For more than 30 years I've tried my best to be a local advocate for the sport, as a player, coach, manager, umpire, journalist and broadcaster.
In 2007, I even tried out for, and later broadcast, the lone season of the Israel Baseball League, a semi-professional venture that was comprised almost entirely of foreign players and quickly folded. Every step of the way I encountered the same attitude from my fellow Israelis: indifference at best, ridicule at worst.
"You call that a sport?" I'd so often be asked. "Most of the time you're just standing around."
I love baseball and I've tried to share the love. But Israel wasn't having it. The Jewish State was neither Japan nor Cuba – it just couldn't 'get' this distinctly American pastime. In fact, when it came to imported American sports, the rough-and-tumble Israelis seemed to take more of a liking to the camaraderie, military-like strategy and hard-hitting nature of American football.
In many ways, the sports schism reflected a larger gap between Israel and the American-Jewish Diaspora, where baseball has historically been one of the most popular sports. In fact, there has consistently been a Jewish presence in the major leagues that had elicited much pride, dating from Hall of Famers Hank Greenberg and Sandy Koufax to modern day All-Stars like Alex Bregman and Joc Pederson.
If anything can finally crack the stiff Israeli resistance to baseball, it could be a successful showing in Tokyo. Just like Yael Arad's breakthrough medal at the 1992 games turned Judo into Israel's national sport, and the surprising recent medal of Avishag Semberg also raised hopes of sparking increased interest in taekwondo, the Israeli baseball community is betting big that the Olympic Games could be the coming out party for baseball too.
It's going to be a tough sell. Thursday's Hebrew-language Sport 5 broadcast of the opening game against defending Olympic champion South Korea was a good indication of baseball's murky standing in Israel.
After the national anthem was played, the broadcast abruptly cut away to air an interview with another vanquished Israeli judo competitor. It then moved on to a judo match that didn't even feature an Israeli. By the time it came back to the baseball game, we had missed out on the Israeli team's first at-bats and an unexpected pitching change.
The rest of the frequently interrupted TV coverage resembled more of a tutorial than a broadcast, with the game treated as a curiosity and commentators struggling to convey concepts like wild pitches, double plays and sacrifice bunts.
If there is any inspiration to be drawn for the sport itself in Israel it could come from the obstacles Team Israel has overcome in its journey from baseball backwater (with still just a single regulation field at home) to legitimate international contender.
Thanks to a creative outreach campaign to draft Jewish-American pros, Israel's national team has soared to unthinkable heights.
It started when Israel fielded a qualifying team for the 2013 World Baseball Classic that was skippered by future Detroit Tigers manager Brad Ausmus and included former all-star Shawn Green. In 2017, Israel made the showcase tournament, upsetting South Korea and Taiwan en route to a surprising 6th-place finish. Even that achievement elicited only a shrug at home.
Team Israel then knocked off the top three European teams before routing South Africa 11-1 in September 2019 to earn the Europe/Africa Olympic berth and become the first team to qualify for the Olympics after host Japan.
And in Thursday's thrilling opening game, it nearly pulled off another stunning upset, losing in extra innings only after a South Korean hitter was hit by a pitch with the bases loaded. It capped an action-filled game in which four-time All-Star Ian Kinsler put Israel ahead in the third inning with a two-run homer and former Boston Red Sox catcher Ryan Lavarnway added two more home runs.
Along the way, Dean Kremer was drafted and became the first Israeli to play in the major leagues, offering inspiration to the 1,000 or so kids who play in local leagues. Israel's tireless baseball community desperately hopes the exposure of the Olympic team will provide that extra boost that has thus far proved so elusive.
I doubt even this will do the trick, but here's hoping. After all, one of the beautiful things about baseball is its unpredictability, the sense that anything is possible. The best hitters in the game succeed only a third of the time and the worst teams in the Major Leagues still win at least a third of their games. If this Israeli Olympic team can overcome powerhouses like the United States and Japan, maybe it can even win over some Israeli fans too.