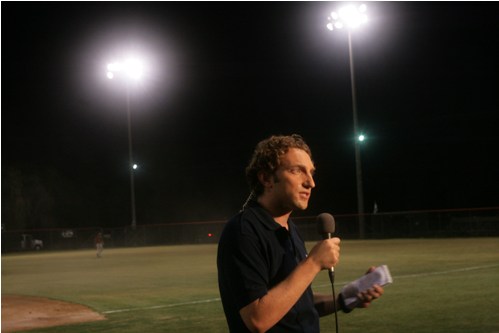 PETAH TIKVA, Israel (AP) _ My first childhood dream was to be a major league baseball player. My second was to be a broadcast journalist.
It's always good to have a backup plan, and growing up in Israel, with its zero tradition of baseball, I needed one. After all, one's chances of becoming a shortstop in the Middle East were about as realistic as becoming a snowplow man.
The height of my baseball career in Israel came in the sixth grade, when I pitched a six-inning, two-hit shutout. It was the only game my little league team (coached by my mom) ever played. There were simply no other teams in our region to play against.
I wrote a spirited essay for my English class about that performance, and realized at the ripe age of 12 that my prospects in Israel were probably brighter as a journalist than as a ball player.
Nearly 20 years later, the dreams of many like me here came true when the Israel Baseball League kicked off its inaugural season.
THEY BUILT IT!
The country's first ever pro hardball league featured 120 players from nine countries, split into six teams for a 45-game season over two months.
The brainchild of Boston businessman Larry Baras, it had former U.S. Ambassador to Israel and Egypt Dan Kurtzer as its commissioner, former Boston Red Sox G.M. Dan Duquette as its director of player development and a slew of U.S. college stars and Triple-A standouts roaming the fields.
And then there was me, who somehow stumbled into the broadcast booth and became the "Voice of Israel Baseball."
Seated in a makeshift studio behind home plate, watching the Netanya Tigers duel with the Modiin Miracle, I could hardly believe my eyes, let alone the words coming out of my mouth when Dominican standout Adalberto Paulino hammered a towering shot to left off of Leon Feingold, a 6-6, 240-pound mountain of a pitcher.
"This one is back, way back, and its GONE. (Pause) A home run to left by Paulino, yalla bye, this one is outta here and there's nothing left but a vapor trail," I hollered into a headset, in my best Bob Uecker voice. "Paulino got all of that Feingold offering and sent that Dan Kurtzer-autographed baseball hurtling halfway to Jerusalem. (Pause) I don't think that thing has landed yet."
WHEN A PLAN COMES TOGETHER
This was definitely Plan B. When the league held its first tryouts back in November, I was there to chase a lifelong fantasy.
Miraculously, I made the first cut but I never got a call back after that. A few days later I injured my shoulder in a pickup game and my baseball dreams seemed like a distant memory.
But when the league finally got started in June, my backup plan suddenly became a reality. I heard through the grapevine that the league was looking for someone to broadcast its games to 2.4 million homes in the United States via Comcast West TV. I mentioned I had a broadcast background and went for another tryout.
This time I made it.
In an attempt to convert a skeptical Israeli audience, the league drafted Israel's Channel 5 sports network to produce a weekly live broadcast from the Yarkon Sports Complex in the Baptist Village in Petah Tikva in central Israel. "Sunday Night Baseball in Israel" was accompanied by snazzy promos and sessions of baseball 101 for Israel's neophyte fans.
My broadcast complemented the Hebrew one. I voiced over the footage from the field (checking my monitor for instant replays) and was granted access to a camera crew before and after each game. I called the action seated in an improvised booth built into the bleacher seats behind home plate, alongside a guest colorman, peppering the broadcast with quirky stats, baseball anecdotes and general information about Israel.
I never imagined I would be witnessing professional baseball in Israel, let alone flinging phrases like "Holy Cow" or "How about that?" into a microphone.
SALAD DAYS
The opening game on June 24 drew more than 3,000 fans. Most of the following games were lucky to have a tenth of that figure. But my excitement could not be tempered. I was like a kid in a candy store, showing off my knowledge of Jewish baseball history, cracking one-liners and trading jibes with an assortment of ballplayers.
I quickly learned the rules of the broadcast game and mastered the "keep talking even when you have nothing to say" technique (i.e. "It sure is a beautiful day here in Israel," or "The fans sure seem to be having fun out there").
The producers encouraged me to keep taking risks. I developed a small but loyal fan base, comprised mostly of the players' mothers watching back in the states. But since few people were coming to the games, it made it easy to imagine that no one was listening either, liberating me to experiment on-air and get the rookie mistakes out of my system.
Oh, I made my fair share of errors. During my first broadcast, I spoke about a Petah Tikva Pioneer player whose family — father, mother and grandparents — was on hand to cheer him on, only to find out later that his father had actually died.
On another occasion, I inexplicably repeatedly referred to a Bet Shemesh Blue Sox pitcher named "Perlman" as "Proctor." Keeping track of the league's players was also a bit of a challenge in the early going, so there were a fair share of "great catch by that guy out in left," and "Number 24 sure got hosed on that one."
But soon enough I found my groove, even cultivating my own home run call and signoff ("Until next week, Shalom from Petah Tikva"). I hosted a bunch of guests in my booth (including Kurtzer and Modiin manager, and former major leaguer, Art Shamsky) and had a hilarious postgame interview with a Dominican hurler who couldn't speak a lick of English.
REQUIEM
Like any dream, though, this too was short lived. Following the All-Star Game broadcast on July 29, Channel 5 pulled the plug due to a financial dispute with the league. Negotiations continued throughout the season, to no avail. I was forced to watch the Aug. 19 final from the stands, my mike silenced.
Now, I'm faced with a long winter to shore up my baseball skills and practice my playcalling in the shower. After all, there's always next year.