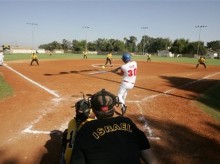 (AP Photo/Baz Ratner)
PETAH TIKVA, Israel (AP)_Dan Duquette, the former general manager of the Boston Red Sox, took one look at me, nodded, and with a somewhat puzzled look said: "Try not to hurt yourself out there, OK?"
Talk about a reality check. Who was I kidding? I'm 30 years old, mildly out of shape, asthmatic, and I'm trying to become a professional ballplayer?
The field, Israel's only full-sized baseball diamond, was packed with dozens of strapping-looking young men, most of them at least 10 years my junior, in full baseball uniform, casually snapping pitches and chewing gum. One, wearing a New York Yankees jersey, bore a striking resemblance to Derek Jeter.
And these were just the local hopefuls for the Israel Baseball League, a budding league that had already signed a 6'6″ pitcher with a 93 mph fastball and a speedy shortstop from San Diego. The best-case scenario for these inaugural Israeli tryouts was to produce a few local bench warmers to serve as window-dressing for the imported pros.
INSPIRATION
I was clearly out of my element and in need of some genuine inspiration. So I resorted to an old Jedi mind trick to boost my confidence: deception.
On the face of it, I mused, I had a decent pedigree for a nation with no tradition of baseball. I was a standout little league pitcher, a certified baseball coach and a solid shortstop who had played competitive softball in the United States, Canada and Israel. I could handle these chumps.
But the past few years had been mostly confined to beer-league play and my baseball stock seemed to be dropping steadily as I became more consumed with my day job. Though ironically, it was a newspaper that inspired me to take on this insane mission.
I've seen my name hundreds, if not thousands, of times in print, with bylines stretching across the globe. In my eyes, though, they all paled in comparison to a snippet that appeared earlier this year in the corner of the back pages of the Jerusalem Post sports section, about the local slow-pitch softball league.
"Aron Heller belted a grand slam over the fence in deep center field to cap an eight-run first inning," it said. "Heller also made the catch of the day, running full speed from short into left."
That was it — all the inspiration I'd ever need. Inside this skeptical, jaded man still beats the heart of a boy who always wanted to be a major leaguer. I may be over the hill, I realized, but the dream is still alive. And if I'm going down, I'm going down swinging.
TAKING THE FIELD

The first drill was the 60-yard dash. I got a great jump and blazed to the line, clocking a 7.25. "Nice run," one of the coaches grunted. Oh my God! No one has said "nice run" to me in the past 20 years. I was psyched and ready for the infield ground-ball drill, the strongest element of my game.
The first grounder came right at me. I fielded it cleanly and fired a strike to first base, on the money. The second was to my left. I scooped it, set and let loose a laser.
That's when I lost my Jedi master mojo. The throw was off, clanking against the chain fence behind first.
"Regroup, regroup," I mouthed. But it was not to be.
I lunged at a grounder to my right and bobbled the ball, which fell to the ground. "Stick with it," one of Duquette's assistants yelled. I did, barehanding it and putting everything I had into a rocket to first.
I handled the fourth and final grounder routinely, but left feeling I had tanked the crucial drill and was on my way home for an early shower. I desperately wanted a chance to redeem myself, but Duquette, the league's director of player development, announced that there was not enough time for everyone to hit and he decided to make the first round of cuts.
My heart sank. I was immediately 12 again, praying that I would make the cut and convinced, despite all evidence, that not making it would be the greatest tragedy of my life.
THE DREADED CUT

Holding a stack of papers, Duquette started reading the names of those fortunate enough to let their fantasy still flourish. I shifted uncomfortably from side to side as the pages grew thinner, swallowing hard.
With only a few pages left on his clipboard, Duquette finally said "Aron Heller."
I nearly lost it.
A friend, even older than I, looked like he was about to cry and we embraced as if we had just won the World Series, oblivious to everything around us. A major league executive, who used to run my favorite ball team, saw me in action and DIDN'T cut me. It was an exultant feeling, one beyond words, which men who have outgrown their childhood dreams rarely get to experience.
I was so excited I forgot to put on a helmet when I was called to face the pitching machine, an intimidating contraption I hadn't seen in ages.
'GO DOWN SWINGING'

"Whoosh." The first pitch whizzed by me before I had a chance to even get a read on it. I took a mighty swing at the second 60-plus mph offering, but got a hold of nothing but air. I was running out of time and knew I had turn on the next pitch earlier.
"Remember, go down swinging!" I said to myself.
I hardly remember what happened next, but my bat connected squarely on the ball, sending it towering in the air toward left-center field. From the corner of my eye I think I saw Duquette admiring its path. It was perhaps the best cut of the day, a beautiful thing to see and one of the happiest moments of my adult life.
The very next pitch I fouled directly off my left knee, shooting a streak of pain down my leg.
I hobbled through the rest of the tryout, playing a decent third base and getting on base and scoring in the simulated game that followed.
The second round of cuts has yet to be announced. So for the time being, I can relish in still saying I am in the running to become a professional baseball player.
Back in my natural habitat, in front of a computer screen, with an aching body and a bum knee, I realize I have about as much a chance of making this league as hitting a Roger Clemens heater. But I survived the tryout and can hold my head up high.
I went out there, gave it 110 percent and had a great time. And I didn't hurt myself — too badly.