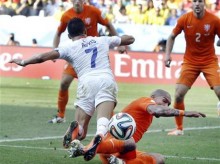 Netherlands' Nigel de Jong stops Chile's Alexis Sanchez's attack during the group B World Cup soccer match between the Netherlands and Chile. (AP Photo/Kirsty Wigglesworth)
SAO PAULO (AP) — Without star midfielder Arturo Vidal, Chile looked nothing like the powerhouse that knocked defending champion Spain out of the World Cup.
One of the most attacking and attractive teams at the tournament thus far, Chile started out with its trademark style but faded quickly as the Dutch established their dominance and earned a 2-0 victory Monday.
Vidal, the Juventus standout, underwent knee surgery last month and hurt his right Achilles tendon while in Brazil. He had started the team's first two games, both impressive wins over Australia and Spain, and insisted he was fit to play again.
But with Chile having already qualified for the next round, coach Jorge Sampaoli chose to keep his best player on the bench.
Without him, Chile mustered only seven shots in the game — a single one on target — and gave little support to Barcelona's Alexis Sanchez, who often looked like he was struggling alone out on the pitch. A hopeless long range-shot by Sanchez in the 56th minute that sailed high only highlighted his frustrations.
Sampaoli did not address the decision in his post-game comments.
"We had the idea of winning. That is why we invested our all, the best we have for this game and we couldn't find the solution to a team that only defended itself and only aspired to have long strikes," he said. "Our intention was to bring down the hard wall of the Dutch defense."
Stand-in Dutch defender Dirk Kuyt said the Dutch strategy was successful.
"Chile wanted to attack us and they didn't create many chances," he said.
With the loss, Chile finished second in Group B and will now play the winner of Group A — likely host Brazil.
Chile has a long, painful history with its fellow South American nation.
Four years ago it was eliminated by Brazil in the round of 16. On the last two occasions that Chile have reached the quarter-finals of a World Cup, in 1998 and 2002, they were also eliminated by Brazil.
"We will play against whoever comes," Sampaoli said. "It can be Brazil, Mexico, Croatia; whoever comes it will be very intense."
Regardless of the opponent, Vidal said there was no way he was going to miss the next game.
"You suffer more on the bench than on the pitch," he said. "The first two matches were very though, and the knee was pleading for a little respite. That's what the coach considered, and besides I had the yellow card. This rest will help me a lot".