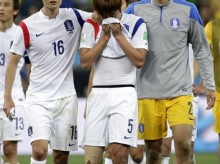 South Korea's Kim Young-gwon, center, is comforted by his teammates Ki Sung-yueng, left, and goalkeeper Lee Bum-young, right, after the group H World Cup soccer match between South Korea and Belgium. (AP Photo/Felipe Dana)
SAO PAULO (AP) — With South Korea's 1-0 loss to Belgium Thursday, the last Asian team bowed out of the World Cup — leaving the continent without any representatives in the knockout stages.
The result caps a dismal campaign for South Korea, Japan, Australia and Iran, the continent's four representatives in Brazil.
The stats columns certainly didn't provide encouraging reading: Games Played — 12; Wins — 0; Draws — 3; Losses — 9.
South Korea has been to nine World Cups, more than any other Asian team, and is regarded as one of the two flagship representatives of the Far East. But it has regressed considerably since reaching the semifinals when it co-hosted the 2002 tournament with Japan.
The Japanese also reached the second round in '02, Australia reached the second round in 2006 — after qualifying through Oceania and before switching to the Asian confederation — and Japan and South Korea both advanced to the knockout rounds in 2010.
South Korea coach Hong Myung-bo, who was captain in 2002 when the team made its run to the semifinals, thinks Asian football is going through a "transition period" with individual players improving drastically but national teams not yet enjoying the results.
"I think that each team played in different styles but overall there were a lot of deficiencies in the Asian teams," he said through a translator. "We weren't up to the standard … we weren't good enough."
Aside from the remarkable South Korean campaign a dozen years ago, Asian teams have not experienced much success on the world stage.
A relatively small number of Asian players are in the top European leagues and the sport didn't establish mass appeal across the continent until much later than Europe, South America and Africa.
The lack of high-level competition between them has also contributed to the teams' FIFA rankings having steadily dropped in the last year.
Asia's top ranked team ahead of the tournament was Iran, at No. 43 — hardly impressive in a tournament comprising 32 teams.
Australia was the lowest-ranked team in the tournament, at No. 62.
While some of the performances were encouraging, the stark reality is not one of the Asian teams could manage a win. Japan and South Korea entered the tournament as strong contenders to progress from their groups, and to at least repeat their runs to the second round from 2010, but didn't produce the quality games needed at the highest level.
By contrast, three of the four qualifiers from North and Central America advanced to the second stage and, for the first time, two African teams reached the knockout stages.
Australia had some good moments against some stronger opponents but ultimately lost all three games to Chile, the Netherlands and Spain. Iran had a 0-0 draw with Nigeria and managed to hold and occasionally threaten Argentina for 90 minutes, only to lose 1-0 to an injury-time goal by Lionel Messi. The Iranians, heavily criticized for a defensive system, then dropped their last game 3-1 to Bosnia-Herzegovina.
Japan lost 2-1 to the Ivory Coast, after taking a first-half lead, and then was held 0-0 by 10-man Greece before being destroyed 4-1 by Columbia. Japan and Iran are already looking for new coaches.
South Korea was lucky to get its single point as well, thanks to Russian goalkeeper Igor Akinfeev's blunder in the opener when he let a routine save from a shot of about 30 yards slip through his grasp. South Korea couldn't hold the lead, though, and finished with a 1-1 draw. Next they were soundly beaten by Algeria 4-2 before dropping the finale to Belgium.
Its lone bright spot Thursday was the play of Sunderland midfielder Ki Sung-yeung, who had several quality shots including one long-distance drive that forced Belgian goalkeeper Thibaut Courtois to make a great diving save.
After the game he said his nation, and continent, still had a lot of work to do to catch up with the established World Cup heavyweights from Europe and South America.
"We need to try more to be a better team and we have to be realistic. We are not better than the Europeans or South America or whatever," he said. "We need to improve ourselves more and this shows that we are not better than them."
Asian Football Confederation President Shaikh Salman bin Ebrahim Al Khalifa said the Asian teams were young on average "so they can only get better."
"Asia must acknowledge its shortcomings, but at the same time we must believe in our own ability," he said in a statement. "We must bring our game to the next level and there is no time to wait.
"Football will not slow down and nor will the rest of the world. Our brand new initiatives are planned with progress in mind."