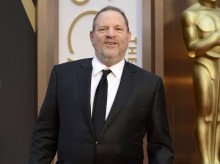 Harvey Weinstein arrives at the Oscars in Los Angeles. (Photo by Jordan Strauss/Invision/AP)
The sexual harassment and assault allegations against Harvey Weinstein that rocked Hollywood and sparked a flurry of allegations in other American industries, as well as the political arena, are reaching far beyond U.S. borders. Emboldened by the women, and men, who have spoken up, the "Weinstein Effect" is rippling across the globe.
Nearly half of the "#metoo" mentions since the movement has been launched have come from outside the U.S., and decades-old accusations have led to the downfall of some of those countries' most powerful men. Here's a look at where the fallout — and the falls — have reverberated most strongly, from the United Kingdom and Israel to India and Peru.
UNITED KINGDOM
In the immediate aftermath of the Harvey Weinstein revelations, the British government led by Prime Minister Theresa May has been rocked by a series of harassment allegations that have led to one high-level resignation — that of Defense Secretary Michael Fallon— and threatened the position of First Secretary of State Damian Green, a vital ally of the prime minister.
The accusations have come from parliamentary researchers, staff and journalists. Some have said the political parties involved failed to take action and actively discouraged victims from going to police. Claims range from unwanted touching — a hand placed on a journalist's knee, for example — to allegations of rape. At least one case involving a legislator has been referred to police for possible prosecution, with the details kept private.
Green, the prime minister's chief aide and a de facto deputy prime minister, was accused by a young Conservative Party activist of inappropriate touching and text messages and a former senior policeman says "extreme" pornography was found on a computer in Green's office in 2008 — which Green denies and calls a political smear.
The scandal has spread beyond Cabinet ranks to snare a number of members of Parliament and also politicians in Scotland and in Wales, where Labour Party legislator Carl Sargeant is believed to have taken his own life after harassment allegations cost him his government post. His grieving family said he was never even told the nature of the allegations against him.
The prime minister and the leaders of the main opposition parties have agreed to set up a new grievance procedure for people working in Parliament to make it easier to report sexual harassment.
London was also for many years a base for actor Kevin Spacey, who served as artistic director of the Old Vic theater from 2004 until 2015. The allegations of sexual harassment that have surfaced in recent weeks, including some during his tenure at the Old Vic, have cast a pall over his tenure.
ISRAEL
The floodgates opened in Israel earlier this month when, during a TV panel discussion about the harassment in Hollywood, Channel 10 journalist Oshrat Kotler revealed that Israeli media mogul and International Olympic Committee member Alex Gilady had made an "indecent" proposal to her during a job interview 25 years ago. Haaretz columnist Neri Livneh then added that Gilady exposed himself to her during a 1999 business meeting at his home. Two other women later came forward saying Gilady had raped them.
He denied the rape accusations, said he doesn't recall the Kotler incident but said Livneh's claim was "mainly correct" and apologized. As a result, the 74-year-old Gilady, a former sports executive at NBC, stepped down as president of the local Keshet broadcasting company he founded. The IOC also said it is looking into the allegations.
Then veteran Israeli media personality Gabi Gazit addressed the allegations dismissively on his daily radio show, prompting Dana Weiss — another prominent local TV journalist — to accuse him of just such behavior. Weiss said Gazit had randomly kissed her on the mouth during chance encounters in TV studios. Gazit denied the accusations but three other woman have come forward with similar stories and he was forced to take leave from his show.
"Weinstein ripped off a band aid that covered the wounds and scars that so many women still carry in industries that are still predominantly male-led, and now that it is off I think it is time to examine and heal," Weiss told The Associated Press. "This is not an act of revenge, but rather an opportunity for social reform."
Other women have also made claims against Haim Yavin, Israel's most famous anchor, who is now retired. A former journalist said he forcefully laid upon her once and a makeup artist said he touched her inappropriately. Yavin has not responded.
Weiss called it an "uncomfortable but healthy conversation" to be having in a society that understands that the rules of the game have changed.
It's not the first time Israel has confronted sexual assault of the powerful toward women. A former president, Moshe Katsav, was sentenced and jailed for rape.
INDIA
In India, there have yet to be dramatic repercussions.
Vrinda Grover, a New Delhi lawyer and women's rights activist, said powerful men for centuries have assumed sexual entitlement and that is going to take years to change. She said there has been increased conversation about the problem in recent years but that sexual harassment continues and authorities, including the police, often deliberately impede sexual assault investigations.
Grover said since the Weinstein allegations there has been a pattern of women in other countries feeling empowered to speak up because society is now condemning such behavior.
"But I don't see that happening in India, and that is worrying," she said. "It's a country in which rape victims don't get justice and society is often an accomplice."
After the Weinstein allegations, a crowd-sourced list of more than 60 Indian academics accused of harassment appeared online but was later taken down. Grover was among several feminists who argued the list was unfair because it didn't give adequate context or explanation for the anonymous allegations. Some students argued that Grover and other feminists were protecting the status quo.
While the #MeToo hashtag did trend in India after the Weinstein allegations, experts say it tends to be a small, educated minority who drive such trends in the vast and populous nation.
ITALY
In Italy, the Weinstein scandal has been front-page news ever since it broke because Italian actress Asia Argento was one of the main, named accusers in an expose by The New Yorker.
Her accusation of rape generated a hostile backlash at home, with Italian newspaper editorials and commentary accusing her of creating trouble.
But the scandal has taken on new life with accusations by 10 women that an Italian television and film director, Fausto Brizzi, molested them. An investigative TV show reported initial accusations without naming the director last month, but in a follow-up report Sunday named Brizzi. He has strenuously denied having non-consensual sex.
On Tuesday, the Italian unit of Warner Bros. suspended all future new work with Brizzi, but confirmed the Dec. 14 opening in Italy of his latest film, "Poor But Rich." Warner Bros. said it took seriously all accusations of harassment and was committed to making its workplaces safe, but said it wouldn't be fair to negate the work of hundreds of people by canceling the release.
The Weinstein scandal has also drawn attention to Italian law, which requires that a victim of sexual assault report the crime within six months of the act. Several of the women who said they were assaulted by Brizzi said they were too afraid to come forward with a complaint, fearing professional retaliation or defamation claims by the director. Italian law allows for both criminal and civil defamation.
FRANCE
France is reeling from Weinstein and other revelations, but conflicted about how to respond.
French women are denouncing alleged abusers with unprecedented openness, on social networks and in police stations around the country, where reports of rape, harassment and other abuse are on the rise. An online campaign under the hashtag #balancetonporc ("squeal on your pig") kicked off in French even before the "#metoo" campaign began and went viral globally.
But no powerful figures in France have lost their jobs or reputations and there's been no nationwide clamor for heads to roll. French critics have warned against an American-style backlash that could demonize romance and catch innocent men in the net.
Roman Polanski, who fled the U.S. in the 1970s after pleading guilty to unlawful sex with a 13-year-old, lives freely in France and was feted at a Paris film retrospective a few weeks after the Weinstein revelations emerged. Protesters gathered outside for the opening, but the retrospective continued.
Dominique Strauss-Kahn, the former International Monetary Fund chief accused by a New York hotel maid and others of sexual aggression, was given French airtime recently to discuss his political opinions, but hasn't said anything about harassment. His New York lawyer is now defending Weinstein.
French President Emmanuel Macron has made his position clear: He urged women to speak out against sexual assault, and moved quickly to strip Weinstein of the Legion of Honor award he won for producing the Oscar-winning French film "The Artist."
But sexist mentalities run deep and many are confused about the line between flirtation and harassment. The author of a recent French essay on seduction had to spell it out in an interview with magazine Madame Figaro over the weekend defending his work: "A harasser is a predator, not a seducer."
SOUTH AFRICA
In South Africa, former member of parliament Jennifer Ferguson came forward to allege she was raped in 1993 by Danny Jordaan, president of the country's soccer association. Jordaan denied the accusation.
Ferguson, an anti-apartheid folk singer who became a representative for the ruling African National Congress party in parliament, said in a blog posting and radio interview that Jordaan raped her in a hotel room after she gave a concert in Port Elizabeth on the country's south coast. Ferguson, who now lives in Sweden, hasn't indicated if she intends to take legal action. She said she had been carrying the secret burden of the incident for more than 20 years but was emboldened to go public as a result of the Weinstein revelations and the "#metoo" campaign.
CANADA
The founder of Montreal's renowned "Just for Laughs" comedy festival recently stepped down as president of the organization following allegations from at least nine women he either sexually harassed or sexually assaulted them. Gilbert Rozon, 63, announced he would sell all his shares amid the allegations. Julie Snyder, one of the biggest names in Quebec's entertainment industry, has filed a sexual assault complaint against Rozon.
Rozon did not elaborate when he resigned as president of the popular comedy festival, vice president of the Montreal Chamber of Commerce, and as head of the committee behind Montreal's 375th-anniversary celebrations. "I am stepping aside out of respect for the employees and families who work for these organizations as well as all our partners," he wrote. Rozon ended his statement as follows: "To all those I have offended during my life, I am sincerely sorry."
PERU
In Peru, this year's beauty pageant to select the country's candidate for the Miss Universe competition was a surprise venue for denouncing gender-based violence against women.
Instead of citing their body measurements, as is customary, each of the 23 contestants recounted frightening statistics about the mistreatment of women in the South American nation.
"I'm Camila Canicoba and I represent the city of Lima. My measurements are 2,002 cases of femicides reported in the last 9 years in my country," said one participant as images of abused women projected on a screen behind the catwalk.
In Latin America and the Caribbean, more than 2,000 women were killed last year as part of sex-based hate crimes, according to the United Nations.