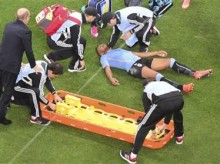 Uruguay's Alvaro Pereira is put on a stretcher during the group D World Cup soccer match between Uruguay and England. (AP Photo/Francois Xavier Marit)
SAO PAULO (AP) — Even after taking a hard blow to the head that left him motionless on the pitch, Uruguay midfielder Alvaro Pereira insisted on staying in the game Thursday for his team's World Cup game against England.
Pereira collided with England's Raheem Sterling in the 61st minute of Uruguay's 2-1 victory Thursday. As he slid for a ball just outside Uruguay's penalty area, Pereira was inadvertently struck on the temple by Sterling's left knee.
"After the hit, I only recall that I was unconscious for an instant," he said. "It was like the lights went out a little bit."
Pereira lay motionless on the ground for a few moments as teammates surrounded him and then signaled for a stretcher. Captain Diego Godin worriedly rubbed his chest.
The team's medical staff came onto the field to aid him and after Pereira wobbled to the sideline, Uruguay team physician Dr. Alberto Pan signaled with his hands for a substitution.
Pereira, who seemed to be having trouble maintaining his balance, argued and angrily wagged a finger on his left hand to signal he didn't want to be substituted.
Even though he appeared like a punch-drunk boxer, Pereira ultimately was allowed to return to the pitch in the 63rd minute.
"I said sorry a thousand times to the doctor because I was dizzy. It was that moment your adrenaline flowing in your body, maybe without thinking … what I really wanted to do was to help get the result," the 28-year-old Sao Paulo FC player recalled. "What really matters is that everything is OK. Nothing happened. It was just a scare".
Pereira said he was checked after the match by a team doctor and a FIFA physician.
There was no immediate confirmation on whether he sustained a concussion, a subject that is moving up the agenda in the sport.
In the English Premier League, Tottenham came under scrutiny in November for an incident involving goalkeeper Hugo Lloris. Currently with the France squad at the World Cup, Lloris was allowed to play on after he was briefly knocked unconscious during a game after colliding with Everton's Romelu Lukaku, despite medical advice he leave the match.
The issue has also come up in the United States.
New England Revolution forward Taylor Twellman retired from soccer in 2010, two years after sustaining a concussion when he was punched in the face in a collision with Los Angeles goalkeeper Steve Cronin while heading in a shot. Twellman, an ESPN analyst at the World Cup, attended a White House summit on concussions last month led by President Barack Obama.
The NFL and a group of players agreed on a $765 million settlement in a concussion lawsuit last August, a deal rejected by a federal judge in January.