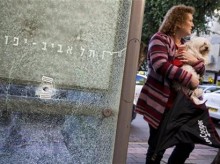 An Israeli woman holds her dog next to a bus station shattered by bullets at the scene of a deadly shooting attack, in Tel Aviv. (AP Photo/Oded Balilty)
TEL AVIV, Israel (AP) — For all its years of strife, Israel has rarely seen anything quite like this: an armed, wanted Arab killer on the loose, spreading fear across the land.
Even the most stoic are keeping their children home from school following the deadly daytime shooting at a popular bar on a busy Tel Aviv street that has become among the most unsettling attacks in a three-month wave of violence.
Israelis are used to quickly resuming their daily routines following attacks because assailants are typically captured or killed. But the frantic search for this gunman, whose attack on Friday afternoon was caught on security cameras, has sent jitters across this seaside city.
The unusual escape of the accused gunman, Nashat Milhem, an Arab from northern Israel who is considered to be armed and dangerous, is one of many elements of a case that has left Israelis on edge.
"Everything about this is characterized by uncertainty," said Yossi Melman, a prominent security analyst, adding that the level of planning and sophistication were closer in style to those of Islamic State attackers in Brussels, Paris and California.
"I'm not familiar with an event like this, with an unclear nature that has lasted this long," he said.
The shooting on Tel Aviv's busy Dizengoff Street, which killed two Israeli men and wounded six other people, was recorded on security cameras at a health food store next door.
In the footage, a man with short dark hair, glasses and a black bag over his shoulder is seen scooping up nuts from the shop's bulk food section, putting them in a plastic bag, then emptying them back. He then walks to the store entrance, places his backpack on a shopping cart and takes a gun out of it before stepping outside and opening fire into the bar. He then runs away.
Police say that after tossing his cellphone, Milhem hailed a cab that took him to northern Tel Aviv, where he killed the driver and escaped in the taxi before abandoning it and going off the grid.
Authorities got their first lead when Milhem's father, Mohammed, recognized his son from the closed circuit footage aired on TV. Milhem apparently obtained the licensed semi-automatic weapon he used by stealing it from his father, a security guard. The father condemned the killing and called on his son to turn himself in. Residents of their Arab town, Arara, also quickly denounced the attack.
The brazen shooting comes amid more than three months of almost daily Palestinian attacks against Israeli civilians and soldiers. On the Israeli side, 21 people have died, mostly in stabbings and car-ramming attacks. At least 130 Palestinians have been killed by Israeli fire, 90 of them identified by Israel as assailants.
Israel has accused Palestinian leaders and social media sites of inciting the violence. Palestinians say the attacks are the result of frustration over five decades of Israeli military occupation.
Whereas most attackers have been Palestinians from the West Bank or east Jerusalem, Milhem is one of just a handful of Arab citizens of Israel accused of such violence. And, he comes from a family that was well integrated into Israeli society.
Police say they found a Quran in his bag, hinting at Islamic inspiration, though family members say he was emotionally unstable and traumatized after a cousin was shot dead in a 2006 police arrest raid. At the time, police said they were searching for weapons and claimed the shooting was in self-defense.
Milhem served time in an Israeli prison after being convicted of attacking a soldier and trying to steal his weapon. But he was also described by residents of the upscale Tel Aviv neighborhood where he worked as a grocery store delivery man as being so trusted that customers gave him their house keys to make deliveries when they were out.
"I knew him like the back of my hand. He ate and drank and worked with us," a local Israeli vegetable salesman who was not identified told Channel 10 TV. "He was a normal guy. … People really liked him. And I liked him too."
The suspect's picture is plastered across newspapers and television screens, and police say they are on "heightened alert," with stepped-up security in Tel Aviv, as they conduct their investigation.
With the search stretching into its fourth day, Tel Aviv Mayor Ron Huldai implored residents to return to their routines. But the city remained subdued Monday, and attendance at many schools was sparse.
Oren Helman, a resident of Tel Aviv's upscale Ramat Aviv neighborhood, where the search has focused, said he sent his two young daughters to school, but there were few other parents dropping children off. The few who came to school were not allowed to play outside in the playground.
"The parents who send their kids to school are worried. Those who don't are scared," he said.
Helman said the heightened security in the neighborhood helped put him at ease, and he didn't want to cave in to violence or cause panic with his children. But he said there were heated discussions among parents on social media over whether their children were safe. Repeated rumors that the gunman has been seen also added to the unease, he said.
Assaf Zamir, a deputy mayor of Tel Aviv, said some neighborhoods reported only 50 percent school attendance but he expected the numbers to rise.
"From our experience as days go by, the numbers will fill up and everyone will come back to school," he said. "We have always bounced back."