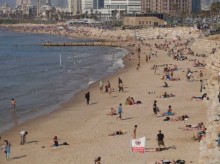 People packing the beach in Tel Aviv (AP Photo/Dan Balilty)
TEL AVIV, Israel (AP) — As a city regularly ranked the most expensive in the Middle East, you are going to have a hard time enjoying Tel Aviv's plethora of hopping clubs, swanky bars and mouthwatering restaurants without making a major dent in your wallet. But if you are ready to pack a lunch, use your legs and lose yourself in the seaside city's urban vibe, you'll find there is still plenty to take in without shelling out a shekel.
THE BEACHES
A dozen municipal beaches stretch out along 14 kilometers (9 miles) of coast, offering ample space for relaxing in the soft sand and dipping in the warm Mediterranean waters. Access is free of charge and some offer extra amenities such as beach volleyball courts and outdoor exercise equipment. You can also observe and partake in Israel's unofficial national sport of matkot, or beach paddleball. The pros come out to the Hilton Beach early Saturday mornings, where the fast-paced sound of balls smacking echoes along the promenade. Later, tourists are also welcome to join public sessions of Israeli folk dancing.
THE BOULEVARDS
Tel Aviv's founders envisioned a "garden city" in which small roads lead into green enclaves nestled inside a bustling urban landscape. Visitors get a sense of this unique design thanks to the wide tree-lined walkways and bike paths that split the six boulevards of the city (Rothschild, Chen, Nordau, Ben-Gurion, Ben-Zion and Yerushalayim).
Along trendy Rothschild, you'll get a glimpse of "The White City" — a collection of some 4,000 boxy, Bauhaus-style buildings that earned Tel Aviv UNESCO recognition as a World Heritage Site. On Ben-Gurion, the home of the boulevard's namesake (and Israel's first prime minister, David Ben-Gurion) can be toured free of charge. As the epicenter of a social protest movement that swept the country against its high cost of living, Tel Aviv has seen street kiosks pop up in recent years that offer discounted coffee during the day and "drink points" at night with affordable alcohol that can (legally) be consumed openly on the streets of Tel Aviv.
THE YARKON PARK
Tel Aviv's primary open space sits along the Yarkon River and offers a perfect place for a jog, a stroll or a picnic. Renting kayaks will cost money, but you can lazily lounge along the riverbank as long as you want or visit a free mini-petting zoo. Those in the mood for more adventure can try scaling the outdoor climbing walls or join a pickup soccer or basketball game.
JAFFA
The biblical Mediterranean port city of Jaffa is part of the joint Tel Aviv-Jaffa municipality. It offers a gateway into the city's origins, with synagogues, churches, mosques and clock towers from the Ottoman era open to visitors. In Old Jaffa, walk down the ancient cobblestone alleyways, pop into pottery stores or just grab a seat to stare at the glistening waters below. A renovated port area with myriad restaurants and coffee shops offers a pleasant place to walk by the sea, where rickety fishermen's ships still dock. Cool off from the blazing heat at the port's new indoor market. Now quite gentrified, there are also chic neighborhoods, galleries and a bohemian flea market to explore.
NEVE TZEDEK
Long before Tel Aviv became a city in 1909, the first Jewish neighborhood to emerge from Jaffa was Neve Tzedek. Hebrew for Oasis of Justice, today it is literally a Soho-like enclave, lined with upscale designer stores and shops and galleries, but it also maintains its original feel of a quaint village. Explore the main Shabazi Street, but also the smaller passageways that house boutiques and trendy coffee shops. The neighborhood's flagship Suzanne Dellal Center offers pricey dance performances, but only a short walk away you can find the renovated Hatachana, Tel Aviv's old railway station where live music can be enjoyed while observing outdoor art exhibits.