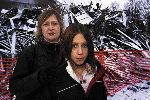 Jacqueline Benoit and her 12-year-old daughter, Devyn, in front of destroyed home (Pat McGrath, The Ottawa Citizen)
OTTAWA – Jacqueline Benoit and her 12-year-old daughter, Devyn, enjoyed an early Christmas celebration at their home in the Glebe last Thursday. To the tune of her favourite music, Devyn opened her presents as she and her mother danced with their three-year-old dog, Jax.In was also a celebration of their one-year anniversary with Jax, a black and white border collie and lab mutt, that they adopted from a pound last Christmas Eve.
Ms. Benoit and her daughter had dressed Jax in a festive outfit, complete with gold bow and Christmas mini-lights.
He looked so cute with all his Christmas gear," recalled Ms. Benoit, a pursed smile on her lips, tears welling up in her eyes. "We didn't know it at the time, but he was ready for doggie heaven."
The following night — about midnight on Christmas Eve — fire destroyed Ms. Benoit's home.
Jax was dead, and Ms. Benoit lost nearly all her possessions.
Yet, despite the tragedy, Ms. Benoit and her daughter say they see a glimmer of hope beyond the flames that engulfed their home and the four other units in their Fifth Avenue duplex. It could be a chance to leave the bad memories behind; a chance for a new beginning.
"It's a start that we really need," said Ms. Benoit. "A lot of stuff happened in that house."
The fire was the latest in a long line of difficulties for Ms. Benoit. A 34-year-old single mother, she has been plagued by trauma and has battled personal demons for more than a decade.
In September, while coping with a bout of depression, Ms. Benoit was laid off from her job at a staffing company. In October, she and her partner of three years separated. In early November, she was hospitalized with manic depression. Devyn, who had moved to Ottawa in August to be with her mother, was put into the care of a foster family.
Ms. Benoit was diagnosed nearly 10 years ago with bipolar disorder and has battled it ever since. Only a month and a half ago, she sank so low she began to write a suicide note.
The fire could have been the last straw. Instead, her hopes have risen from the ashes of her charred home, stronger than ever.
"It showed me what's important and what's not," she said. "I'll carry this the rest of my life."
With the right combination of medications, Ms. Benoit has been well since being released from the hospital Nov. 15. She says losing her possessions is nothing compared to losing her sanity and sobriety.
"A month and a half ago I wanted to die," she said. "I'd rather be where I am today, having lost everything, than being where I was a month and a half ago with all the material things in the world."
Ms. Benoit has had a roller-coaster life.
She was born in Sarnia in 1970 and grew up in the southwestern Ontario city.
In 1990, she moved to Ottawa to pursue a degree at the University of Ottawa. She became pregnant during her first year in school and returned home to give birth to Devyn in 1992; the father had left the relationship by then.
The child's father re-emerged when Devyn was a year old, joining them in Sarnia. Shortly after, Ms. Benoit became pregnant again and the family moved to Sault Ste. Marie. There, in 1994, she gave birth to her second child, a boy named Joshua.
That's when her slide really began. Ms. Benoit suffered from postpartum depression and bouts of dependency on drugs and alcohol. While she believes she has struggled with depression since her teenage years, she was clinically diagnosed with manic depression in 1995, at the age of 25.
She spent the next three years in and out of hospitals.
"I couldn't take care of my children," she said. "I was too sick."
The children remained with their father, a writer who had trouble holding down a steady job. In 1997, Ms. Benoit attempted a return to school. She enrolled at Algoma University College to study social welfare. That lasted a year.
In 1999, she returned to Ottawa, leaving her children behind.
The idea was to educate and establish herself, then bring the childrenover later.
Things in Ottawa started out well. Aside from a "short setback" in 2000 that had her hospitalized for three months, she managed to build a life. She returned to school in pursuit of a BA. She made good friends. She worked for a while at Industry Canada and visited her children regularly in Sault Ste. Marie.
As her life improved, she longed to be reunited with her children. After a few delays, Devyn finally joined her mother in Ottawa in August. Joshua stayed behind with his father.
In the wake of all the recent difficulties, the past month has been among the best for mother and daughter.
Ms. Benoit has accepted her illness and is seeing a psychiatrist. A cocktail of antidepressants, mood stabilizers and tranquilizers has helped to keep her well for more than a month.
"This is the first time I can actually talk to you about manic depression," she admitted. "I was in denial. I was ashamed."
The week leading up to the fire was one of her best ever.
"I got into the Christmas spirit," she said. "It was the first time in three years where I really felt joy and excitement."
She decorated the house, wrote greeting cards and, after a hiatus of several years, started playing her guitar and singing again. "It's the first time it felt like a home," she said.
The fire took her bed, her computer and all of her pictures, but it didn't take away her newfound inner peace.
"I've never in my life felt the presence of God so strongly," she said. "I'm taking it one day at a time, and every day I feel good, I say thank you to God.
"I feel that I'm finally ready to face this thing head on. I will not let it control me anymore."
Devyn, for her part, is thriving in Grade 7 at Immaculata.
Sifting through the rubble a few days after the fire, she spotted several of her books and stuffed animals among the wreckage. "There's my Tweety," Devyn cried.
Shortly after, sipping a cup of hot white chocolate, she gave a cool assessment of the current status of herself and her mother.
"We're at the bottom," she said. "There is nowhere to go but up."
She said she is happy with her foster family in Gloucester, but hopes to be reunited soon with her mother. However, she said, she would only return when the time is right, once her mother is more settled.
"If I go back and she doesn't have a job, she'll go into stress and pressure of having no money and no job and she'll stop taking her medication, and eventually she'll break down, and I don't want that to happen again," Devyn said.
When asked if she is always so mature, the quick-witted adolescent smiled. "You should see me when I'm at school and on sugar," she said.
Nonetheless, she was quick to note that the fire could be "a blessing in disguise."
"It's a time to rebuild," she said.
Ms. Benoit said the fire could well be a sign of better things to come for her and her daughter.
"It could be symbolic of letting go of an old way of life that wasn't working. It could be letting go of an old way of thinking, of denial of my illness, letting go of a value system that didn't work. Those are the major lessons of this whole thing."
She admitted she still hurts over the loss of Jax. He was always by her side, through all the difficulties, through unemployment, through separation, through depression. Jax is "irreplaceable," she said. The mere mention of his name brings a tear to her eye.
And yet, she said, there is no anger in her heart.
"I'm just thankful. Yes, I lost my dog, I am sad about that, but I didn't lose my daughter and nobody else died in the fire.