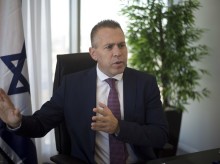 Israeli Public Security Minister Gilad Erdan speaks during an interview with The Associated Press in his office in Bnei Brak (AP Photo/Ariel Schalit)
BNEI BRAK, Israel (AP) — The government minister responsible for combatting international boycott efforts against Israel said Thursday he sees no difference between the targeting of Jewish West Bank settlements and the country as a whole.
Minister of Strategic Affairs Gilad Erdan told The Associated Press that all boycotts against Israel are illegitimate, a stance that could put him at odds with some of Israel's closest allies and the many American Jews who strongly support Israel but object to its policy of settling in the occupied West Bank.
"A boycott is a boycott. If you want Jews not to live there because you think that is preventing peace and you think it belongs to someone else, then in a democratic country you have the tool," he said. "Go convince people and go get a majority in the public that shares your positions."
In a wide-ranging interview, Erdan frequently referred to Israel's democratic character in defending the country's policies. While Israeli settlers are citizens with full voting rights, the more than 2 million Palestinians living in the West Bank, which Israel captured in the 1967 Middle East war, do not have Israeli citizenship or the right to vote in Israeli elections. Most live under the rule of the Palestinian Authority, which has limited autonomy in parts of the territory.
The boycott movement, also called the BDS movement, advocates boycotts, divestment and sanctions against Israel in what supporters say is a nonviolent way to promote the Palestinian cause. It has urged businesses, artists and universities to sever ties with Israel and includes thousands of volunteers around the world.
Israel says the campaign, with its call for a return of Palestinian refugees to lost land inside what is now Israel, goes beyond the West Bank occupation and masks a deeper aim of destroying the entire country.
Erdan's office has spearheaded Israeli efforts to combat the movement. He claimed most of its leading activists are driven by anti-Semitism to ultimately destroy Israel and cloak their campaign under a false premise of peace and human rights advocacy. Israel's measures have included blocking the entrance of activists into Israel and encouraging its allies worldwide, especially in the U.S., to promote anti-BDS legislation.
"My policy is to move from defense to offense … to expose the true face of the boycott activists. They have kidnapped the human rights vocabulary," he said from his high-rise office outside Tel Aviv that overlooks central Israel. "They try to portray themselves as either human rights protectors or peace activists and the truth is they are neither."
Erdan, a senior member of Prime Minister Benjamin Netanyahu's Likud Party, said that the government was still formally committed to the prospect of a Palestinian state alongside Israel and that it "does not want to rule the Palestinians." But in practice, he said, that is not currently relevant and instead Israel is devoted to combatting the lies spread against it.
Since President Donald Trump was elected, Netanyahu has stopped talking about a two-state solution. While sending an envoy to the region to explore the possibility of restarting peace talks, Trump also has not explicitly endorsed the establishment of a Palestinian state.
Jeremy Ben-Ami, president of J Street, an American-Jewish group that describes itself as both pro-Israel and anti-occupation, said Israel is wrong to "obliterate the distinction" between Israel proper and the West Bank and to treat critics of the occupation as "enemies of the state."
He said an "increasing number" of pro-Israel Americans fear the failure to pursue a two-state solution with the Palestinians is threatening Israel's future as a democratic homeland for the Jewish people.
"It is sad and dangerous for Israel if government leaders can't distinguish between enemies of the state and those who care deeply about Israel, oppose occupation and make a personal choice not to purchase settlement goods," he said.
Although the BDS movement has generated much debate, its concrete accomplishments have been modest. The movement has persuaded several church organizations to divest themselves of Israel-related investments and has garnered support on U.S. college campuses. Early this year, a group of American football players pulled out of a trip to Israel sponsored by Erdan's ministry after a pressure campaign by pro-Palestinian activists. In Texas this week, a Houston suburb removed a requirement that homeowners must agree to not boycott Israel as a condition of receiving hurricane repair money.
Even so, Israel has seen a spike in economic partnerships and diplomatic ties and it has become a top destination for international sporting and cultural events — with few performers heeding the call for a boycott.
Erdan noted that 23 U.S. states have passed anti-BDS laws and Congress is drafting a federal law as well. Courts in Spain and France have ruled against them, he noted, among a series of other setbacks. Even so, he said it was too early to call the battle over.
"We have many achievements against the BDS but I think it is still a threat that could develop with time into a significant threat," he said. "It is still alive and breathing. We have put it on the defensive in the past two years but … they will change tactics and we will have to adjust again."
Omar Barghouti, a co-founder of the BDS movement, rejected Erdan's assertions.
He said that with Israel's "deep alliance" with the Trump administration and the pro-Israel lobby's influence in Congress, Israel can easily pass anti-BDS measures. He noted civil liberties proponents believe these measures violate the right to free speech.
"As a result, Israel is quickly losing the liberal mainstream, including many young Jewish-Americans," he said.
He also dismissed claims of anti-Semitism, saying his movement rejects racism in all forms. "There is nothing Jewish about Israel's regime of occupation and apartheid. Therefore, there is nothing inherently anti-Jewish about nonviolently challenging this system of oppression in pursuit of equal rights for all," he said.
Erdan, who also serves as Israel's minister of internal security, said he saw a link between his two portfolios in that de-legitimization efforts against Israel could result in attacks against its citizens.
In that second role, he oversees Israel's police force, which has been conducting a months-long corruption investigation against Netanyahu. Last week, Netanyahu accused the police of intentionally leaking details of their investigation to damage him.
Erdan said the investigations were being conducted thoroughly, but says he has refrained from enquiring about its specifics due to the sensitivity.