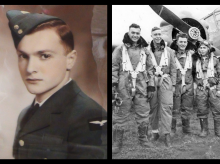 Left: Mickey Heller's World War II service photo. Right: Heller (far left) with his fellow aviators
Published in the "At War" channel of the New York Times Magazine. Can be found here.
In April 1943, the Halifax bomber that Wilfred Canter co-piloted was shot down on the way back from a mission over Stuttgart. Canter parachuted out into occupied France, breaking a leg when he landed. The only member of the six-man crew to evade capture, he was given food and clothing by a local family, then passed to members of the Resistance, who smuggled him to Paris, then Bordeaux, then over the Pyrenees by foot into Spain. From there he made his way to Gibraltar and then England. King George VI personally awarded Canter a Distinguished Flying Medal at Buckingham Palace, where he was cited for displaying "courage and tenacity of a high order."
After less than a month of home leave in Toronto, Canter — one of about 17,000 Jewish Canadians who fought in World War II — deemed himself fit for duty and returned to England to resume his bombing missions, including one in which his plane took fire but returned safely to base. In April 1944, Canter was shot down again, on a bombing run over Düsseldorf, and was captured by the Germans. After a lengthy Gestapo interrogation, a German prisoner-of-war camp made famous in the 1963 film "The Great Escape," which recounted how 76 British and Allied aviators tunneled to freedom. All but three of the prisoners were caught, and 50 were executed. Records and chronology indicate that Canter arrived at that camp at least a month after the escape.
As the Allies were closing in on Germany, the camp's remaining war prisoners were marched west, away from the advancing Soviet Army. Canter escaped and managed to connect with a British unit. Family lore adds that he was briefly recaptured by a German officer, but resistance forces shot the German dead, freeing Canter again and handing him the officer's Luger pistol, which he kept as a memento.
I didn't know Canter, but my grandfather, Mickey Heller, did. Zaidy — I've always called him by the Yiddish word for "grandpa" — speaks fondly of his friend Wilf, the fellow Jewish veteran of the Royal Canadian Air Force who survived three near-death experiences and almost a year as a prisoner of war. Canter would be legendary, if only more people knew the legend.
Unlike their celebrated American and British comrades, Canadian veterans of World War II are rarely remembered in triumphant narratives because there were far fewer of them. Jewish Canadians even less so, but they should be. Though he steadfastly refuses to share his personal war experiences, my grandfather notes with pride that about 40 percent of the military-age Jewish male population of Canada enrolled for active service, most of them volunteers who were dispatched overseas. Roughly 44,000 Canadian service members died in the Second World War, and more than a third of those were in the Air Force, including many of the men with whom my grandfather served. Only in 2011, after years of rebuffing inquiries into his wartime experiences, did my grandfather finally start opening up to me, asking me to help research Canter for a Toronto war memorial for Jewish vets. In the years since, unraveling Canter's story has helped me understand my grandfather's past — as well as his reluctance to speak about it — and opened a window into the often-overlooked contribution of Jewish-Canadian airmen in World War II.
My widowed grandfather remains relatively vibrant at age 97, with four children, nine grandchildren and 12 great-grandchildren as his lasting legacy. While he points to Canter as an example of Jewish Canadians' service, his own World War II ordeal remains a mystery. All I know for sure is that he was a navigator in the Lancaster and Vickers Wellington bombers, and he flew missions over Europe from his base in England between 1942 and 1944.
My grandfather's biography is almost a cliché of what has become known as the greatest generation: Born into poverty, he went off to war and then came back to marry his sweetheart. He had a family, and he started a clothing business in Toronto. After retiring, he spent his winters in Florida, playing golf and bridge and regaling his grandchildren with jokes and Yiddish sayings. But there was one chapter of his life that remained perpetually sealed: He would never tell us, or anyone else, what he endured during the war. "You don't like talking about the war that much, do you?" I asked him during a 2011 summer visit to Toronto. "What's there to talk about?" he replied. "A lot of guys went over, not a lot came back."
When given the chance, my grandfather would talk about almost anything besides himself or deflect with a joke. "I didn't do much," he told me in 2015, in his typical modest fashion. "I fought in the battle of Piccadilly Circus, though. Have you heard of that one?" he said, chuckling. "That's where you met all the girls."
Although two of his sons, nearly all his grandsons and a great-grandson have served in the military, the only advice my grandfather ever dispensed to us was: "Never volunteer" and "Keep your feet clean and dry." But eventually he began to talk about Canter.
According to Canter's military records, he embarked from Canada on Aug. 21, 1942, and arrived in Britain on Sept. 1. The vessel that carried him across the Atlantic was the Queen Elizabeth, then the largest passenger ship in the world. It was during this journey to war, on a luxury liner converted into a packed troop transport, that my grandfather and Canter met and bonded. "There were thousands of guys on that boat," he told me, "and we did most of the talking while waiting in line for hours to get a meal."
Canter and my grandfather were each born in 1921 and grew up in downtown Toronto, each graduating from high school before enlisting, earning their wings in training and heading off to battle. They exchanged letters throughout their time in combat. Canter invited my grandfather to the ceremony in London where he received his Distinguished Flying Medal, but my grandfather couldn't go. His last letter to Canter, sent in 1944, was returned with a military stamp on the envelope noting "present location not known" and a handwritten note that read: "Missing." By then, Canter had already been taken prisoner.
The paths they followed after the war diverged significantly. My grandfather, the youngest of seven children, returned home and never looked back. Canter eventually made it to Toronto, but he never reconnected with my grandfather, and he struggled to find his way after the war, I learned from his family. He had energy and drive, but he had trouble finding a job in which he could apply it. He worked for a while as a draftsman, but he must have longed to fly again, and when he heard, through word of mouth in the Jewish community, that there were aviation opportunities in the new state of Israel, he went.
In 1948, as Israel prepared to declare itself a sovereign nation, it sought foreign assistance to fight the Arab nations moving against it. Thousands of mostly Jewish volunteers from around the world with combat experience made their way to Israel — often in clandestine fashion, to avoid running into trouble with their own governments. Canter left behind a girlfriend in Toronto for the chance to fly again, I learned from Wayne Gershon, one of Canter's nephews, who was born after Canter's death. "I think it was personal for Wilf to double down and go to Israel," he told me. "He recognized the cause. I don't have the impression that he relished battle just for its own sake."
Canter arrived in Israel on Aug. 5, 1948, one of just five Jewish-Canadian World War II veteran pilots in a newly minted Air Force that had few aviators with any significant operational experience. Late on the night of Oct. 24, Canter and four other crewmen, two of them Canadian, took off in their rickety Douglas C-47 Dakota transport from Tel Aviv's Sde Dov airport to deliver supplies to the isolated Negev outpost of Sdom, which was encircled by Egyptian forces. Just minutes after takeoff, the right engine began to overheat and spit out flames. Canter redirected for an emergency landing, but the engine exploded within sight of the airfield, breaking off a wing and sending the Dakota spiraling to the ground. It exploded on impact, killing everyone onboard, in one of the first fatal aerial transport accidents in Israel's history. Canter was 27 when he died.
By that time, my grandfather was already a struggling young salesman and father in Toronto. He learned of Canter's death only years later and didn't delve into the details until enlisting my help to tell his friend's story. "He had quite a life," my grandfather recalled. "The funniest thing about this guy was that he was a crier. He had balls, but he cried at the drop of a hat."
It's impossible to gauge what World War II did to many of the veterans who served — particularly those like my grandfather who flew in bombers. About 45 percent of the flight personnel in Canada's wartime Bomber Command perished — approximately 10,250 in all. Between March 1943 and February 1944, the period when my grandfather was deployed, members of crews that ran a full tour of 30 bombing operations had a grim 16 percent survival rate, according to the Bomber Command Museum of Canada. Unlike their American counterparts, the Canadians and the Royal Air Force flew their missions at night. Their aircraft had no belly gunners and were at the mercy of Luftwaffe fighters that attacked from below. Whenever they lifted off on a mission, they departed with the knowledge that this sortie could easily be their last.
"The Germans used to come up from the bottom, and boom, that was it," my grandfather told me in a rare revelation. In addition to flying in daytime, American crews flew en masse, and "they had five or six gunners in each plane, and lots of firepower, so the Germans couldn't get close to them," he said. The Royal Air Force and Canadian forces, by contrast, "had a terrible time."
Even before he opened up about Canter, my grandfather's scant stories of the war revolved around other men's exploits. He told me about his second cousin, Alfred Brenner, a Canadian pilot whose three-man crew met a convoy of 12 German merchant ships accompanied by five destroyers and took one of the freighters out with torpedoes before being shot down. Brenner's bomber settled into the waves, and the men escaped on a dinghy. They were picked up after drifting for two days in the North Sea near the English coast. Brenner was honored with the Distinguished Flying Cross.
My grandfather also told me about his friend Somer James, with whom he went to synagogue services when they were teenagers. James was a pacifist who avoided the army because he abhorred violence. "So he went to the merchant marine instead, which was even worse," my grandfather said with a laugh. James found himself on a ship in Italy loaded with high explosives and moored next to a munitions depot when German bombers attacked. With fires raging on the dock, he jumped ashore and wrestled the ship free from its moorings so it could move to safety. For his actions, James received a British Empire Medal and the Lloyd's War Medal for Bravery at Sea. "He was the only one who got those two medals for one deed," my grandfather said.
And then there was Canter. During his months in captivity, Canter kept a prisoner-of-war log in which he took notes, drew sketches and preserved mementos. The diary — which his nephew Wayne shared with me — contains no reference to the escape, nor does it chronicle his Jewish faith, details that might have proved fatal if discovered by Nazi troops.
Instead, he described the daily routines, the food they ate, barley and jam, and the locker-room conversations among the prisoners, or kriegies, as they called themselves. He listed the 102 books he read in captivity and the major events he witnessed, especially as the end of the war was approaching. "V2 rocket flew over the camp," he wrote on April 4, 1945. "Plenty of excitement the last few days as our armies close in on this area."
He wrote how the kriegies lived off the surrounding land, where they found "countless chicken, geese, turkeys, lambs and pigs." He noted the dates on which he received parcels from the Red Cross and listed the diseases contracted in the camp. "I would be blessed to have been able to commiserate with my Uncle Wilfred if he had survived," Wayne Gershon said. "I can only try to imagine the perspective of someone who lived a life as he did."
Perhaps my grandfather's stubborn compartmentalization of World War II is what helped him avoid the seductions of war that appear to have lured Canter back. My grandfather kept quiet and moved on to live a long, fulfilling life. Canter was seemingly sucked back to fight for Israel and ended up buried in a foreign land, thousands of miles from home.
One day in the summer of 2012, I decided to go visit him. The resting ground in Rehovot in central Israel is a typical Israeli military cemetery: rows upon rows of simple, uniform, rectangular plots covered by tiny manicured garden beds and headstones engraved with each soldier's basic information. It was empty, and I found Canter's grave site easily.
Against an eerie silence, I placed a small pebble on his headstone. "Zaidy says hi," I said aloud.
I wondered if anyone else had paid a visit to his grave in the past 64 years. It made me question how many other anonymous men like him were out there — even in just this cemetery — who had lived short, dramatic lives, but left little behind.
In 2002, the Israeli government announced plans to build an official museum for the Jewish soldiers who served in World War II. But the museum has yet to open, mired in bureaucratic wrangling, as the few Jewish war veterans still alive continue to die off. And, as my grandfather has proved, not all the veterans want that part of their lives memorialized. When I told him that I had filled out his profile on the prospective museum's website and that I hoped his story would one day be featured in its halls alongside Wilf Canter's, he demurred, as usual.
"I'm just happy if they leave me alone," he said.
Some 1.5 million Jewish soldiers fought for the Allies in World War II; more than 250,000 of them were killed, including some 450 Canadians. Most of their stories are lost to history, and my grandfather's is probably going to join that long list. That's the way he wants it.