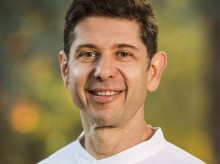 Ron Haberman, Chief Technology Officer, Cloud and Network Services
At the heart of Cloud and Network Services lies the technology itself, and the man who drives it has been a technologist almost from birth.
Ever since he can remember, Ron Haberman has been taking things apart and putting them back together. His mother still showcases an old photo of him as a little boy where he was tearing apart a doll just to figure out how its eyes closed when it was laid down.
He started coding in his native Israel before he was 10, developed a programming language in Hebrew for others as a teenager and had to take two busses each way to attend a prestigious high school for engineering in Tel Aviv. In the military, he served in a specialized computing unit where he designed and implemented secure networks for the ministry of defense and other security services.
He would later go on to earn a BS in Electrical Engineering and an MS in Software Engineering at Drexel. He then embarked on a successful, eclectic career that bounced between start-ups and larger companies before landing at Alcatel-Lucent and later Nokia.
To him, though, it all revolved around what got him hooked in the first place.
"I like to build things. I like to make stuff and the more use it generates, the better. It's about the challenge," said Haberman, 48. "My favorite part is still just trying to figure out how something works."
In many ways, he's still doing that as chief technology officer for Cloud and Network Services. He says his main challenge these days is staying ahead of what CNS needs to implement in the technology space, identifying the industry trends that will give it an edge and aligning the strategy across the company and the various tech officers in different groups.
"Software moves fast, and our customers are finally embracing the need to be agile," he said.
It's clear to him what the CNS priorities should be.
"We are in the business of automating customers at the very high level," he said. "So, we need to be fully automated. We need to have completed our cloud-native journey. We need to bring as many products and especially use-cases into an as-a-service model and we need to do this in an efficient way."
That means creating common architecture and procedures so that anything new can truly focus on having business logic. For example, having automated software lifecycle management, common platforms and ecosystem enablement that will make CNS an innovation leader.
His vision has become the CNS strategy to "liberate networking" and bring it into the programmable world.
"If you are a developer and you work in a Google Cloud environment, you have the freedom to utilize any resource they have dynamically," he explained. "But if your user is connected to an AT&T or Verizon network, you are limited on that last piece. The key would be to bring those networks into the programmable freedom that you have in true public cloud."
He added that we are just a few years away from that reality.
Haberman lived for a stretch in Belgium and returned to Israel for a spell. He met his Russian-born wife in Israel and they both came to the United States and lived on the east coast before moving to California. They now live in Sunnyvale, near San Jose, with their two daughters, aged 16 and 10, and communicate in a mix of Hebrew, English and Russian.
"My friends joke that I have the only tri-lingual dog they've ever met," he said.
In his limited spare time, he enjoys weightlifting and preparing his strictly monitored diet. He likes cars and, true to form, enjoys tinkering with his old supercharged V8 Jag on the weekend.
But lately he's been more focused on solar efficiency and electric vehicles.
"89% of my electricity use comes from solar," he said. "That includes the house and two cars."
His approach to engineering mirrors his approach to management.
"I'm a great believer that every system is made from a million parts and every single part is critical," said Haberman, who attended the Stanford executive program for business administration. "It's like the makeup of an M-16 rifle. A tiny pin, holding the firing pin in place, is just as important as the trigger or the hammer head. If that's gone, there is no rifle."
Though technology is his domain, Haberman says he views collaboration in his role as paramount. He said the key was to "bring smart people together to solve hard problems."
"My job is really just to enable that to happen," he said. "Nokia has so many smarter people than I would ever consider myself to be who are doing the engineering and the innovation. I try to guide how to put things together and how to pull the community into a bigger group that can execute a more powerful vision."