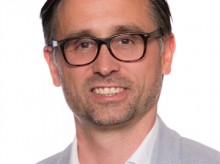 Christian Foerster, Chief Operations Officer, Cloud and Network Services
As chief operations officer for Cloud and Network Services, Christian Foerster is responsible for leading procurement, supply chain, process simplification and digitalization – making sure products are delivered when needed at quality and cost.
In other words, he's the glue that brings the business group together, connecting research and development to the go-to-market groups and the services to the suppliers.
"If we were a football team, I'd be the midfield defender. We are the ones who are connecting the defense to the forwards," he said. "The sales are the forwards and we back them up if they lose the ball. But we also move back in the field and clean up where needed."
It's not surprising that the 42-year-old Foerster draws his analogies from the world of sports.
As a youngster, he was an exceptional golfer who played on the German national team for many years and was on the cusp of a professional career.
The sport dominated his teenage years, exempting him from school for long stretches of time. But when he turned 21, he made the decision to forgo a pro career in favor of his education.
"For me, golf was really everything," he said. "But, at some point, it became too much, and I knew it was going to be that kind of effort throughout my whole life. I wanted golf to remain something I still loved."
So, he went to university instead to study industrial engineering before embarking on a career at Siemens and later Nokia that focused heavily on supply chains and operations. The work has taken him to Italy, Finland, China and India, before returning home to his native region of Munich, Germany.
At CNS, he oversees a staff of 400 and $1 billion in annual purchase volume. In maximizing operational and financial efficiency, he also plays the middle game between the long-term vision of the strategists and the short-term goals of salespeople.
"What I love about the operations job is the variety," he said. "There is an important window of now to six months because we play a huge role in delivering the quarters. But there is also a second aspect up to 24 months, which is where we improve future profitability and efficiency."
Foerster said operations plays a key role in the business's success, particularly in the wake of such a major interruption like the Covid-19 pandemic. In fact, he said operations served a similar purpose to that of supermarket employees during the pandemic. There were no heroes, no fanciness and they were not given too much attention. But it was during these tough times when their true value was found.
"It doesn't matter that you have the best technology if no one can order it, or if you have the best sales if you have an unreliable delivery," he said. "It doesn't matter if you have a great internal system if you are not able to connect the supplier to the customer."
While he excelled in an individual sport, Foerster said he liked being part of a team.
"I always felt very strongly about leading people, connecting people, giving them a vision, giving them direction, motivating them, getting the best out of them," said Foerster, a father of two young children.
Aside from work, his focus these days is his family – and spending quality time with his wife and little daughters, six-year-old Emilia and three-year-old Rosalie. He enjoys cooking and playing with them and teaching them how to ski. He now only occasionally gets around to playing the leisurely round of golf.
Still, his history on the links features prominently in his management style and approach to the tech world.
"The jobs we have today are a lot like professional sports jobs: you need to be on the spot all the time, you need to prepare yourself and continuously improve. It can be very stressful, and you need to find ways to concentrate, relax and stay calm, just like in sports," he said.  "I learned a lot from golf. You need to keep a positive mind. If you distract yourself with a negative thought, then you should not hit the next ball, just as in business you should not make that next move."