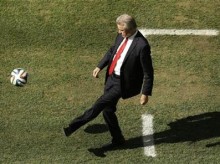 Switzerland's coach Ottmar Hitzfeld kicks a ball during the World Cup round of 16 soccer match between Argentina and Switzerland. (AP Photo/Thanassis Stavrakis)
SAO PAULO (AP) — Ottmar Hitzfeld boldly promised his Switzerland squad would slow down Lionel Messi, and he nearly kept his word.
For 118 minutes in the second round of the World Cup, the feisty Swiss squad frustrated the Argentine superstar. But with a penalty shootout looming, Messi broke free and set up the winner for Angel Di Maria, giving Argentina a 1-0 win in extra time.
Messi scored four of his team's six goals in the three group wins, but for most of Tuesday's match he was well contained by the Swiss defense.
Double-teamed and sometimes even triple-teamed, Messi only managed a pair of quality shots. Messi often found himself on the turf, pushed and shoved by the relentless Swiss defenders. Once he even shoved back in frustration.
But ultimately he once again made the difference in a World Cup match.
"We know that Messi in one second can decide a match. He has sufficient qualities for that," said Hitzfeld, whose older brother died shortly before the game.
The previous day Hitzfeld had described Messi as a "problem" that could be solved, and said his team would show the world how to stop the Argentina forward. For much of the match it did, until Messi made a surging run toward the Swiss area and laid the ball off to Di Maria, who finally beat Swiss goalkeeper Diego Benaglio.
The devastated Swiss players dropped to the ground in despair but still managed to recover and nearly found an equalizer a minute later when midfielder Blerim Dzemaili's header hit the post and then the rebound bounced off his knee and wide of the goal.
"We played the game we wanted to play. We did the performance we wanted to bring. I am very sad for the team, very sad for my teammates because we showed that we were a good side and at the end they won with a bit of luck and experience," said Gelson Fernandes, who went on as a substitute in the 66th minute. "If you leave a little space for Leo Messi, you know what he can do."
A win over Argentina would have equaled Switzerland's greatest World Cup achievement, putting the team in the quarterfinals for the first time since it hosted the tournament in 1954. With only a single loss in in 18 matches leading up to the World Cup, the Swiss surged to No. 6 in the FIFA rankings and earned a top group seeding in Brazil.
Defender Johan Djourou said the young team would learn from the experience and continue to grow in the future. But for now they were heartbroken.
"It's the worst. I would rather take a defeat if you take four or five (goals) and you say 'OK, we were not here today, we were rubbish,'" he said. "We managed well all game but at the end what matters is the result."