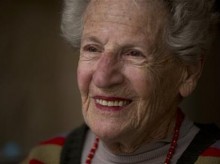 Dutch Israeli Holocaust survivor Mirjam Bolle at her house in Jerusalem (AP Photo/Sebastian Scheiner)
JERUSALEM (AP) — Throughout the Nazi occupation of Amsterdam, and while incarcerated in two prison camps, Mirjam Bolle wrote letters to her fiance that she never sent but hoped to share with him after the war. Yet when the two ultimately reunited she decided to leave the past behind and stashed them away. Now, decades later, she has published them as a memoir.
The result is "Letters Never Sent," 18 months of diary entries and observations that experts say shed new light on one of the Holocaust's most controversial legacies — the Judenrat, or Jewish Councils — the dark bureaucracy of intermediaries responsible for implementing Nazi orders.
They were often despised by fellow Jews as traitors, but Bolle, still lively at 98 years old, defends their actions. She says the Judenrat had little choice and yet managed to lessen the blow to the community. As a secretary for the Jewish Council of Amsterdam, she was privy to their inner workings and says they managed to save lives by staving off Nazi deportation orders.
"The Germans decided that there would be a Judenrat, we had nothing to do with that," Bolle said in the living room of her meticulously kept old stone home in Jerusalem, where she has lived alone since her husband's death in 1992. "The Germans did what they wanted to do. I always say that if the war had ended after two years, no one would have had a problem with the Judenrat."
With time, however, Bolle believes they outlived their usefulness. The nearly 1,200 Jewish councils continued to enjoy preferential treatment, even as they devolved into an administrative body for the Nazis' so-called "Final Solution," the planned extermination of the Jewish people. For some, the burden was too great to bear. Adam Czerniakow, head of the Warsaw Ghetto Judenrat, killed himself after he was forced to deport Jews to their deaths.
Bolle's role was more limited. She took dictations, dispatched letters and was sitting in on discussions when the first mention was made of the Nazi concentration camps.
"It was a different world … You cannot judge what people did," she said. "People who are living a relatively normal life just cannot imagine."
Six million Jews were killed by German Nazis and their collaborators during the Holocaust, wiping out a third of world Jewry. Today, fewer than 190,000 elderly survivors remain in Israel. Bolle is among the oldest.
Israel's main Holocaust memorial day is in the spring, marking the anniversary of the Warsaw Ghetto uprising — when Jews in the Polish capital launched a brave, but ultimately doomed, attempt to resist the Nazis.
The United Nations has designated Jan. 27 as International Holocaust Remembrance Day, commemorating the date of the liberation of the Auschwitz death camp in 1945.
Bolle's entries began on this date in 1943. Her fiance, Leo Bolle, had gone in 1938 to what was then the British-ruled Mandate for Palestine and she had stayed behind a bit longer to work.
Her letters describe German raids and deportations, the struggles of the Judenrat to postpone them and her own escape from one roundup when a German officer saved her by chaperoning her down the street. She described other soldiers as "wild beasts" and detailed how Jews were shot by German firing squads.
Eventually, she was sent to Westerbork, a transit camp, before moving on to Bergen-Belsen, the infamous German camp where fellow Dutch Jew and diarist Anne Frank died.
Bolle managed to smuggle her collected letters out by wrapping them in a shirt, tossing them over the barbed-wire fence out of sight of a Nazi guard and collecting them on the other side. "I did something very foolish," she said. "If he had seen that, I wouldn't be here today."
In one segment, she writes to her fiance that "we'll need years to talk about everything we've been through."
They were reunited in July 1944, four years before Israel gained independence, when she arrived in the Holy Land through a prisoner exchange of Dutch Jews for German prisoners of war. "I had a lot of luck," she said. Hoping to put the war years behind her, she stored the letters in a drawer and forgot about them for decades.
Her hardship didn't end in Israel. Her son, an Israeli air force pilot, was killed in the 1967 Mideast war, and three years later her younger daughter died in a military accident when the jeep she was riding in drove over a Syrian mine on the Golan Heights. Her only remaining child, a daughter, died of illness in 2011.
Dan Michman, head of the International Institute for Holocaust Research at Israel's Yad Vashem Holocaust memorial, said Bolle's insights were particularly valuable because of the scope of devastation in the Netherlands, where 75 percent of the country's 140,000 Jews were exterminated.
He said the Jewish Council in Amsterdam was colloquially known as "Jewish treason," but it did succeed in employing around 35,000 Jews who were exempt from immediate deportation.
"We are approaching the moment that all survivors will not be with us anymore. Memoirs are therefore very important, but even more important are diaries and letters written during the period itself," he said. "They're real time documents and therefore they are very important for future teaching and studying the Holocaust."
Bolle stumbled upon the letters in a drawer in 2000 and later decided to publish them. An English translation was published just over a year ago.
One entry from the 280-page book, released by Yad Vashem Publications, indicates how even as a younger woman, Bolle cared deeply about keeping the memory alive.
"I am vain enough to believe that this diary may be found hundreds of years from now and serve as an important source of information," she writes on Jan. 29, 1944. "That's why I included all the trivial things, because they may provide an outsider with a more vivid picture … Perhaps one day our children will read it."