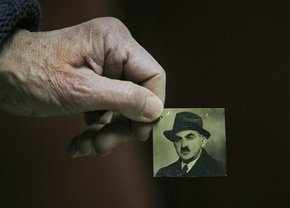 Holocaust survivor Moshe Ber-Yuda, 74, holds a photo of his father, Alfred Kastner.
JERUSALEM (AP) — In 1942, 8-year-old Moshe Bar-Yuda walked hand-in-hand with his father to a collection point in his hometown in Slovakia and watched him being shipped off to a Nazi labor camp. The boy never saw him again, and for 66 years was left to wonder about his father's fate.
Because of a newly opened Nazi archive, the mystery has been resolved.
Bar-Yuda, now 74, was one of the first to obtain Nazi documents now available to the public after they were stashed away for more than 60 years in a secret German archive. Up to now, only limited queries were answered.
The Bad Arolsen documents – transportation lists, Gestapo orders, camp registers, slave labor booklets, death books – contain references to about 17.5 million people, Jews and non-Jews. It is the largest registry of Holocaust victims ever.
The archive showed that Bar-Yuda's father, Alfred Kastner, was killed in a Nazi gas chamber at the Majdanek death camp in Poland on Sept. 7, 1942, less than six months after his son watched him being taken away. Bar-Yuda said despite the tragic ending, he was grateful to finally have some closure and an exact date to recite Kaddish, the Jewish prayer for the dead.
"I don't want to say I feel terrible, and I don't want to say the word 'happy,' but I feel like this open wound has finally been closed," he said. "It closed very sadly but at least it closed."
About 6 million Jews were killed by German Nazis and their collaborators in the Holocaust of World War II.
In August, the International Tracing Service (ITS) of the International Committee of the Red Cross, which administers the archive, began transferring digital copies of its documents to the U.S. Holocaust Memorial Museum in Washington, to Yad Vashem, Israel's Holocaust memorial, and to the Institute of National Remembrance in Warsaw, Poland.
The vast archive of war records in the small German town of Bad Arolsen opened its doors to the public in November, giving historians and Holocaust survivors access to concentration camp records detailing Nazi horrors.
The ITS has completed digitizing some 50 million index cards from shelves that would stretch 16 miles long and fill a half-dozen buildings in Bad Arolsen. The remainder of the records, relating to slave labor and displaced persons camps, will be transferred in installments between 2008 and 2010, the agency said.
Yad Vashem said it would begin responding to queries in February.
Bar-Yuda already has his answer. After reading about the opening of the archive, he turned to an old friend who worked at Yad Vashem and had been to Bad Arolsen, to find out if she could uncover any information about his father. Two weeks ago, he was handed the document that recorded his father's execution.
Alfred Kastner, number 2802, was murdered in Majdanek.
Bar-Yuda, a retired journalist and envoy for the quasi-governmental Jewish Agency, was hidden during the war with his mother and two siblings and later escaped to Palestine.
Other survivors said his father had perished, either in Majdanek or in the Auschwitz death camp. But there was nothing official and no records about him – beyond the one that showed he was deported from Bratislava on March 27, 1942.
"I've been trying to find out what happened to him. I didn't know anything," said Bar-Yuda, who recently wrote a book about his own Holocaust experience.
Bar-Yuda said knowing how his father's life ended was a great comfort after years of devastating uncertainty.
"The question marks are gone," he said. "Now I know how to deal better with the knowledge, and not with the confusion." 
Yad Vashem Chairman Avner Shalev said the Holocaust museum was speedily integrating the new material into its database in the hopes of providing more answers.
"This story illustrates how the millions of documents in Yad Vashem's archives, including the recently received documents from the ITS, allow us to be able to uncover the missing pieces of information, so that survivors and others will be able to finally complete the picture as to what happened to their loved ones during the Holocaust," he said.
Allied forces began collecting the documents even before the end of the war, and eventually entrusted them to the Red Cross. The archive has been governed since 1955 by a commission that ratified an accord in November that unsealed the archive.
Yad Vashem expects the next batch of material from Bad Arolsen to arrive later this year and to have the full copy of all the ITS records by 2010.
It recently uploaded a special online request form on its Web site, and encouraged survivors seeking material from the German registry to do so.
The U.S. Holocaust Memorial Museum in Washington said the museum will begin responding Thursday to requests for information from the archives made by Holocaust survivors and their families. The museum also will be open for members of the public to look at documents.