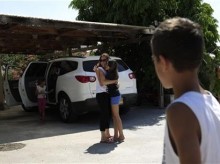 Shiri Medina, center left, hugs her daughter Yael, as they returned home a month after they fled to different locations, in Netiv Haasara near the Israel Gaza border. (AP Photo/Tsafrir Abayov)
NAHAL OZ, Israel (AP) — With a cease-fire taking hold, residents of southern Israel slowly began trickling back Wednesday to hometowns that largely emptied out during a monthlong war against Hamas militants in the neighboring Gaza Strip.
But even with the military giving them the go-ahead to resume normal life many say they aren't ready to come home — and may never return — after living through incessant rocket and mortar fire and attempted infiltrations through tunnels under border.
In Nahal Oz, a village of some 350 right next to Gaza border, 60-year-old Danny Rahamim was one of the few who stayed behind during the monthlong campaign. He recalled how more than once those remaining were ordered to lock themselves inside their shelters over fears of militants attacking from Gaza.
One of the most serious incidents of the war took place right at their doorstep when Hamas fighters popped out of the ground and killed five Israeli soldiers guarding the village.
"That was the first time I was really scared. You can't help but think 'maybe one of them will just walk into my home,'" he said. "Intellectually, I know we are a lot better now after Hamas was hit hard. But emotionally, there are still a lot of people who are very afraid."
The village still looks like an army base with tanks and soldiers everywhere, and blimps hovering above to monitor any movement along the border. Crops have been chewed up by the heavy treads of the Israeli military vehicles, but it's the confidence of the residents that has been the hardest hit.
No one who fled Nahal Oz has returned yet, and some say perhaps they never will.
"The military says they got all the tunnels. But what if they missed one and what if that one is under my home?" asked Rotem Dalal, a mother of three, who fled her home a month ago. "I am scared out of my mind. I don't think I can go back there. A home should be protected, safe and solid. Mine is none of those."
The debate over whether to return has even put several marriages in jeopardy, with couples airing their differences in public. One went on the radio Wednesday, with the man saying they had to swiftly resume their lives to spite the terrorists while his wife countered that the well-being of her children came first.
A group of mothers is planning a protest in front of parliament demanding the troops stay in the area so that any attack from Gaza is responded to strongly and avoid a return to the pre-war situation of sporadic attacks that went largely unanswered by the government.
"I'm going home tomorrow, but I'm not going home wholeheartedly," said Meirav Cohen, one of the demonstration organizers and a mother of four. "I need to be convinced that I am going back to a safe place."
The Shaar Hanegev regional council, which covers about a dozen communities in the area, said most of the 8,000 residents there left during the war.
The current round of confrontations began with the June 12 abduction-killing of three Israeli teens in the West Bank, which Israel blamed on Hamas before launching a roundup of hundreds of its activists, a move followed by barrages of Gaza rocket fire on Israel.
Israel launched airstrikes on July 8 aimed at stopping the rocket fire before expanding the operation on July 17 by sending in ground forces to destroy a network of tunnels used to stage attacks.
Nearly 1,900 Palestinians were killed in the fighting. Israel lost 67 people, including three civilians.
Military chief Lt. Gen. Benny Gantz announced Wednesday that with more than 30 tunnels destroyed, residents along the border could confidently come home, but locals say it will take time for normalcy to truly settle in.
In neighboring Kfar Aza, there was an unusual sight in the communal dining room: returning teenagers. Alon Shamriz, 17, however, was skeptical that much would change.
"There may be a cease-fire with Israel but not with southern Israel," he said. "So long as you haven't destroyed Hamas it is only a matter of time till it happens again."
In Netiv Haasara, an agricultural community just north of the border, Shiri Medina, 41, and her five children prepared for their first night home. While was glad to be back, she still did not feel secure.
"I'm not optimistic but I am also not leaving," she said. "This is my home and I am not leaving my home."