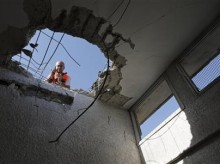 An Israeli police officer looks through a hole in the ceiling of a damaged house. (AP Photo/Tsafrir Abayov)
BEERSHEBA, Israel (AP) _ After days of incessant rocket fire, the largest city in southern Israel has been turned into a ghost town. Schools are closed, stores are shuttered and normally bustling streets are empty.
Aside from emergency errands, residents avoid the outdoors and hunker down in their homes around the clock. Yet they still insist the military should carry on with its offensive in Gaza, to eliminate the rocket threat against them once and for all.
"We're not heroes. It's scary but we must carry on," 60-year-old Richard Atwan said Sunday, sipping a cup of coffee in the nearly vacant Negev Mall. "We're prepared to suffer now, so that it will be better in the future."
Moments earlier, a siren had sent him and a dozen others scampering to a bomb shelter for cover. Crowded inside, they gasped as a pair of explosions was heard.
Atwan's first foray from home since fighting began ended minutes later when his phone rang. "It's my son," he said. "The rocket landed near our house and he's coming to get me."
In just five days of fighting, Israel has been struck by more than 550 rockets. Gaza militants have stunned Israelis by reaching further into their homeland than ever before, including the first ever attacks on the country's two largest cities, Tel Aviv and Jerusalem. Three Israelis have been killed and more than 60 injured.
Israel has carried out more than 1,000 strikes against militant sites in Gaza, targeting rocket launchers, weapons depots, and the homes and offices of Hamas leaders. The attacks have killed 70 Palestinians, including 36 civilians, according to Gaza health officials.
The vast majority of the Palestinian strikes on Israel have been in the south, where 1 million residents have faced the danger for more than a decade. The frequent attacks have caused occasional casualties and constant stress. Parents say their children have been traumatized by the sounds of sirens and explosions, while daily life and commerce has been disrupted.
Beersheba's nearly 200,000 residents live just 25 miles (40 kilometers) from Gaza.
Four years ago, they were hit with some 40 rockets in a 3-week war between Israel and Hamas militants. On Saturday alone they were targeted by nearly as many. Thanks to Israel's "Iron Dome" missile defense system, which knocked down about half of the projectiles, and residents who followed instructions to stay in shelters at home, no one was harmed.
At his weekly Cabinet meeting, Prime Minister Benjamin Netanyahu praised the "restraint, determination and resilience" of the Israeli home front.
In his war room underneath City Hall, Mayor Ruvik Danilovich monitors the rocket strikes on interactive maps projected on giant plasma screens. More than 100 have already hit his city and he oversees a relief effort that includes military and police personnel tasked with soothing a jittery public. In just a matter of days, Danilovich has been transformed from an administrator into a general.
"We've got all the time in the world to wait this out. And it will go on until the other side understands that there can be no more fire toward our cities," he said. "We are victims of terror, of crimes against humanity. We are innocent people who have harmed no one and are being attacked for no reason."
The moment she heard Israel had launched its Gaza campaign by assassinating the Hamas military commander last week, manicurist Adi Cherry called her salon saying she would not be going back to work. For five days she never left home, sleeping in the family shelter with her husband and 5-year-old daughter, Osher.
"She watches the news. She knows what's going on. She counts the booms she hears outside," Cherry said of her daughter. "But I have anxieties. I'm deathly scared."
On Sunday, she finally built up enough courage to return to work at the mall. There were barely any customers, but it was still busier than it had been in recent days.
Cherry couldn't relax, constantly checking her "Code Red" iPhone application that tracks where air raid sirens were sounding to warn of impending rocket strikes. Nearby were signs to the closest shelter.
"Yesterday I couldn't even go to the bathroom," she said. "Nearly every time I got to the door I heard a siren."
At the adjacent Aroma coffee shop, 15-year-old Shir Damari was enjoying a chocolate shake.
"It's my first time out of the house. I'm going crazy there. It's so boring and I'm getting fat because all I do is eat," the 10th-grader said. "I want to get out and see the world, but there is nowhere to go."
A few minutes later, the siren sounded. The Aroma waiters ushered Damari and others into the shelter.
"I'm so scared," she said.
Police said two people were slightly wounded in Sunday's attack. Afterward, the few shops that were open began shutting down, some out of fear, others for lack of clients.
The big-screen TV in the Foto Life shop blared news of the latest strike.
"It landed right next to my mom's place. She said the whole building shook," said Etti Gabai, a 45-year-old clerk. "She's not well. She had to take some anxiety pills to calm down."
At the Castro clothing store, one of the few shops to remain open, employees turned to the only topic in town.
Eden Lankri, a 21-year-old saleswoman, said she has been largely confined to her room and, making matters worse, her boyfriend had been called up for military reserve duty. Even so, she hoped the offensive would continue.
"We don't want a cease-fire yet. We can continue to absorb it all so long as eventually it will stop once and for all," she said. "If we stop now it will be a waste. There have to be results this time."