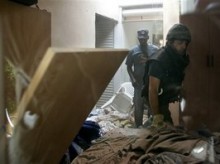 An Israeli police officer inspects the damage of a Sderot home. (AP Photo/Ariel Schalit)
SDEROT, Israel — Schools closed and residents huddled in bomb shelters or fled in buses Wednesday as another barrage of rockets struck this Israeli border town, the target of thousands of Palestinian attacks since 2001.
Late in the day, a homemade rocket hit an electrical transformer in southern Israel, the army said, knocking out power to the 24,000 resident of Sderot.
More than 20 rockets were fired on the town on Wednesday, wounding two people. The attacks came a day after rockets injured five other residents and destroyed several homes in the town – along with any remnant of a sense of security here.
Hamas' decision to rocket Sderot this week appeared to be an attempt to draw Israel into Palestinian infighting as a way of uniting warring factions. Dozens of Palestinians have died since Sunday in a surge of violence between the rival Hamas and Fatah movements.
Mayor Eli Moyal said more than 4,500 Qassam rockets have landed in the working-class town since 2001, killing seven residents and wounding dozens. Real estate prices have dropped 60 percent, commerce has collapsed and a recent poll indicated about half the residents would leave if they could.
The main impact of the rocket attacks on Sderot has been psychological, with experts warning the damage would be long-lasting.
"The anxiety level with the kids is unimaginable," said Tami Sagie, head of psychological services in Sderot. "We have a whole generation that was born into the Qassams, children whose first word is 'boom.'"
Sagie spoke of teenagers wetting their beds when rockets hit. Others regularly sleep with their parents, or find it difficult to concentrate, she said.
It's not just children who are affected.
Noam Amram, 62, said he has been seeing a therapist since a rocket landed next to him four months ago. "I still haven't gotten over it. Every noise I hear, I shudder. I can't sleep. I live in fear," he said.
Unlike suicide bombings – where there is a sudden, one-time shock – Sagie said the steady barrage of rockets has made it particularly tough for those in the town, which includes a community of Jewish immigrants from Ethiopia.
"It is one trauma after another," she said. "They have lost faith and are beginning to believe that no one can help them."
Most of the residents' anger is aimed at the Israeli government, including Sderot's most famous resident, Defense Minister Amir Peretz, who has been unable to halt the rocket fire.
Graffiti in Sderot bear anti-government messages such as: "You should be ashamed of yourself, you have forgotten us in war. Signed, the children of Sderot."
On Wednesday, dozens of Sderot residents crammed into buses provided by a Russian-Israeli billionaire to leave the battered town. However, what most residents want is for Israel to strike back hard at the Palestinians – most of the rockets that hit Sderot come from the Gaza Strip town of Beit Hanoun, just 1 1/2 miles away.
The evacuations drew fire from Prime Minister Ehud Olmert.
"I oppose population evacuations," he said. "These are the exact pictures that Hamas has been waiting for, and I am not prepared to grant any victory to terrorism."
Olmert is under increasing pressure to launch a major operation in Gaza, from which Israeli troops withdrew in September 2005. Security officials said the army favors an immediate, large-scale ground offensive in Gaza while the Shin Bet security service favors a more measured response. The officials spoke on condition of anonymity because the policy is still in the making.
Sderot's mayor was skeptical the government would do anything.
"No country in the world would allow one of its cities to be bombed for six years straight," he said.
Some predict Olmert – who drew sharp criticism over last summer's war in Lebanon – would think twice before launching another major offensive in Gaza. Still, a catastrophe in Sderot would almost certainly spark action.
"I guess they are waiting for blood, and they are waiting for a lot of blood, one dead is not enough. I guess they need some 20 to 30 dead kids in a kindergarten for the country to be shocked," Moyal said.