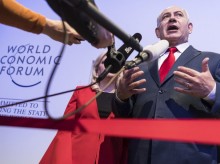 Israeli Prime Minister Benjamin Netanyahu, speaks to journalists during the annual meeting of the World Economic Forum in Davos, Switzerland. (Laurent Gillieron/Keystone via AP)
JERUSALEM (AP) — Benjamin Netanyahu came to prominence as a star of the media age, an upgrade from older Israeli politicians in his telegenic poise, mastery of message and gift for the sound bite in English and Hebrew. But those skills may have morphed into a darker obsession with controlling the media that now accounts for much of the scandal threatening his rule.
Despite unquestioned skill as a communicator, Netanyahu has long had a rocky time with Israel's mainstream media, which is pugnacious in general and traditionally more liberal than the nationalistic governments he has led. He has increasingly accused the media of a politically motivated "witch hunt" against him and his family, members of which have become embroiled in various scandals as well.
He has maintained this message even after Israeli police last week recommended Netanyahu be indicted for corruption and bribery in two cases, one of which involved hours of recordings in which he seemed to entertain offering preferential treatment to a newspaper publisher in exchange for favorable coverage.
And this week, new details about another investigation have emerged involving suspicions that the prime minister promoted regulation worth hundreds of millions of dollars to Israel's Bezeq telecom company in return for puff pieces about his family in a highly popular subsidiary news site, Walla. Netanyahu has not yet been named as a suspect in the case.
Two close confidants have been arrested in connection with the probe, ex-journalists at Walla attested to pressure from above to refrain from negative coverage of Netanyahu and his family, and reports have surfaced of Netanyahu's wife Sara relaying requests to Bezeq officials.
Associates have long attested to the leader's thin skin and fixation on coverage.
"Netanyahu always wanted to control the media,'" former spokesman Aviv Bushinsky told Israel's Army Radio on Monday. "He said: 'If you don't have a media outlet, you can't operate as prime minister.'"
Last week, police said they had enough evidence to indict Netanyahu on bribery and breach of trust charges for accepting nearly $300,000 in gifts from two billionaires — in addition to discussing less critical coverage with Arnon Mozes, the publisher of the Yediot Ahronot daily. On the table was a deal whereby the government might promote legislation that would weaken the paper's main rival, the Israel Hayom free daily.
Netanyahu has denied the various allegations and said they are part of a "mendacious" media campaign to topple him. But even while defending himself, Netanyahu revealed how deeply immersed he was in media matters.
In a televised rebuttal to last week's police recommendations, Netanyahu let slip two long-suspected but hitherto unconfirmed narratives. The first was that rather than harm Israel Hayom, he actually called early elections in 2015 to stop the legislation against the paper, which is financed by his billionaire friend Sheldon Adelson and largely serves as his mouthpiece.
The second was that he tried to shut down the financially troubled Channel 10 TV station, which has long given him grief. Netanyahu had previously hinted at easing the station's debt if it fired an investigative journalist behind some of the most embarrassing exposes on him.
After winning a new term in 2015, Netanyahu appointed himself communications minister, making him responsible for media regulation, and ordered coalition partners not to float any media-related bills without his approval.
He pushed for the state-run Israel Broadcasting Authority to be shut down and replaced with a new corporation, and then waffled when the emerging personnel of the new body did not seem favorable enough. Netanyahu has since been forced to relinquish the communications ministry.
Columnist Ben Caspit, a Netanyahu nemesis, argued that it was Netanyahu's come-from-behind victory in that 2015 election that begat a dangerous hubris.
"This victory raised Netanyahu's natural smugness … his excessive self-confidence and his belief that he is invincible and immortal to new heights," he wrote in the Maariv daily Monday.
In Netanyahu's efforts to reshape the Israeli media landscape, he has forgone press conferences and interviews and increasingly turned to social media, where he can control the message.
It's a far cry from the early days of his career. As Israel's slick-speaking ambassador to the United Nations in the 1980s, he was a fixture on American news shows. Audiences were drawn to his fluent, American-accented English, the product of an upbringing in Philadelphia and college education at MIT. He rose quickly upon returning to Israel just as the country, which once had only state TV, was liberalizing the broadcast marketplace.
His charismatic performances in the television debates leading up to the 1996 elections were widely credited as a driving force behind his first electoral win. But he was also arguing against the 1990s peace accords, which had wide popularity with the country's establishment — blaming the Palestinian attacks of those days on the peace process.
Yaakov Ahimeir, a veteran public broadcasting anchor, said Netanyahu's razor-thin victory over incumbent Shimon Peres that year — just months after the assassination of Yitzhak Rabin by a religious Jewish zealot — helped draw the battle lines.
"A lot of people considered that win legal but not legitimate, and they've hounded him ever since. I don't remember an Israeli prime minister being treated this way," he said.
Yuval Karniel, a communications expert, said Netanyahu has developed both a visceral antipathy toward the media and a strategy of attacking its elite image that appeals to his conservative base.
"He ascribes great importance to the media and that's what made him early on," he said. "It's become this type of obsession exactly because he understands the media's power and wants it on his side."