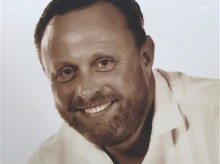 Chris Johnson, Head of Enterprise Sales, Cloud and Network Services
Chris Johnson has two passions: sales and music. For the past 30+ years, he has pursued both with similar enthusiasm.
By day, he's at the forefront of Nokia's push into Industry 4.0 as leader of Cloud and Network Services' Enterprise Customer Team, having previously held senior sales positions at HP, RSA, EMC, Sequent and NCR.
By night, he's the lead guitar player and backup vocalist for "The Reaction," a four-piece rock band he formed with friends that plays occasional gigs and is planning a big charity concert down the road.
"I love the creative process of creating a riff, taking it to the band and orchestrating the other pieces together," said Johnson, 54. "It's not dissimilar to sales. There is a process, there is the creativity, there's kind of the idea, making something and then executing it. It's a similar end-to-end execution."
The band fuses various genres of rock, drawing inspiration from The Beatles, Oasis and the Red Hot Chili Peppers, among others. They currently have about two albums worth of material, but the recording sessions have had to wait as the long-time bandmates have had their hands full with families and careers.
In Johnson's case, it's been pushing the boundaries for Nokia to go beyond its traditional telecom realm and into the vast expanse of mission critical communications to governments, cities and various industries at the heart of the fourth industrial revolution.
"When I started, we were selling to rail companies, to energy utilities, and public safety agencies, and these are telco-like networks that are very technology-driven," he said. "But in the three years I've been here we've now pivoted also to industry and this is where the possibilities are almost endless."
He said Nokia now sells to container ports, mining companies, factories, wind farms, airports and other sites that are using connectivity not because they are into technology per se but because of the use-case benefits it can provide in terms of productivity, employee safety and business agility.
It's this diversification that drew Johnson to Nokia in the first place, to bring an enterprise business perspective to the sales process for these exciting new markets.
"I think this business is really starting to shape the future for Nokia," he said. "We can connect people, organizations and even cities to help them become more ecofriendly, to stimulate the economy and make for a better human experience. We have a far greater purpose in the modern world."
It's a trend that reflects Johnson's own journey.
"I'm probably more interested in sales and business than in technology," he admits, even though two of his three adult children have followed him into the field. "What's been interesting in my career is shaping technology to serve a customer's problem or opportunity and meeting these objectives. That's the fascination."
Johnson has taken advantage of the Covid-19 pandemic to lose weight, get fitter and plan to hit the open road in his camper van once travel restrictions are lifted. Of course, his band is also looking to get back in action with the grand charity show in England they've been dreaming about for years in which they can "pretend to be rock stars for a while."
Johnson also has big dreams to position Nokia for the future.
"We absolutely have an opportunity to build a fantastic Industry 4.0 business to accelerate Nokia," he said. "These next five to ten years are about making a difference both to Nokia and to the world around us. It sounds very grandiose, but I'd like to be doing something that advances humanity as well as making Nokia successful."