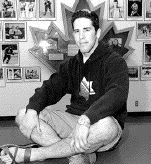 Oren Zamir is polishing his skills at Notre Dame College in Wilcox, Sask. (Roy Antal, The Ottawa Citizen)
METULLA, Israel_ Lying on his bed, Oren Zamir can take in the comforting mementoes of his sporting life: team pictures, a Toronto Maple Leafs flag and mounted hockey sticks. Out the window of his bedroom, though, are soldiers, a fence separating two countries and a yellow Hezbollah flag.
This is where a hockey star sleeps, a place where contrast and contradiction are a way of life.
Oren, 16, is a contradiction himself. He is an Israeli hockey star, something that only a few years ago would have been an impossibility.
But, with the help of millions in Canadian investment, Oren is living the classic dream of boys and girls in Flin Flon, Brantford and Nepean.
"I'm not the next Wayne Gretzky," Oren says. "I'm just a person who hopes to start hockey in Israel."
In many ways, the game has already taken hold in this Middle Eastern country.
In 1987, Jews from Canada, some from Ottawa, donated $7 million to help build the Canada Centre, a recreation complex that includes Israel's first Olympic-sized hockey rink. The centre was intended to improve the quality of life for residents of northern Israel living under the frequent barrage of Katyusha rocket fire from Lebanon.
The centre spawned a host of Canadian connections in this farming community of 2,000, at Israel's most northerly point, with Metulla earning a somewhat comic reputation as the hockey capital of Israel.
Canadian expats drive here from the other end of the country for a single pickup game. An autographed jersey of frequent visitor and hockey hall-of-famer Jean Beliveau is framed on the wall (the first one he donated was stolen, suggesting that even Israeli hockey fans know the value of superstar merchandise). On Mar. 29, legendary Montreal Canadiens goalie Ken Dryden, now a federal cabinet minister, came to the rink during his official four-day visit to Israel.
The late Ottawa Senators coach Roger Neilson left his mark here as well. After several visits to Israel as a Christian pilgrim, Mr. Neilson launched a hockey camp in Metulla in 1997, an annual two-week summer program.
Before Mr. Neilson arrived on the scene, Russian immigrants dominated the hockey culture here. Under Mr. Neilson, hockey in Israel made a huge leap, going mainstream by introducing the game to native Israelis.
Oren was one of those kids. Eight years later, he is pursuing his dream at Notre Dame College in Wilcox, Sask. — a hockey factory that has produced stars such as Vincent Lecavalier, Rod Brind'Amour, Brad Richards, Wendel Clark and Curtis Joseph.
"He's the future of Israeli hockey," said Jean Perron, the Israeli team coach who formerly coached the Canadian Olympic team and the Montreal Canadiens.
– – –
Like most other Israelis, Oren started out playing soccer and basketball, the two most popular sports in the country. He first gave skating a try when he was eight and found he had a natural knack for it. The hockey instructor in his area, a recent immigrant from the former Soviet Union, noticed Oren and approached him. Oren remembers their first exchange.
"He asked me if I wanted to join the hockey team. And I said 'What's hockey?' "
He soon found out, however, and became addicted. He enjoyed a proximity to hockey others in Israel could only dream of — his family lives across the street from the Canada Centre — and took full advantage of it, honing his skills on the ice for several hours a day. His family also got in on the act. For Oren's bar mitzvah, his whole family — father Nir, mother Michal and sisters Keren, Liron and Sharon — took a trip to Toronto to visit the Hockey Hall of Fame.
Once Roger Neilson entered his life, Oren quickly developed into the best player in the country.
Mr. Neilson "propelled grassroots hockey in Israel threefold," said Marshall Starkman, director of Roger Neilson's Hockey Camp in Lindsay, Ont., and one of the organizers of the camp in Israel. "After the first year we ran the camp, registration in their minor hockey doubled."
Before Mr. Neilson, Israeli hockey was an exercise in nostalgia for old Russian and Canadian immigrants. Mr. Neilson made the game Israeli.
Mr. Perron, who guided the Montreal Canadiens to a Stanley Cup in 1986, picked up the mantle of Israeli hockey after Mr. Neilson died of cancer in 2003. In early March he led the Israeli junior team to a bronze medal at the Division Three World Junior Championships in Sofia, Bulgaria. Oren had a spectacular tournament, finishing as the top scorer with 10 goals and seven assists in five games.
But Mr. Perron is impressed by more than just Oren's scoring prowess. The young Israeli's confidence and maturity has caught the coach's eye as well.
"Oren came up to me one day and said, 'Can I talk to you about my future?" Mr. Perron recalled recently. "He said, 'I'd like to go as far as I can in hockey because I don't think I can achieve my goals in Metulla.' "
Mr. Perron told Oren the best place for him was Saskatchewan's Notre Dame College. He called a few of his hockey colleagues. Two weeks later Oren was in Wilcox, an hour south of Regina, the first Israeli ever at Notre Dame.
Oren's room in Metulla is empty now. He is halfway around the world chasing his hockey dreams in Saskatchewan. But across the street at the Canada Centre, the rink has never been busier. It's a strange scene: native-born Israeli kids whizzing around in speed skates, or nailing triple axles, while chatting away in Hebrew.
The centre has changed a great deal since UIA-Federations Canada laid the groundwork in 1987, a year before Oren was born.
In the heart of town, the Canada Centre now includes two skating rinks, a health club, an indoor pool, squash courts, a bowling alley and a shooting range, appropriately located inside the centre's fully equipped bomb shelter.
It's a good thing, too. Rockets have landed nearby, shattering windows, collapsing roofs, and resulting in millions of dollars in damage. Following the Israeli withdrawal of forces from southern Lebanon in 2000, Metulla found itself on the front lines, with armed Hezbollah fighters just beyond the nearby fence.
The centre has endured other growing pains. It started out as an immediate national and international tourist attraction, but as tourism in Israel slowed and the novelty of an ice rink in the Middle East wore out, the centre's $2.5-million annual operating budget became almost too much to bear, according to the mayor of Metulla.
But the centre survived, mostly thanks to Canadian support, and it remains the second-largest employer in Metulla, following only the fruit-packing factory. It creates employment and generates crucial revenue for this working-class town.
The centre also became a launching pad for Israeli pioneers of winter sports, with athletes flocking to Israel's northern tip.
An influx of immigrants in the early 1990s from the former Soviet bloc was the key. Israeli figure skating soon took off and a lone skater was dispatched to Lillehammer in 1994, becoming Israel's first winter Olympian. Small delegations of skaters, mostly Russian immigrants, were also sent in 1998 to Nagano, and in 2002 to Salt Lake City. A charismatic dancing couple captivated the country with their sixth-place finish at the Salt Lake City games.
Hockey, though, took a lot longer to start showing results and is still far from Olympic-calibre. That is something Oren hopes to change.
"The goal," he said, "is to get Israel to the Olympics."
– – –
At Notre Dame, Oren shares the dreams of his Catholic teammates: the dreams of glory in the NHL. But he knows he is different. They were born with the game. As good as he is, hockey is relatively new to Oren. His skating and stickhandling skills are vastly inferior and he is the first to admit it. "It's ridiculous how good these Canadian kids are," he said.
His toughness, though, is second to none. Mr. Perron says Oren's background and life experience give him a psychological edge on the ice.
After all, none of his Canadian teammates has ever had to grab his sticks and run home from a hockey practice because of the threat of a rocket attack.
For years, Oren has played against adults in Israel; he has learned to take a licking and never back down. At five foot 11 and 195 pounds, he's not afraid to throw his body around, either.
He's developed into a bruising left-winger, equally at ease unleashing a nasty slapshot, or delivering a crushing check. What he likes most about hockey is the speed and aggression of the game. In addition to his 17 points in Bulgaria he also spent 16 minutes in the penalty box.
"I'm a physical player," he said with a chuckle. "I'm not a fighter, but I'm nobody's sucker."
In many ways, Oren is a reflection of the society in which he was raised: tough, tireless, fearless. This attitude is what drew Mr. Neilson to Israel in the first place. "Roger just loved the Israeli kids, to the extent that he thought they were perfect to play that type of game," Mr. Starkman said. "He felt they were kids who worked hard and they had a certain aggression to them that was conducive to hockey. Because of their lifestyle and their culture … they just had a hardiness about them that lent itself well to playing hockey."
It was Mr. Neilson's dream to lead his young sabra students to the next level.
That responsibility now lies in the hands of Mr. Perron. He has already travelled with the junior team to Toronto, Los Angeles and Sofia, and just returned from Belgrade, where he led the senior team to one of the biggest upsets in international ice hockey.
On Apr. 10, the team defeated Iceland 4-2 in the men's Division Two gold medal game, earning a promotion to Division One, the second-best level of men's hockey in the world.
The gang from Metulla will now be facing Division One teams made up largely of full-time professional players.
"People don't realize there is hockey in Israel in the first place, because it is so hot," Mr. Perron said. "But it is becoming serious. It's not recreational hockey, I'll tell you that."
Oren represents the leadership of the next generation of Israeli hockey players. Six of his 17 teammates are under the age of 15. It's a responsibility he takes seriously.
"When I got here (Notre Dame) nobody even knew about hockey in Israel," he said. "I hope I'm leaving a good impression and people will think good things about Israeli hockey."
He said he hopes to take his hockey career as far as he can before bringing "Canadian hockey culture" back to Israel and promoting the sport to the next generation.
But those plans will probably have to wait.
Following his high school graduation from Notre Dame, Oren will most likely return home to Israel – trading in his hockey stick for a machine gun – to serve his mandatory three years of military service.
He may even be posted on the northern border, protecting his hometown and providing safety to his country's blooming hockey stars crafting their game in the Canada Centre.