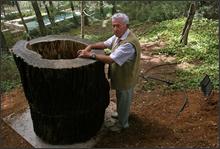 Holocaust survivor Jakob Silberstein, 83, stands next to the hollow tree that saved him. (AP Photo/Dan Balilty)
JERUSALEM (AP) — Thousands of trees line Yad Vashem's Garden of the Righteous Among the Nations, honoring the people who saved Jews during World War II. On Monday, Israel's official Holocaust memorial honored its first "righteous tree," a hollow 33-foot high birch that hid Jakob Silberstein as he escaped Auschwitz.
Polish-born Silberstein, 83, recently returned to the Czech countryside to recover the tree and had two segments shipped to Yad Vashem, where they are now on permanent display in the garden overlooking the Jerusalem forest.
"This tree, for me, is life. It saved my life," said Silberstein, whose shaking left arm still bears the concentration camp number branded into his skin.
Silberstein was deported with his family to Auschwitz in late 1942. His entire family – his parents and three brothers – were murdered, but he survived for more than two years. On a death march in early 1945 he escaped and fled to Czechoslovakia, where he found refuge inside the attic of Jana Sudova, in the village of Sunychl.
Silberstein stumbled upon the hollow tree in her backyard when he noticed a rabbit burrowing into a hole at its stump. Silberstein – who worked as a chimney cleaner in Auschwitz – expanded the hole, slithered inside the tree and stuffed the opening shut with leaves. He would repeat the drill each time German troops approached the town, spending frequent, extended stints inside the hollow.
"Once, I was inside the tree for nine hours and I heard the Nazis walking just outside," he said, swallowing tears. "I was terrified, emotionally drained and my heart was pounding strongly. I was sure that if they heard me they would saw through the tree, or burn it with me inside."
For years, he kept his stories to himself. Alex Silberstein, his son, said he remembers as a child awaking in the middle of the night to the sounds of his father's screams. But he knew little until recent years, when his father began digging into his past and searching for his savior.
Sudova died in 1993, but through a newspaper ad Silberstein tracked down her daughter, Anna Gerlova, and the sacred tree.
"That tree was always special for us as children," Gerlova said Monday. " We knew the story behind it, and we never went inside it."
Alex Silberstein said knowing his father's past has helped to understand him better.
"I still can't quite grasp it all," he said, as he stared at the tree trunk. "Even though it is standing right here in front of me, I still can't grasp it."
Six million Jews were killed by the Nazis during World War II.
Natan Eitan, the director general of Yad Vashem, said Silberstein's tale was one of hope amid the many others filled with tragedy. "He didn't give up," he said. "And he succeeded."
Jana Sudova was recognized in 2006 by Yad Vashem as a Righteous Among the Nations – an honor granted to some 22,000 non-Jews from 42 nations who risked their lives to save Jews during the Holocaust.
This group includes Oskar Schindler, whose efforts to save more than 1,000 Jews was documented in the Oscar-award-winning film "Schindler's List."
Now Sudova's tree has joined its owner.
Silberstein said the confines inside the tree were tight, but he drew hope from the opening at its top, through which he could look up at the sky as he was scrunched inside the trunk.
"I believe in divine shelter," he said. "I had someone protecting me from above."