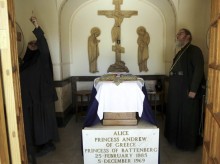 A Russian priest stands by the grave of Princess Alice of Battenberg and Greece, great-grandmother of Prince William, at the Mary Magdalene Church in east Jerusalem. (AP Photo/Mahmoud Illean)
JERUSALEM (AP) — When Prince William caps his historic royal tour of the Middle East with a visit to the holy city of Jerusalem, he'll not only be venturing into the epicenter of world religion and regional politics but also, oddly, into a long overlooked chapter of his own family.
The prince will make a pilgrimage Thursday to the tomb of his great-grandmother Princess Alice of Battenberg and Greece, one of the more unusual characters in royal history, whose last wishes were to have her remains buried in a crypt below a Russian Orthodox church in east Jerusalem.
The deaf great-granddaughter of Queen Victoria lived a modest life, struggled with mental illness and saw three of her daughters marry prominent Nazi supporters before establishing an order of nuns. But the mother-in-law of Queen Elizabeth II is particularly lauded in Israel for sheltering persecuted Jews during the Holocaust.
The prince's visit to the Jewish state, the first official one of a member of the British royal family, has shone a light on the lesser-known side of his family tree. Visiting the Yad Vashem Holocaust memorial, he noted with pride that his great-grandmother had been recognized as a Righteous Among the Nations, the highest honor Israel grants to non-Jews who risked their lives to save Jews during the Holocaust. Princess Alice hid three members of the Cohen family in her palace in Athens during the Nazi occupation of Greece in World War II. Yad Vashem said she saw to everything they needed "and even visited them in their hiding place, spending many hours in their company."
She once used her deafness to convince Gestapo officers that she did not understand them and could not let them search her property. Thanks to these and other efforts, the Cohen family survived and today lives in France. While meeting Prime Minister Benjamin Netanyahu, Prince William was introduced to some of the family's descendants.
"We all owe our existence to the courage of Princess Alice," said Philippe Cohen, 31. "Prince William was very proud to know that his great-grandmother had saved our whole family."
The Holocaust chapter was only part of an exceptional biography that included periods of exile, a nervous breakdown and subsequent stay in a sanatorium and various good deeds for those less fortunate, said Hugo Vickers, a royal historian who wrote a book about her. Her location of final resting place is also extraordinary. Though she died at Buckingham Palace in 1969, and was initially interred in the royal crypt in Windsor Castle, her remains were transferred in 1988 to the gold-domed Church of St. Mary Magdalene above the Garden of Gethsemane on the Mount of Olives in east Jerusalem.
Princess Alice had asked to be buried near her aunt and role model, Grand Duchess Elizabeth, a Russian Orthodox saint who also established a convent and helped the poor before she was murdered following the Russian Revolution.
"I am glad Prince William is learning about this remarkable figure because she really exemplified the best qualities of a princess, which is to look after your people in difficult times," Vickers said of Princess Alice. "She had no money and nearly starved to death in World War II. She is the one who should be made a saint."
Born deaf in Windsor Castle in the presence of Queen Victoria, Princess Alice was raised in England, Germany and Malta. She married Prince Andrew of Greece, with whom she had five children including her only son Philip, the future Duke of Edinburgh and consort of Queen Elizabeth II.
She was later cast into exile when the Greek royal family was overthrown. Even before being diagnosed with paranoid schizophrenia, she had begun to set up charities for Greek refugees. Later, she established a nursing order of Greek Orthodox nuns modeled after that of Grand Duchess Elizabeth.
During the war, her son served in the royal navy while her German royal sons-in-law fought for the Nazis and all-the-while she hid Jews.
In a 1994 visit to Yad Vashem, Prince Philip planted a tree there in his mother's honor and visited her grave site. His eldest son Charles, the Prince of Wales and heir to the throne, later paid a similar visit.
"I suspect that it never occurred to her that her action was in any way special," Prince Philip said in his visit. "She was a person with deep religious faith and she would have considered it to be a totally human action to fellow human beings in distress."
Vickers said that Princess Alice was quite humble and would likely have been dismayed that he made her story public. But he said he felt a duty to bring to life this colorful character who "dressed like a nun and smoked like a chimney," and whose disability and struggles may have made her more sensitive to those in need.
"I think Prince William may see in her a certain quality that his mother had," Vickers added. "She was also good with the poor and the sick, the old and the young."