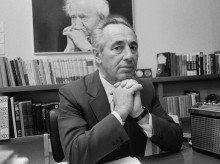 In this 1981 file photo, Shimon Peres, then the leader of the Israeli opposition, poses in front of a picture of David Ben-Gurion, at his office in Tel Aviv, Israel. (AP Photo)
TEL AVIV, Israel (AP) — In a seven-decade career packed with historic triumphs and painful setbacks, Shimon Peres took pride in always looking forward.
Now, in a memoir completed just weeks before his death last year, the former Israeli president and prime minister offers his trademark optimistic blueprint for future leadership — along with some subtle criticism of the country's current leader.
The book offers a rare glimpse into key chapters of his extraordinary life — from his early days as a protege to Israel's founding father David Ben-Gurion, to his covert efforts to smuggle arms to the new state and build its nuclear reactor, to orchestrating the famed Entebbe hostage rescue raid and nurturing the country's booming high-tech sector.
Peres says he lived a life of no regrets, with just one possible exception — that his vision to make peace did not materialize in his lifetime.
The book, "No Room for Small Dreams," came out Tuesday as Israel began marking the anniversary of his passing at the age of 93.
Though Peres authored more than 10 books, he rarely delved into his own biography, instead focusing on his vision for the future. His son, Chemi, said that rather than write a traditional memoir, he wanted to leave behind a guide for future leaders.
"He is offering the reader a tool box saying 'Look at my life … look at my dreams, look at what I served, look at my dilemmas and use those for the future,'" Chemi Peres, one of Israel's foremost venture capitalists, said from his father's old office in the Jaffa part of Tel Aviv, overlooking the Mediterranean Sea. "This is the story of a journey from an old world to a new world. That is how the book should be read."
The book charts Peres' encounters with world leaders and fellow Israeli icons like Golda Meir, Moshe Dayan and Yitzhak Rabin. Glaringly absent is Israel's current leader, Benjamin Netanyahu, who delivered Peres one of his most stinging electoral defeats in 1996, shortly after Rabin's assassination.
Though Peres refrains from delivering personal rebukes, he offers a veiled critique from beyond the grave.
"We need a generation that sees leadership as a noble cause, defined not by personal ambition, but by morality — and a call to service," he wrote in the epilogue.
He said the world needs leaders "who prefer to be controversial for the right reasons, rather than popular for the wrong ones" and who make "the leap from the age of territory to the age of science."
Most of the book, however, is devoted to the defining chapters and challenges of his life.
Peres says his early idol was his grandfather Zvi, the rabbi of the Polish shtetl of Vishneva, who later perished in the Holocaust. His parting words to the 11-year-old Peres as he departed to the Holy Land served as a guiding motif throughout his life: "Promise me you'll always remain Jewish."
In pre-state Palestine, Peres was active in the agricultural kibbutz movement before being recruited by Ben-Gurion as a top aide. Still in his 20s, he led the Defense Ministry of the newly established country and spearheaded various secret missions, such as securing arms from Czechoslovakia, Cuba and South America. He brokered deals for tanks and airplanes in the United States, smuggling them out in parts and securing help from various and nefarious characters like Teamsters boss Jimmy Hoffa.
Most dramatic were his forays to France, where he became close to its ruling class, which helped him establish Israel's defense industries. Peres describes how in his final hours in power in 1957, French Prime Minister Maurice Bourges-Maunoury signed the agreement to establish Israel's groundbreaking nuclear program.
"In that moment, what he had done for Israel — what he had done for me — was the most generous display of friendship I had ever known," Peres wrote.
Today, Israel is widely believed to possess nuclear weapons, though it has never acknowledged having them.
Peres describes how, on a whim, he set this policy of nuclear ambiguity into motion as he was pulled aside at the White House by President John F. Kennedy. Peres tried to assure the president that Israel "shall not be the first to introduce nuclear weapons to the region."
Peres credits the nuclear program for creating a deterrent needed to later make peace a viable option.
In describing the other highlights of his career — imagining the Entebbe raid as defense minister in the 1970s, rescuing the economy from triple-digit inflation as prime minister in the 1980s, guiding a skeptical nation into peace talks with the Palestinians in the 1990s — Peres said he always heeded the mantra of his mentor Ben-Gurion: "In Israel, in order to be a realist, you must believe in miracles."
Still, he bemoaned the collapse of a near peace deal with King Hussein of Jordan in 1987 that would have included the Palestinians but was shot down by then-Prime Minister Yitzhak Shamir.
"In the 30 years since, we have never come close to achieving peace with so few concessions," he wrote. "What a devastating blow it was to the state of Israel, and to our efforts at seeking peace and cooperation with our neighbors."
He described a week of Palestinian suicide bombings in Israel in 1996 shortly before his election loss to Netanyahu as "the worst of my life."
But after a career in which he was one of Israel's most divisive figures, he finally secured public adoration when he was chosen by parliament as Israel's ceremonial president in 2007, taking the role of elder statesman. Chemi Peres said his father was content in his final years, and never stopped looking ahead.
"Time became more and more valuable to him as he grew older and he distilled the past and even the present. He focused only on the future," he said.
"I don't regret any of my dreams," the elder Peres wrote. "My only regret is not having dreamed more."