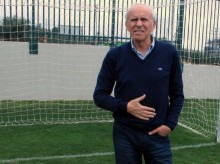 Mordechai Shpigler poses for a photo at a stadium in Netanya. (AP Photo/Aron Heller)
NETANYA, Israel (AP) — At the 1970 World Cup in Mexico, a young Mordechai Shpigler curled a mighty left-foot strike into the back of the net to secure a 1-1 draw for Israel against Sweden. The goal became a seminal moment in Israeli sports and turned Shpigler into a national icon. To the frustration of Israeli fans, it also remains the country's only World Cup goal.
Israel's small size, alone, doesn't explain its failure to make any notable dent on world football since that sole appearance in the showcase tournament. With 8 million residents, Israel is larger than Croatia, Costa Rica, Uruguay and Bosnia — which all qualified for the 2014 World Cup in Brazil.
"Every four years, I say, 'This year they will advance' and every four years I am wrong," Shpigler, now honorary president for the team of his youth,Maccabi Netanya, said in an interview with The Associated Press. "But those who are even more wrong than me are those who are supposed to help the team advance. In all the years since (1970) everyone has done the same, which is essentially nothing."
Mideast politics are partly to blame. The 1970 team qualified for the World Cup via the Asian Football Confederation, where Israel was successful, winning the Asian Cup and qualifying for the Olympics. But it was constantly boycotted by teams from Muslim nations and eventually moved to another continental confederation. After a short stint in Oceania, Israel eventually landed in European qualifiers where it faced much tougher competition.
Highly-rated Israeli players such as Ronny Rosenthal(Liverpool, Tottenham), Eyal Berkovic (West Ham, Manchester City), Haim Revivo (Celta Vigo, Fenerbahce) and Yossi Benayoun (Liverpool, Chelsea) enjoyed success in Europe, but their individual achievements did not lead to national progress.
Perhaps Israel's greatest achievement of the last generation was helping keep France out of the 1994 World Cup with a 3-2 injury-time win in the qualifiers. That, and a 5-0 thrashing of Austria in 1999, however, proved to be aberrations.
That's painful for a country where football is the most popular sport, with basketball a distant second. The fact that Israel has often been one of the last to be eliminated from World Cup and Euro qualifiers only added to popular frustration.
The Israeli league remains mediocre at best. When top clubs like Hapoel Tel Aviv or Maccabi Haifa have made it into the European Champions League they have been trashed by the superior competition. The league has proved to be a springboard for some talented players who have moved on to Europe, though, such as Nigeria's top goalkeeper Vincent Enyeama. The second- and third-string goalies on that World Cup-bound team currently play in Israel.
But observers often note that in a country besieged by conflict and which focuses its resources primarily on security, sports can never be a top priority. The country's compulsory three-year military service for men also complicates the development of young football talents.
Shlomi Barzel, head of communications for the Israel Football Association, refuses to use that as an excuse.
"The bottom line is that we are not good enough," he said. "The conditions were good enough to succeed and we didn't take advantage of them. The talent was there but we didn't build for the long run."
The senior team's struggles are particularly puzzling given the relative success of the young squads. Israel hosted the under-21 European championship last year and defeated England.
Shpigler says Israel has stagnated compared with the progress of other small nations.
The 69-year-old former striker remains Israel's record scorer, with 33 goals in 83 games. He played in France with Paris Saint-Germain and alongside Pele for the New York Cosmos in the 1970s.
He still gets stopped on the street to discuss his World Cup goal, but wishes that wasn't the case. He says he has moved on and that Israeli football should do the same.
"We didn't win the World Cup. We took part one time," he said. "Beyond that, I don't know what people want from me."