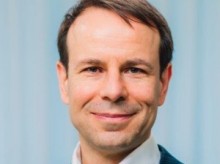 Stephan Litjens, Head of Enterprise Solutions, Cloud and Network Services
When Stephan Litjens joined Nokia 25 years ago, he was eager to channel his entrepreneurial spirit into the newly liberalized telecom market in which private ownership was emerging and mobile networks were in their early days. In his native Netherlands, he worked in core networks, climbed radio towers and installed base stations, as he engaged in nearly every aspect of the booming industry.
But over the years, and throughout moves to Finland, Germany and Japan, he found his pioneering mentality shifting elsewhere, particularly toward the emerging enterprise market at the heart of Industry 4.0.
Today, the 51-year-old Litjens heads the Enterprise Solutions business unit in Cloud and Network Services, where he runs what he calls a "large start-up" of some 800 people and 250 million euro in annual revenue that provides private wireless and automation solutions for industries and government customers.
"We are on the cutting edge. The satisfaction comes from the democratization of it, where we make it easier to use and put it in the hands of other people who understand the problems they want to solve," he said. "The biggest hurdle for us is to make the technology easy to use. We need to make it so simple that if someone wants a private 5G wireless in their home they can do it."
In the meantime, the focus is on connecting large enterprises like hospitals, airports, seaports, companies and various types of factories.
"It has to work really, really well, even better than for a service provider," he said. "The big challenge in this space is to do the fancy, very advanced stuff but to get the right degree of reliability."
The new frontier is something Litjens is very passionate about. He considers creating and leading the Nokia Digital Automation Cloud (NDAC), an internal startup targeting industrials and enterprises, as one of his career highlights.
Before that he established the Nokia Incubator/Innovation unit, an early birthplace for the NDAC project, where he also led a largely student-based team to combine drones with private LTE for search and rescue operations. The team won the $1 million 2017 "Drones for Good" competition in Dubai.
Together with Qualcomm, he founded and led two industrial alliances that promoted the use of cellular technology in shared and unlicensed spectrum.
"I like to pioneer and to create new things. I prefer to build a new business than to manage a very large steady one," he said. "For me, it's about making the technology useable. I am mostly interested in how we can apply technology and if you look at the next direction for Nokia it's how we apply our technology to actual use cases. Enterprise is perfect for that."
The pioneering theme is one he traces back to his upbringing in southern Holland. Inspired by his mother, he proved to be gifted in the arts and, particularly, in sculpting. Though he was urged to pursue an arts career he ultimately chose science and eventually earned a graduate degree in electrical engineering at Technical University Eindhoven.
He then started a small hardware and software design house with a friend before being drawn to the telecom industry at Nokia. He quickly became curious in the products side and, with the encouragement of his Finnish spouse, relocated to Espoo. Aside from his stints in Munich and Tokyo, he's been there ever since.
It was in Japan where he first became interested in drones after witnessing the devastating 2011 tsunami.
"No one knew what was going on. At some point I realised that our radio was portable, so if we could re-establish radio and get a camera to where the problem was, we could see what's happening," he said. "That solution is now being rolled out to guard the Sendai coastline so there are eyes in the sky and the ability to warn people when the next tsunami comes. So that is something where I feel like we've had a much more meaningful impact."
"Doing good for people should go hand in hand with doing good business," he added.
Outside work, Litjens enjoys spending time with his wife on long walks in Finland. He's also an ardent sportsman, having completed triathlons and Ironman competitions.
Yet art has remained his primary hobby, whether in painting and statue sculpting or in visits to exhibitions and auction.
"My work is mostly abstract, from my imagination. I never liked classical," he said. "I like the edgy stuff, in art and in technology."