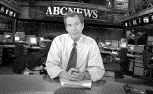 To Peter Jennings, Ottawa was always 'home.'
OTTAWA _ He was one of the world's most accomplished journalists; a name, and face, recognized the world over. But at heart, Peter Jennings always remained an Ottawa boy.
Born in Toronto, but raised in Ottawa, the famous anchor of ABC World News Tonight with Peter Jennings returned to the national capital area nearly every year to vacation at his cottage in the Gatineau Hills. He owned an apartment in Ottawa and his sister, Sarah, still lives here. Throughout a long and prolific broadcast career that took him to more than 90 countries, Mr. Jennings never forgot where he came from.
He was presented with the key to the city and was so connected and committed to his home town that Feb. 21 has officially become known in Ottawa as Peter Jennings Day.
"He was a quintessential Canadian who liked the outdoors, was gentle, and was never ashamed of admitting his Canadian roots," said Brian Nolan, a retired professor of journalism at Carleton and a friend of Mr. Jennings for 45 years. "Although Peter worked in the United States for most of his career, he really had a deep love and roots in Canada."
Following the terrorist attacks on Sept. 11, 2001, Mr. Jennings became a U.S. citizen, but said he wouldn't have done it if he hadn't been able to retain his Canadian citizenship as well.
Mr. Jennings had said the strong cultural nationalism of his parents had prevented him from giving serious thought to dual citizenship before their deaths. His father, Charles, was a pioneering CBC broadcaster and his mother, Elizabeth, who died in 1992, was a prominent supporter of the National Ballet of Canada and the Canadian Opera Company.
Throughout his life, he continued to call Ottawa "home."
In 1997, he was awarded an honorary doctorate of literature from Carleton University, the same university from which he had dropped out in the 1960s. In February, 1998, he performed as the narrator in Franz Lehar's operetta The Merry Widow at the National Arts Centre. He often spoke of his affection for the NAC. "For me, the NAC has always said something special about Canadian priorities and idealism," he told the Citizen last year.
He also spoke of his love for the Byward Market, and in 2000 dedicated a sculpture there in honour of his parents. In 1997, following the death of Irving Rivers, he wrote a letter to the editor in the Citizen explaining his relationship with the Byward Market icon.
"I'm sure others have said the market will not be quite the same. I agree. I also gather from the very large turnout at his funeral that many of us have lost a real friend, and in my case a mentor," he wrote at the time. "In all the years I have lived away from Ottawa, a trip home without a visit to Irving was unthinkable. I never dared buy white wool work socks anywhere else, and in his memory I have vastly more than I shall ever need."
His legendary broadcast career also got its jump start in Ottawa.
Beginning in 1961, he anchored the CJOH newscast as well as a weekly teen dance show and later co-anchored CTV's national news before joined ABC in 1964.
Bill McKee worked with Mr. Jennings as a producer/director at CJOH, when the station broadcast out of a converted lumber yard office on Bayswater and Somerset. He said he couldn't say a bad word about his colleague.
"We were buds. We used to pick on each other. My wife always said if I would tell him to shut up I'd make him a star," he said yesterday.
Mr. McKee said they had a great working relationship — with him behind the camera and Mr. Jennings in front — getting the newly established station off the ground. He recalled sharing smoked meat sandwiches at Kardish's with Mr. Jennings during their long working days.
"Back then everybody did everything," he said, about the news business. "While he was with us, he was part of our crew, and our crew worked bloody hard together."
Even then it was clear Mr. Jennings was on his way to bigger and better things. "He had a certain pizazz about him," said Mr. McKee.
Bill Luxton worked with Mr. Jennings as part of the original announcing team at CJOH. They became close friends, and Mr. Luxton was the best man at Mr. Jennings' first wedding in 1963.
"He was a wonderful newsman and a great guy," said Mr. Luxton. "I have very fond memories of that time."
When Mr. Luxton first arrived in Ottawa, he stayed with Mr. Jennings, who at the time was living with his parents. He said those were formative years for both men.
"It was a great learning experience for him and for all of us. I think back of how young he was and in his way how poised he was. He knew what he wanted to do and news was his big dream and it eventually happened for him, but he paid his dues before he went to that."
While many of his old colleagues eventually lost touch, Mr. Nolan remained friends with Mr. Jennings to the end. They first met at CJOH and later worked together at ABC in New York as well. They often went on canoe trips in Canada together in the summer.
They last talked three weeks ago, when Mr. Nolan said Mr. Jennings was so ill he could hardly speak.
"I think his legacy will be that an American audience be aware of international affairs," he said. In that sense, he said, Mr. Jennings was "more an internationalist than a Canadian nationalist."