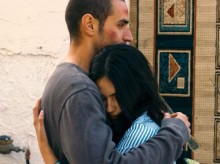 Adam Bakri, left, and Leem Lubany in a scene from the film "Omar." (courtesy)
JERUSALEM (AP) — In the Holy Land, the state of Palestine does not yet exist. But in Hollywood, it already has an Oscar finalist.
The Academy of Motion Picture Arts and Sciences' announcement that "Omar," one of this year's candidates for best foreign language film, hailed from "Palestine" has raised eyebrows in these parts, where Israelis and the Palestinians are engaged in peace talks aimed at establishing just such a state.
For starters, much of the drama was shot in the Israeli city of Nazareth, home of director Hany Abu-Assad and many of the movie's actors, rather than in the West Bank, where much of the movie is set. In contrast, Abu-Assad's 2005 film "Paradise Now," which was also nominated for an Oscar, was billed at the time as coming from the "Palestinian Territories" to avoid the inevitable political saber-rattling over sovereignty.
The United Nations General Assembly's 2012 recognition of Palestine as a non-member state, over fierce Israeli objections, paved the way for the Academy to change its definition this time around. Abu-Assad also said the film qualified as such because it was the first to be almost completely financed by Palestinians. In any case, he added, the film's nationality, like his own, was a matter of identity, not geography.
"As long as we are under occupation, it doesn't matter what it is called," said Abu-Assad, 52, who, like many Israeli Arabs, considers himself Palestinian even though he holds Israeli citizenship. "That doesn't make us Israeli. As long as the state is exclusive, you can't identify with the state as long as it doesn't recognize you as equal."
The debate over the film's land of origin touches on the complex status of Israel's Arab minority, who make up about a fifth of Israel's 8 million citizens.
Israeli Arabs remained in the country during the war surrounding Israel's establishment in 1948, in contrast to hundreds of thousands of Palestinians who fled or were driven out during the fighting and later came under Israeli occupation when it captured the West Bank and Gaza Strip in the 1967 Middle East war.
Israeli Arabs hold full citizenship rights, generally enjoy a higher standard of living and more civil liberties than in neighboring Arab countries, and in many ways have become integrated into Israeli society. Yet they often suffer discrimination and complain of second-class status and frequently identify with their Palestinian brethren. Abu-Assad said he considers all of Israel "under occupation" since Arabs do not have full equality with the Jewish majority.
Yousef Abu Wardi, a veteran Israeli film actor, said he could relate to the identity crisis many of his fellow Arabs felt. "To be Israeli, does that mean I have to stop being an Arab?" he asked. "Until the final borders are defined here, it is going to be very hard to define who is Israeli and who is Palestinian."
In "Omar," a love story set against the backdrop of the Israeli-Palestinian conflict, Abu-Assad explores some of these elements by focusing on the plight of Palestinians who collaborate with Israel.
The title character, a Palestinian baker, routinely climbs over Israel's West Bank separation barrier to visit his beloved Nadia. In one of his escapades he is attacked by an Israeli soldier, after which he and his friends decide to kill another soldier in revenge.
After being arrested he is pressured into becoming an informer, setting off a chain reaction of deceptions and betrayals that will test Omar's loyalty to Nadia, his friends and his people.
Interestingly enough, Israel's own 2014 Oscar entry, "Bethlehem," deals with the same theme of collaboration but focuses more on the intimate relationship between the Palestinian informant and his Israeli handler.
Abu-Assad said he made no effort to tell Israel's side of the story.
"I find any kind of balance between the occupied and the occupier a little false," he said in a phone call from Los Angeles, where he is awaiting Sunday's ceremony. "A balance makes it less impressive as a movie. All good movies are told from one point of view."
Yair Raveh, a film critic from Israel's leading entertainment magazine Pnai Plus, said both films were equally impressive. While Israel's "Bethlehem" made an effort to portray both sides and included some national soul-searching, he said the Palestinian "Omar" drew its strength from the rage it projected.
"It's not an anti-Israeli film per se. It just has a lot of anger and anger is good for cinema," he said.
"Omar" has mostly played before art house-type theaters in Israel while in the West Bank it has had only limited viewings. That has not stopped passions from rising over the film — and the Academy's stance on its origins.
"The policy of the government of Israel, among other things, is to establish a Palestinian state. But one doesn't exist right now," said Paul Hirschson, a spokesman for the Israeli Foreign Ministry. "Unfortunately, this does not contribute, to say the least, toward conflict resolution because it doesn't nurture intellectual honesty in the conversation."
The Palestinian culture minister, Anwar Abu Aisheh, called the film a "qualitative step" for the Palestinian film industry. "I'm very proud of this movie. It succeeded in introducing the world of our problems under occupation, of our tragedy."
The movie, which opened in the U.S. on Feb. 21, is the latest in a recent run of Israeli and Palestinian films that have enjoyed success internationally.
Last year, two films were nominated for best documentary; "The Gatekeepers," which included interviews with all the living former heads of Israel's Shin Bet security service, and "5 Broken Cameras," a firsthand account of the protests of a West Bank village affected by Israel's separation barrier. The latter, co-directed by an Israeli and a Palestinian, also faced questions over how the academy should identify it.
Israeli films were finalists for the Academy Award for Best Foreign Language Film four times between 2008 and 2012, giving Israel more nominations during that period than any other country.
All but one of the films dealt with the Israeli-Palestinian conflict, creating a counterintuitive "golden age" of Israeli film in which the government has bankrolled movies that have often shined a critical light on Israeli policies and society.
Abu-Assad said the Palestinians were not yet ready for such introspection.
"The Israelis have less problems with it because it (the conflict) does not control their life," he said. "We have less luxury to deal with other topics even though I would love to."
Still, he said he made an effort to create a movie that was about love and friendship in which the conflict was only part of the background.
"I do not want to make a movie that will die with the occupation," he said. "You want to make a movie that will live forever and the occupation will die one day."