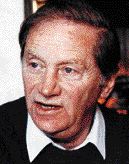 Norman Levine
Norman Levine, one of Canada's top fiction writers and perhaps the greatest to come out of Ottawa, died on Tuesday in northern England, lonely and destitute like so many of the wonderful characters he created.
For years, he had been suffering from heart troubles that caused him to black out and faint. On Monday, he suffered another collapse, and a day later he died of cardiac arrest. He was 81 years old.
In a career than spanned nearly 60 years, Mr. Levine came to prominence for his colourful novels, essays, poems and particularly his short stories.
"He is simply the most accomplished short story writer the country has ever produced," said John Metcalf, his Canadian publisher and a long-time friend.
"I think he was a very, very good writer who crafted excellent, technically perfect stories that will withstand the test of ages and ages," added David Staines, former dean of arts at the University of Ottawa and an expert in Canadian literature.
Mr. Levine drew the ire of many Canadians, and the Canadian literary establishment, for Canada Made Me, his account of his three-month coast-to-coast journey from Halifax to Ucluelet, B.C. First published in England in 1958, it was a bitter, critical reassessment of the moral and cultural values of Canada. It was regarded as so controversial that the book did not appear in a Canadian edition until 1979.
In time, though, it became a classic. Famed Canadian author Mordecai Richler once said it was "far better than any book I've ever read about Canada."
Mr. Levine also wrote two books of poetry; Myssium, in 1948, and The Tightrope Walker, in 1950; and two novels, The Angled Road in 1952 and From a Seaside Town in 1970.
His greatest claim to fame, though, came as a prolific short story writer.
His epic collection of short fiction includes: One Way Ticket (1961), Canada's Winter Tales (1968), I don't want to know anyone too well (1971), Selected Stories (1975), Thin Ice (1979), Why do you live so far away? (1984), Champagne Barn (1984) and Something Happened Here (1991).
"There is a sense of detachment that underlies much of his fiction. He is really isolated from the subjects he deals with," said Mr. Staines. Those lonely, isolated characters hint at Mr. Levine's own psyche.
"He always talked to himself as if he were a displaced person," said Cassie Flint, 58, the eldest of his three daughters. "This idea of being on your own and dispossessed of your homeland and having something to say that people don't want to hear is very much how I would characterize my dad."
– – –
Norman Levine was born in Rakov, Poland in 1923 and grew up in Ottawa's Lowertown neighbourhood, the son of Jewish immigrants who fled the pogroms in Poland. Many of his later stories eloquently portray the locales of his youth, particularly the Byward Market. However, like many of his generation, his relatively normal life was forever altered by the Second World War.
During the war, he served in the Royal Canadian Air Force with a Lancaster squadron based in Yorkshire. He flew bombing missions over Germany, including some of the major raids over Dresden.
After the war, Mr. Levine attended McGill University — paid for by the federal government under the Veterans Act — and received an MA in English literature in 1949. By then, he was well on his way to becoming a writer.
That year, he was awarded a $5,000 fellowship for post-graduate work at King's College, London. He left Canada with the manuscript for his first novel and spent the next 31 years in England, mainly in St. Ives, near Cornwall — an emerging artists' colony where he befriended many painters who influenced his evolving style of writing.
"He's a very visual writer. He writes with many images that stay fresh in your mind," said Nancy Baele, a former Citizen writer and a close friend. "It was the quality of wanting you to have the same impact you have when you look at a work of art — almost a graphic idea of the scene you are seeing, or the people you are seeing, that really made him exceptional as a writer."
Like many other postwar writers, he was heavily influenced by the sparse, meticulous sentences of Hemingway and Chekhov, endlessly labouring over every sentence.
He returned to Canada briefly in 1965 when he was the first writer-in-residence at the University of New Brunswick for a year. It was the only permanent job he ever held.
He returned to England to be with his wife, Margaret, and three daughters: Cassie, Kate and Rachel. When Margaret died in 1978, at the age of 48, he was shattered. He briefly moved to Toronto, remarried, and then moved to France. When his second marriage fell apart, he moved in with Ms. Flint in Barnard Castle in northern England. He lived out the rest of his life there, in relative isolation, writing in a modest attic to the very end.
– – –
In Canada, Mr. Levine never reached the widespread appeal of other prominent Canadian authors. However, he was utterly adored by his most dedicated readers.
"I think what he did was a very pure kind of writing," said Ms. Baele. "In my estimation, he is as good a writer as Alice Munro and Mavis Gallant, people who are better known by the general public. I think it's a shame that he didn't have more of a larger readership."
One of her former colleagues thinks that soon may change.
"I think he will become significantly more famous in death than he was in his life," said Chris Cobb, a Citizen writer, who knew Mr. Levine well.
Mr. Levine's work received rave reviews overseas, and he was often compared to such literary giants as Chekhov.
"He was underrated. He spent the bulk of his writing career in a period where Canadian literature wasn't taken particularly seriously by Canadians," said Mr. Cobb. "He was ahead of his time. If he had been writing 20 years later, in the Atwood era, he would have been significantly more renowned in Canada."
However, according to Mr. Metcalf, there was more to it than that.
With his move to England, Mr. Levine deliberately cut himself off from Canada and, with the rise of Canadian nationalism in the 1960s, his move to England was seen almost as an act of treachery. Canada Made Me essentially sealed his doom among Canadian readers.
"He was always an outsider, in all senses," said Mr. Metcalf. "As an artist, what he was doing was not understood. The writers of his generation didn't have a clue to what he was doing. He was forging this incredible style."
Creative genius or not, his persona wasn't always the most accommodating. Writing was his life. It came ahead of family.
"I don't think I particularly liked my dad. I was immensely, immensely proud of him. He was prepared to do absolutely anything for his writing," said Ms. Flint. "As a child, growing up with someone who is obsessed by that, it's very hard."
They had a stormy relationship. She never forgave him for discouraging her from being a writer, even though she knew it was out of love — he was only trying to spare her the struggles he had endured. She eventually became a teacher of literature.
Mr. Levine was always proud of his three daughters and six grandchildren. But, in many ways, he remained an enigma, even to his own family.
"He was like a character from Tennessee Williams, who always depended on the kindness of strangers. My dad would have long and intimate and involved conversations with total strangers, but would find it very hard to talk to me, and that was very rough," said Ms. Flint.
Regardless, Mr. Metcalf said Mr. Levine left a legacy as a man and a writer.
"I think it was a noble life, full of integrity, and he endured whatever it was he had to endure for the sake of his writing, in which he never ceased to believe," he said.