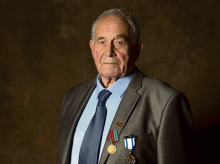 Shimon Greenhouse
More than 90 Nokia employees in Israel took a break from their meetings and put a pause on their programming duties for an hour on Thursday (Apr. 8) afternoon to gather some perspective on one of the most somber days of the Israeli calendar.
Some visibly shaken, they remained glued to their screens to hear 91-year-old Shimon Greenhouse methodically lay out his harrowing life story and how as a young boy he survived the Holocaust in Europe but lost nearly his entire family, encountering unspeakable acts of murder, abuse and depravity.
It offered a younger generation of Israelis, and Nokians, a rare opportunity to hear a direct account from one of the country's increasingly aging and dwindling population of survivors.
"I feel a great obligation to give testimony," explained Greenhouse. "It took me decades to open up but there are those out there who diminish and deny the Holocaust and we can't let that happen."
Six million Jews were killed by the Nazis and their collaborators during the Holocaust, wiping out a third of world Jewry. The United Nations designated Jan. 27 as the annual international commemoration, marking the date of the Auschwitz death camp's liberation in 1945.
But Israel's main annual memorial takes place in the spring, in accordance with the Hebrew date of the anniversary of the Warsaw Ghetto uprising. It's a day in which the country literally comes to a standstill with a two-minute-long siren at 10 a.m. to remember the victims of the genocide. Pedestrians stand in place, buses stop on busy streets and cars pull over on major highways — their drivers standing on the roads with their heads bowed.
Survivors typically attend remembrance ceremonies, share their stories on solemn TV and radio programs and give testimony at schools and places of work.
But this was the first time Nokia has hosted such an event. Inviting Greenhouse was the initiative of Ifat Papo, the new Israel country HR manager, whose own late grandfather was also a survivor.
"This is something that is obviously close to my heart," she said. "Time is running out on hearing these stories and this is a way for us to respect these people and provide added value to our employees, engaging them with issues beyond their daily jobs."
Nokia Israel CEO Aric Tal introduced Greenhouse to the local team for a meeting held virtually because of Covid-19 gathering restrictions.
Though most Israelis are familiar, many personally, with similar stories of tragedy and survival, Tal told Greenhouse that his journey offered inspiration to an office that stressed volunteer work toward making the world a better place.
"His unbelievable, resilient life story emphasizes that almost everything is possible no matter what challenges and barriers a human being can face," Tal said.
Greenhouse grew up in the village of Krasne, today part of Belarus, and with the German invasion in 1941 he and his family were placed in a ghetto that was rife with disease and hunger. One by one, his extended family members were taken away, never to be seen again.
A year later Greenhouse was rounded up with his father and lined up alongside other men in a main square. A Nazi soldier shot his father in the back of the head.
"My father fell into the snow and I was holding his hand and I fell in the snow too. By holding my hand, he saved my life," recalled Greenhouse, who was 12 at the time.
In 1943, the ghetto was liquidated and most of its Jewish inhabitants were placed in barns that were set ablaze. Among those burned alive were his older brother and sister.
Ill with typhus, the young Greenhouse was unable to walk. His mother carried him to the surrounding forests where they joined the underground partisan fighter movement and took part in sabotage missions against Nazi transit routes. They ate roots and weeds to get by and had no shoes or warm clothing throughout the cold winter.
Greenhouse helped the partisans with chopping trees but lost three fingers on his left hand in an accident. Without proper medical treatment, the fingers went gangrene and only a makeshift surgery in the woods saved the rest of his arm.
After the war, he completed high school and earned a university degree in mathematics. In 1960, Greenhouse emigrated to Israel with his mother, his only surviving relative. He later married, had four children of his own and became a physics teacher and esteemed high school principal.
Over 60 years, he educated thousands of students – including Nokia's own CBIS/NCS QA Manager Michael Or, who warmly reconnected with his old principal on the call. Or recalled an important message he said he learned from Greenhouse those days that resonated with the future technologist in him and one that he repeats today to his own children: "Gymnastics is good exercise for our body muscles and mathematics is good exercise for our brain muscles."
For Greenhouse, it was just one such lesson he passed on to generations of Israeli teenagers from a life filled with hardship.
"I'm very connected to the youth. When I see these kids of 17, 18 years old, what I see are my brother and sister who were that age when they were killed," Greenhouse said. "I've been through a lot, but I've learned you can overcome anything. And I've learned that anywhere you can do good, you should."