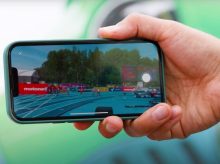 Camera-as-a-Service
This summer, thousands of sporting enthusiasts converged in Espoo, Finland for the European Athletics U23 Championships to watch Europe's top young track and field athletes compete – and these lucky fans got to see more of the action than ever before.
In its first real-world, live deployment, Nokia's groundbreaking Camera-as-a-Service platform was installed across Leppävaara Stadium in Espoo and the adjacent warm-up and training facility, parking lots and concessions stands. Together it delivered unparalleled viewing experiences and insights to spectators, athletes, coaches and organizers. In addition to spectators enjoying the atmosphere and excitement of witnessing live competition, this novel platform offered them exclusive behind-the-scenes footage, live updates from different viewing perspectives around the stadium and the instant replay perks of a televised broadcast right on their own mobile devices.
The unique, immersive experience provided a fertile testing ground to demonstrate a new cutting-edge Nokia Bell Labs technology that could influence industries far beyond the realm of athletics.
"We are enhancing the spectator experience. We are giving them a possibility, either with their mobile phone or even with an AR device, to go onto the field, almost as if they were part of the event itself," said Nokia CEO and President Pekka Lundmark. "The same technology can be applied in many fields, especially in various industrial digitalization applications."
Such applications include industrial site surveillance, production line monitoring, environmental monitoring, emergency alerts, worker safety improvements, equipment failure detection and the coordination of robots and autonomous vehicles.
The general concept is to build a software solution that turns standard, off-the-shelf cameras into intelligent cameras that apply analytics, artificial intelligence and machine learning on the camera itself. This enables the cameras to provide a range of services, including traffic flow, pedestrian analysis, asset tracking and even facial recognition.
It's the latest innovation in imaging from Bell Labs, 50 years after we first invented a way to store an image and digitize it.
Camera-as-a-Service reduces the need to implement expensive network infrastructure and reduces the need to send and process data in the cloud, saving bandwidth and providing sustainable network consumption. Analytics are done locally, on the edge, ensuring no raw data leaves the device and thus preserving end-user data security and privacy.
At the U23 event, it supercharged the live experiences to provide "recall, reveal and relax" functionalities to the spectators.
Recall means instant replays to ensure the spectators don't miss anything from the live event with the additional benefit that every spectator can choose their own replay. In a way, we are combining a personalized experience with the television broadcast replays.
Reveal means being able to explore behind-the-scenes action and connect with athletes. It also means getting multiple perspectives of the live action by allowing the spectators to teleport to different locations around the stadium for a 360-degree view with zooming capabilities.
Relax means having real-time camera access to the parking lots and concessions stands for the important insights on when is the best time to grab a hot dog or head for the exits.
The solution proved itself and clearly resonated with fans, athletes and coaches. Event organizers were especially delighted that they had not encountered a single problem in the parking areas over the five days of the event. This was evident in the warm response of those who enjoyed this service first hand.
"As a sports fan and a spectator, of course I don't want to leave the stadium to miss any performance when I'm about to get food," said Nicole Gustafsson. "So, then it's great to kind of check the app for the queues. And then you'll be able to return to the spectator place as fast as possible."
Naturally, the Camera-as-a-Service technology can do so much more. Providing these analytics-driven insights at sporting events is just the starting point. It can also provide unique experiences and insights at other entertainment events, such as music concerts and art festivals.
The technology can similarly be deployed in enterprise and industrial environments to capture real-world information, derive intelligent insights, support optimal decision-making and ultimately improve our productivity, safety and sustainability. It's a gold-medal-winning combination that can keep us safe in an ever-changing world, showing us things that we can't see on our own.