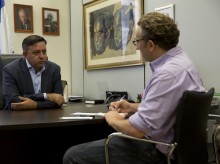 AP's Aron Heller interviews new Labor Party leader Avi Gabbay at party headquarters in Tel Aviv (AP Photo/Sebastian Scheiner)
TEL AVIV, Israel (AP) — After falling out with Benjamin Netanyahu as a junior member of the Cabinet last year, Avi Gabbay is now a leading candidate to replace the scandal-plagued prime minister.
Buoyed by a rags-to-riches personal story and a centrist worldview that appeals to Israel's traditional swing voters, the new leader of the opposition Labor Party has seen a big bump in the polls.
But the 50-year-old former telecom executive has his sights set on more than just victory at the ballot box: He believes his business background and everyman persona could enable him to reach a peace agreement with the Palestinians — something Netanyahu rarely even mentions anymore.
"I don't know if we can reach a deal, but we have to exert energy into it again and not neglect it anymore," Gabbay told The Associated Press Tuesday at Labor's spartan headquarters in Tel Aviv.
"Benjamin Netanyahu does not believe and is not willing to reach a diplomatic accord. He hasn't said the words 'two states' for the past two and half years," he added. "But I know one thing: it is our duty to try."
Little known outside of Israel, Gabbay will soon make his debut on the international stage when he travels to Washington this month for the Saban Forum, an influential gathering of policy makers, and holds a series of meetings with American officials.
Gabbay says he can topple Netanyahu — who has been prime minister since 2009 — by re-energizing the long listless Labor party. His strategy is to poach Netanyahu's own supporters by adopting some positions of the conservative Likud Party.
"I come from the people and I'm here to work for the people," he said.
The seventh of eight children born to immigrants from Morocco, Gabbay grew up in an impoverished Jerusalem neighborhood. Like many other Jewish immigrants from Arabic-speaking countries, his family felt resentment toward the founding Labor Party and long supported Likud.
But since Gabbay's election as Labor party leader in July, polls show him doubling the party's strength and drawing in voters that have never supported it before. More significantly, polls show Labor and its likely allies inching toward enough support to build an alternative coalition government without Likud.
National elections are scheduled for 2019. But Israeli governments rarely last their full term, and Netanyahu's corruption woes could move up the next vote. Gabbay hopes to lead Labor to its first electoral victory since 1999.
In the past few weeks, he's made headlines by sounding a lot like Netanyahu. He says as prime minister he would not evacuate West Bank Jewish settlements in a peace deal or include Israel's Arab parliamentary faction in his coalition, and he has accused the left of playing down its Jewish heritage. He is also said to be considering changing the Labor party's name, in a bid to shed its troublesome baggage.
The moves have been lauded as wily political tactics to grab votes from the center and soft right, but Gabbay has also been criticized for turning away from the party's ideological base.
"Labor party members, like their colleagues in the left-wing camp, deserve a leader who will show loyalty to their basic values," read an editorial of the liberal Haaretz daily. "Labor took a risk and bet on a relatively anonymous candidate in hopes of renewing its ranks. But woe be it if they discover that they unintentionally replaced their worldview instead."
Palestinian official Hanan Ashrawi said she feared Labor was losing its way by competing with Likud instead of opposing it.
"The party is in line now with the Likud Party rather than being the alternative to it," she said. "This is not encouraging."
Gabbay insists that while he is breaking the old Labor mold, he is nothing like Netanyahu. For starters, he says he is serious about pursuing peace. As a gesture, he has vowed to stop any settlement construction outside the main settlement population centers, or "blocs," that Israel expects to keep under any peace accord.
"I want there to be as few Jews as possible in these areas. It's obviously a problem, there is no reason to make it worse," he said. "We can find creative solutions. The Palestinians are mostly looking for someone they can trust, who they can negotiate with and who can make decisions."
Gabbay believes most Israelis still support the establishment of a Palestinian state alongside Israel but have lost faith in the other side. The Palestinians, on the other hand, have been wary of renewing negotiations with Netanyahu because they do not trust him, he said.
"I am willing to give it a chance," he said, but refused to answer repeated questions about his specific peace proposals.
Gabbay said he differs widely from Netanyahu on economic policy, and that it's time for him to go after so long in power, accusing his rival of losing touch with the public.
Netanyahu has been questioned several times by police in a pair of cases relating to alleged financial misdeeds and illicit ties to executives in media, international business and Hollywood. Police say they suspect Netanyahu of being involved in bribery, fraud and breach of trust.
After rising to prominence in the business world as chief executive of Israeli telecommunications giant Bezeq, Gabbay made his foray into politics before the 2015 elections as the co-founder of the center-right Kulanu party, which ran on an economic platform to benefit the working class.
He then had a brief stint as environment minister in Netanyahu's government. He resigned in protest last year when Netanyahu ousted popular Defense Minister Moshe Yaalon in favor of nationalist Avigdor Lieberman. Then he joined Labor and in an astounding underdog campaign seized control of the party.
Gabbay vows he will never serve under Netanyahu again.
"When I was in the government I didn't see people that made me fall off my feet," he said. "I see myself as someone who can do it superbly."