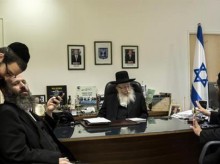 Israeli Health Minister Yaakov Litzman speaks during an interview with the Associated Press in is office in Jerusalem. (AP Photo/Tsafrir Abayov)
JERUSALEM (AP) — As the senior representative of ultra-Orthodox Jews in Israel's government, Health Minister Yaakov Litzman is unapologetic about the insular lifestyle he advocates, despite irking mainstream Israel and endangering its long-term economic prospects.
He insists that shirking compulsory military service, rejecting secular education and raising large families on state subsidies all serve the noblest of purposes: a life devoted to the study of scripture that has preserved Jewish traditions over centuries and will ultimately bring about the coming of the Messiah.
"To sit and learn is a mitzvah," or commandment from God, he told The Associated Press. "It is the most important thing."
But the parochial establishment he represents is increasingly being challenged by a new generation of ultra-Orthodox Jews who are demanding academic degrees, satisfying professions, a bigger role for women and greater immersion in Israeli society.
"We are looking into the future, what will become of the next generation," said Avigayil Karlinsky, a 28-year-old social activist. "I am part of the larger Israel and I want my voice to be heard."
She said the ultra-Orthodox leadership's aversion to progress and integration is mostly about maintaining political power rather than serving their constituents. Until recently, such open criticism was unheard of, but it is gaining traction as people like Karlinsky try to change their world from within.
Experts have long warned that the ultra-Orthodox community's high birthrate and poverty levels, along with low rates of employment and education, could doom Israel's economic prospects.
Many ultra-Orthodox acknowledge this, but they reject any outside effort to enforce changes and insist the process has to happen at its own pace.
Critics inside and outside the community say a more comprehensive reform is needed, including greater emphasis on teaching children math, English and computer literacy. There also are growing calls for outreach to Israel's secular majority.
The ultra-Orthodox, or "haredim" — Hebrew for "those who fear God" — are the fastest growing sector in Israel.
They currently make up about 11 percent of Israel's 8.5 million citizens, with the majority living beneath the poverty line, according to a recent study by the Israel Democracy Institute, an independent think tank. With a growth rate four times that of the general Jewish population, their numbers are expected to rise to 14 percent in 2024, 19 percent in 2039 and 27 percent in 2059, the think tank predicted.
Gilad Malach, a researcher who specializes in the community, said reform was already underway. He said a majority of haredi men now work, compared to just a third in 2003. Women continue to be the primary breadwinners, and their employment rates of close to 75 percent are comparable to the general public, he said.
The number of ultra-Orthodox joining the military and pursuing degrees has also quietly grown, but "modern" haredim like Karlinsky still only make up about 10 percent of the community, he said. He says the leadership hopes it stays that way.
"Their approach is 'nothing has changed,'" said Malach. "But regular people are more sophisticated than that. Every mainstream haredi knows he has to make adjustments."
The state offers specialized training programs, study grants and other incentives to haredim, but they have to be handled with care so as not to come off as patronizing. While leading rabbis and their representatives in parliament have given their blessing to some projects, they have offered none of their own.
"There is no vision. That's the real problem," said Malach. "They don't have any plans and it would be best if the push came from them."
Litzman, who has gained popularity with the general public as health minister by campaigning against junk food and advocating for medical marijuana, has defied calls to change his community.
He points to low crime rates as evidence of their superior values and insists that intensive Jewish studies at an early age instill lifelong learning skills that allow haredim to easily pick up professions later in life.
"There is always new ways and new things which we have to get used to and check out if we can live with it, but there is no change in halacha," or Jewish law, he said. "Until the Messiah will come, it will stay like that."
Karlinsky said she too is guided by her religious beliefs, but takes issue with what she considers a hypocritical approach of a leadership that clings to tradition to maintain control and reinforce a false sense of victimhood.
Her husband was a star seminary student in Jerusalem until he decided it wasn't for him. He turned to computer programming and now works among secular colleagues at Google in Tel Aviv.
She established "the Torah Hub," a Facebook support group for like-minded haredim, and another for victims of sexual abuse in the community — another previously taboo topic. She plans to send her two young children to ultra-Orthodox schools but also make sure they learn English so they have more options later in life.
"I'm not afraid of change," she said, dismissing long-held fears that immersion would lead to assimilation. "Perhaps those who are so afraid of being tempted by secularism don't have strong enough faith to begin with."
In Elad, a central Israeli city of 50,000 mostly haredi residents, the ultra-Orthodox are seeking a happy medium. It boasts the highest rates of employment, salaries and high school matriculation of all haredi communities in Israel. It also prides itself in having clean streets, close ties to neighboring secular and Arab towns, and ample public services like libraries, theaters and community centers.
Mayor Yisrael Porush, a 35-year-old father of six and scion of a prominent haredi family, said his main objective was to develop the city and provide opportunities for residents.
"I'm opening the door for them and it doesn't come at the expense of study," he said. "The world is moving forward and everyone wants to feel equal."
He deferred larger questions about haredi society to the rulings of the great rabbis, but clearly reveled in the companies and colleges that had opened branches in his city and accommodated haredi needs, such as separate working spaces for men and women, and flexible hours for working mothers. He said such an approach would be much more effective than open confrontation.
"Everyone understands that you have to provide for your family," he said. "But if you come at us with a gun, or with a whip, or threats, we have a problem."