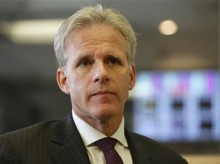 Michael Oren pauses during an interview in the AP offices in Jerusalem. (AP Photo/Tara Todras-Whitehill)
JERUSALEM (AP) — He was Prime Minister Benjamin Netanyahu's envoy to the United States for more than four years. But when former Ambassador Michael Oren decided to enter politics, he joined an upstart rival and began questioning Netanyahu's handling of relations with the Palestinians.
Oren is now a key figure in Kulanu, a new centrist party that may play the decisive role in choosing the next prime minister. While the party is focused largely on bread-and-butter issues, Oren is the diplomatic point man, pushing for bolder efforts to end the West Bank occupation after decades of failed negotiations.
In an interview with The Associated Press, the U.S.-born Oren, 59, said the status quo with the Palestinians is unsustainable and rejected Netanyahu's hard-line approach. Although he agrees with Netanyahu that there is no viable Palestinian negotiating partner — the sides cannot agree on terms — he took issue with his former boss' announcement this week that he would not cede territory to make way for a Palestinian state.
"I think we always have to say that we will be at the table and we are always ready to enter into final status talks," Oren said. "We have to lay the groundwork for a future final status agreement."
In the meantime, Oren said, Israel has to start creating a "two-state reality" on the ground, by restricting settlement construction to major blocs and east Jerusalem — captured lands Israel expects to keep — while improving the living conditions of Palestinians.
Oren also rejects Netanyahu's unrelenting focus on Iran's nuclear program, saying the issues that most concern Israelis are their own country's high cost of living and especially housing prices.
He agrees with Netanyahu's tough stance on Iran and commended his speech to the U.S. Congress last week as statesmanlike. The speech antagonized president Barack Obama because it was arranged without the knowledge of the White House and criticized U.S.-led negotiations with Iran.
"The question is whether it justifies the price of hurting relations with the Americans," said Oren, a historian and best-selling author. "Damage was done and it is essential we do everything to repair that damage."
Unlike current Ambassador Ron Dermer, Oren says he was never a member of Netanyahu's inner circle and was chosen for the job mostly because of his academic expertise on the United States.
Oren said Kulanu's leader, Moshe Kahlon, was the most inspirational of the dozens of Israeli dignitaries who passed through Washington during his term there. The son of Libyan Jewish immigrants, Kahlon grew up in a hardscrabble town in northern Israel and worked stints as a fisherman and fruit vendor before becoming a high-profile politician.
"It's Lincolnesque," said Oren. "It's Israel's version of a log cabin."
Kahlon's crowning achievement was taking on Israel's powerful wireless cartel as communications minister, introducing competition and forcing lower mobile phone prices.
A former member of Netanyahu's Likud Party, Kahlon now expresses support for territorial compromise and a Palestinian state. Many Israelis feel the continued occupation of millions of Palestinians is unsustainable, and that the country must agree to Palestinian independence to preserve its Jewish and democratic character.
Kahlon's campaign, however, has focused almost exclusively on economic issues.
He has refused to endorse either of the two leading candidates for prime minister, Netanyahu or Labor Party leader Isaac Herzog. Both have a bloc of parties behind them — but polls strongly suggest neither will win a majority in the 120-member parliament. That could make the non-aligned Kahlon, who has been polling at around 8-10 seats, the kingmaker.
"We have not ruled out any coalition," Oren said.