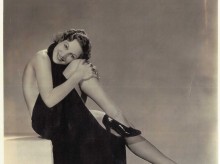 Aunt Jeanette in Chicago in the 1930s
Published in Fall 2007 edition of Guilt & Pleasure magazine.
Aunt Jeanette passed away on Oct. 16, 2008 See 'Globe and Mail' obituary
I remember visiting my Aunt Jeanette's cluttered, mothball-smelling apartment in Toronto as a teenager. Inspecting her collection of memorabilia, I stumbled upon a black-and-white photo from the 1930s of a stunning woman in provocative pose wearing nothing but a slender piece of fur across her chest.
"That's me," she whispered over my shoulder, a devilish sparkle in the eyes above her wrinkled and sagging cheeks.
Aunt Jeanette has always been different.
At ninety-six, she is the oldest living Radio City Rockette in the world, one of those long-limbed, line-dancing beauties who high-kicked their way through the swinging 1930s in New York City, across the country, and around the world. In a career spanning seventy years, she worked in every area of theatrical entertainment: ballet, drama, musical comedy, fashion shows, and movies. She was even involved in the early days of live TV. "I did everything in the theater," she once said, "except the circus."
Last November, she capped a life onstage as one of 1,715 participants in the Guinness Book of World Records' "Longest Single Line of Dancers" (See the video on YouTube). She was easily the oldest. "I never stopped to think about it," she said, of her life and career. "I just went ahead and did what I wanted to do."
—–
Jeanette Heller was born in Paris, Ontario, on April 14, 1911, the only girl of seven children born to a Canadian mother and immigrant
father from Lithuania. Ten years later, the family had moved to Toronto, and young Jeanette was already harboring her dancing dreams.
At age sixteen, she left school to work, along with her brothers, to help the family through the Depression and finance her dancing and music classes. She had no interest in settling for what she considered a menial job, or a menial man. She did pantomime and vaudeville shows at the Royal Alexandra Theatre in Toronto, drawing the kind of attention in the arts she said she never received at home. "My family never paid any interest in me, I was not a special person in the family," she said. "Nobody ever said that they loved us or told us that we were pretty when we were kids."
In 1930, at age nineteen, she left everything she knew behind, and — in a leap of faith that would define the rest of her life — moved to New York City to dance. She quickly became a "Roxyette," the precursor to S. L. "Roxy" Rothafel's Rockettes. The dance line made its debut at Radio City Music Hall on December 27, 1932, and Jeanette was a part of it.
The line was arranged from the tallest in the middle to the shortest on the ends. While today's Rockettes are required to be least 5'6″, Jeanette said that at 5'4″ she fit in fine among the original dancers. "Even the tallest girls were only 5'7″ back then."
She traveled with the Rockettes across North America, rubbing elbows with the biggest names in showbiz: Bob Hope, Louis Armstrong, Gene Autry, Lloyd Bridges, and Carol Channing, to name a few. She said her favorites were Julie Andrews and Red Skelton. In New York, unlike Toronto, Jeanette's Judaism was never an issue. "All they cared about was if you looked good on stage," she said.
But in 1941, she was forced to return to Toronto to care for her mother. With her brothers off to war in Europe, she agreed to stay until they came home. During those three years, she worked in the circulation department and mailing room at The Globe and Mail newspaper, keeping her zest for entertaining alive by organizing events such as a Christmas show for her fellow employees.
Though she hardly lived a Jewish lifestyle, her identity and convictions were strong. On January 11, 1944, an editorial published in The Globe and Mail against anti-Semitism in Toronto cited the experiences of a certain "J.H.," whose application to a figure-skating club had been denied because she was Jewish.
"[They] told me it had been rejected, and, what's more, said that that was why these clubs had been formed: so as to keep the Jews out," Jeanette wrote in the editorial. "Night after night I have danced at canteens and entertainments for the boys in the service — without pay, of course — and worked all day at the office. Probably some of those boys are sons and brothers of members of this same skating club."
Later that year, with the boys back from the war, she returned to New York and resumed her showbiz career, getting by on contract work. In 1949 she earned a respectable $75 for a three-week, ten-performance gig — a significant sum for those days. She also managed to see the world through her various performances, entertaining the troops in Japan and Korea as part of a dance tour with the USO. She fondly recalls her trips to Scandinavia, the Middle East, and pre-Castro Cuba, where she danced as well. Across Europe, she said, she wined and dined with princes and princesses. "What other Yiddish girl met royalty back then?"
Throughout it all, she remained single. She says she had plenty of opportunities to marry, but her social circle was largely non-Jewish, and she could not bring herself to wed a gentile. "A Jewish fella should pick a Jewish girl," she said, when I prodded about her romances. The closest she came to settling down was with a Lebanese man in New York City. Neither felt comfortable tying the knot while their mothers were still alive, but by the time each of their mothers had passed away, so had their love. Apart from that, "I never stayed in one place long enough to meet the kind of people I was interested in. But I enjoyed it all, and I never gave it a second thought."
She stopped dancing in the late 1950s, remained in New York City, and began a second career in wardrobe and show production. Her resume includes the American Ballet Theatre, fashion shows at the Waldorf-Astoria, and Broadway shows such as Guys and Dolls and The King and I. She eventually got into TV as well, working on soap operas such as All My Children and One Life To Live, as well as The Dick Cavett Show and The Ed Sullivan Show. She was even involved in the production of Sesame Street.
She finally left the Big Apple for Toronto in 1975, at the age of sixty-four, after forty-five years in show business, returning from her self-imposed exile to be closer to her extended family. Her beloved brothers were still around, but their spouses had little respect for Jeanette's lifestyle. They considered her egocentric for putting her own dreams ahead of traditional Jewish family values and the duties expected of a woman. Jeanette, in return, accused them of turning her brothers against her. She was especially close to Aubrey, her only unmarried sibling, who had also bucked the trend of the times earlier in his life by becoming a professional rower for the Toronto Argonauts.
Despite having a close group of friends, Jeanette found life in Canada boring, and so opted to spend winters working as a wardrobe manager in Florida every year until she was eighty-three. Later, she moved into the Performing Arts Lodge in Toronto, a housing complex of retired actors and actresses, where she now resides year-round. My grandfather, her brother, has more than once secured her a highly sought-after place in one of the area's exclusive Jewish retirement facilities, but she won't have it. She says she has nothing in common with bubbies who hang around all day waiting for their grandkids to visit. Instead, she prefers to socialize with current and former performers, among whom her dramatic flair and penchant for name-dropping are better appreciated.
She has maintained a healthy, active lifestyle well into her nineties, doing yoga and aerobics, driving around town, and dining with friends. She even came to Israel for a two-week visit, making it all the way down from the Tel Aviv area to the Dead Sea, where she loaded up on her favorite Ahava mud products. She is still meticulous about her appearance and shy about her well-earned wrinkles.
Because I grew up in Israel, my visits to Toronto were rare and, over time, increasingly brief. With age, her stories started to wander, and she began to focus less on her miraculous life and more on her bitterness about how little interest people showed in it. As with others in our family, I felt my patience begin to wear thin. But when I became a journalist — and discovered my affinity for writing obituaries — I wondered who in my family would ultimately make the most interesting story. It was clearly Aunt Jeanette. And, indeed, her impatience to have her story heard often made me consider preparing an appreciation, if pre-mortem.
Her vigor and energy have always made it seem as if there was no hurry for commemoration, and yet I fear I have waited too long. All her life, she was ready to tell dramatic tales, but no one would give her the time of day. Now, when someone is finally listening, she can't quite find her stories anymore, or tell them with the same coherence. When I called recently, she complained of her many illnesses. She had just cracked three ribs tripping over a rug, and she had no strength to respond to my questions. Our relatives are of little help; they either can't recall specifics or were never interested enough to begin with. Her friends are all gone, along with her glorious past.
At Passover seder on my last visit to Toronto, I realized time really was running out. Aunt Jeanette was visibly weakened and had endured a spate of hospitalizations for various ailments. Most troubling of all, her memory was fading. She still had a funky flair, though. She was immediately drawn to my girlfriend, glowing at the prospect of a new addition to the family. As Jeanette chatted away to her about her life, she accidentally brushed against a vase of daffodils, and bright yellow pollen streaked her snow-white hair. When I quietly pointed it out, she gazed in the mirror and chuckled "Ohh — I like it!" and promptly spread the powder all across her hair, creating a more prominent, even punk-looking, highlight.
"When are you getting married, already?" she barked at me, on that visit, privately. "I want to come to the wedding, and I'm running out of time." For the first time, she acknowledged that the end was near.
But although she is frail and fading, one thing is clear: Jeanette has no regrets. She continues to insist that she never wanted a family of her own; showbiz was and will always be her only real love. She has, however, been a dedicated sister and devoted aunt and great aunt. Year after year, like clockwork, she dispatches a birthday greeting in the mail with a modest gift for each niece and nephew. In recent years, she has begun to confuse birth dates and attach indecipherable notes to her cards. She warns that one day the greetings will stop arriving altogether.
"I may last a year, but after that I don't know," she said during our last conversation.
In the meantime, my Aunt Jeanette's still kicking.
Jeanette Heller passed away on Oct. 16, 2008,  just over a year after this story was published.