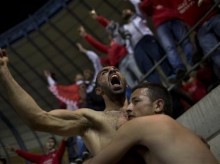 Bnei Sakhnin soccer supporters celebrate a goal against Beitar Jerusalem at Teddy Stadium (AP Photo/Bernat Armangue)
JERUSALEM (AP) — Under heavy security, a Muslim football player whose signing with a Jerusalem club sparked a violent uprising by a hardcore group of racist fans made his much anticipated debut Sunday to a rousing ovation.
Hundreds of police deployed around Beitar Jerusalem's stadium, two days after a suspicious fire believed to be set by angry fans destroyed the team's main offices.
Tensions remained high as the team faced off against Bnei Sakhnin, an Arab team whose fans have clashed before with Beitar's. But the thousands of fans and foes who flooded to Teddy Stadium presented a show of strength against a rising tide of racism among Israeli soccer fans.
"I came today to show that not all Beitar fans are punks and racists," said Yair Sina, a 49-year-old lifelong Beitar fan. "I won't let them take away my love for the team."
The fire, which destroyed historic trophies and mementos, marked the height of a violent campaign by fans upset with the team for signing two Muslim players from Chechnya.
But in contrast to the previous taunts and jeers directed at the players, the crowd of thousands erupted into a rousing standing ovation when Gabriel Kadiev, a 19-year-old defender recently brought over from FC Terek Grozny, entered the game in the 80th minute. Every time he touched the ball the crowd cheered wildly, mostly drowning out a smattering of boos. The trend continued when a few minutes later Beiter scored a late goal to secure a 2-2 tie.
Kadiev's Chechen teammate, 23-year-old Zaur Sadayev, was injured and not included in the team lineup.
The goodwill was felt throughout the stadium with banners reading "Violence and racism? Not on our field" and fliers explaining the sensitivity of the game and beseeching the fans to behave.
Police spokesman Micky Rosenfeld said more than 500 policemen were deployed inside and outside the stadium to prevent disturbances. Officers were on horseback and others escorted the Sakhnin players into the field to make sure they were safe.
"It is now clear to any reasonable person in the country where racism can lead. I came here to strengthen Beitar in their battle against racism," said Jerusalem Mayor Nir Barkat, one of several dignitaries at the game. "This is a historic process and it is clear that what was once cannot be again."
Beitar has long tried to contain a tightly knit fan group called "La Familia" whose behavior has had the team docked points and forced it to play before empty stadiums. The group is routinely abusive toward opposing players, taunting them with racist and anti-Arab chants.
But only after the signing of the Chechens did a full-fledged confrontation erupt between the Beitar fans and team management. At the first game after the move, fans unfurled large banners with racist undertones, such as one that read "Beitar pure forever."
When the team refused to back down, the fans turned abusive and began cursing and spitting at players and management.
Most of the ire has been directed toward general manager Itzik Kornfein, a former Beitar goalkeeping great who has spoken out forcefully against racism. "La Familia" members often curse at him outside team practices and some have even attempted to attack him physically.
Following Friday's firebombing attack, Kornfein said he feared for his life.
Four members of the group were charged with anti-Muslim chanting and most were prevented from entering the game.
Their typical stronghold in the eastern wing was empty — punishment the team received for one of the wayward fans' previous outbursts.
Still, not all those at the stadium were pleased with the new arrivals.
Tal Moyal, a hardcore 22-year-old fan who insists he was not a "La Familia" member, said the current battle was a "war over the principles of the team."
"As far as most of the fans are concerned, a Muslim is a terrorist," he said. "We are the capital of Israel. This team is a symbol. Muslims can't wear our uniforms."
"La Familia" was created in 2005, and it quickly became the team's loudest and most visible supporters. The fans routinely wave huge flags of the outlawed racist Kach party and chant racist slogans toward Arab players.
Their behavior has drawn a cascade of condemnations from Israel's president on down.
Prime Minister Benjamin Netanyahu opened his weekly Cabinet meeting on Sunday with a call for fans to reject racism.
"The last thing we want, and which we absolutely reject is violence, racism and boycotts. These are unacceptable to us. I say this in regards to a team that I have supported for years, Beitar Jerusalem," Netanyahu said. "Lately, we have seen displays of extremism that we find unacceptable. These must be uprooted from the public sphere and, of course, from the world of sports."
Beitar Jerusalem, which has won six league championships and seven cup titles in its 77-year history, is a powerhouse in Israeli soccer and has a legendary following that includes several Israeli prime ministers.
The team has historically been strongly aligned with Israel's nationalist right wing and its name, Beitar, comes from the Zionist youth movement that is linked to the ruling Likud Party.
The team and its fans have since been a steady source of support for Likud politics and a string of politicians have served as team chairman. Prime ministers with Likud roots — from Ariel Sharon to Ehud Olmert to Netanyahu — have called themselves fans and made pilgrimages to the club's Teddy Stadium.
Olmert recently said he would stop attending games because of the fans' racism. On Sunday, he joined other top Israeli officials, former players and notable fans of Beitar in signing a petition against racism that was published in Israel's main newspapers.