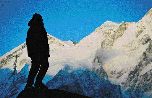 Larry Legault
Sean Egan is dead. Ben Webster is lying in his bed in Kanata with a severely broken leg. Shaunna Burke and Peggy Foster are battling illness, exhaustion and a stubborn mountain that won't let them climb it.
And then there is Larry Legault. While Mount Everest has exacted a heavy toll from each of his adventurous colleagues from Ottawa, Mr. Legault has emerged from his two-month journey on the world's highest mountain with a different conclusion — he has found peace.
"I'm happy with my experience. I'm happy I was there," he said, in his first interview since returning to his home in Kingsport, Tennessee. "On the other hand, my wife is happy that I am home in one piece. We've both come out kind of winners, I guess."
Mr. Legault, the least heralded of Ottawa's five Everest trekkers, arrived home on May 7, just in time for Mother's Day. He said it was a gift to his beloved wife of 27 years, Lyn, who had not stopped worrying since he left to conquer the perilous mountain.
It was only fitting, since Mr. Legault's expedition to Mount Everest was a gift he gave himself for his 50th birthday. An avid mountaineer, rock climber, cyclist, runner, skier and kayaker, he got his first taste of mountaineering on the Canadian Rockies. He followed that by scaling three of the world's "seven summits": Mount Aconcagua in South America, Mount Kilimanjaro in Africa and Mount McKinley in Alaska.
The peak of Mount Everest, at 8,848 metres, was to be his greatest adventure yet.
All was going according to plan. Mr. Legault had had no major health problems and was well along in his acclimatization treks up and down the mountain. Then, out of the blue, Mr. Egan dropped dead from an apparent heart attack. The tragedy gave Mr. Legault pause.
"When you are over there, you always balance your risks and your benefits," said Mr. Legault. "I was at Camp One and I got a small avalanche, just a little dusting, but enough to get you aware that these things do happen, and then that's when I found out that Sean died — that same day."
Mr. Legault, who is studying to be a deacon at his church, considered it an omen and immediately began making his way down the mountain, and back to his wife and four children: Gary, 25, Randy, 23, Nancy, 22, and Paul, 20.
Within a matter of days, another climber died, having plunged into a crevasse from the Khumbu Icefall, and a massive avalanche had wiped out Camp One, injuring seven climbers, including two Canadians. Mr. Legault knew he had made the right decision.
"If I had been there at Camp One only a few days earlier, it would have been all over with," he said. "Sometimes you just have to follow your feelings."
Mr. Legault grew up in Ottawa and attended St. Pius High School and the University of Ottawa. Ten years ago, he moved south with his family, but they return to Ottawa each summer for six weeks, and Mr. Legault's mother and four siblings still live here.
Even before he set off for Mount Everest, he knew what was really important in his life. The climb merely reinforced it.
"I climbed with eight other guys and not many of them have family," he said. "Most of the guys in the group, they wanted to go for the mountain and they were willing to risk a lot more. For myself, at that point, the risks were probably too great over the benefits.
"It's a great mountain, but it's nothing to give your life for."
This sense of proportion, often missing with the hard-core, gung-ho type of adventurers, allowed Mr. Legault to appreciate his own adventure even more.
"Here I was, all by myself, solo, in the middle of Mount Everest," he recalled with excitement. "The sun was right in front of me, I could almost reach up and touch it. The mountain is all around and the sun is shining over the mountaintops and moments like that it was like, 'Wow! that is why I am here.' "
He said touching the top was merely a "bonus." For him, it was all about the journey.
"You're alive when you're on the mountain," he said, his voice ringing with excitement. "You appreciate life a whole lot more when you come back down."
Now, he'll have to get used to living at lower altitude. Mr. Legault has promised his wife this would be his last climb on "the big mountains." While a part of him will always wonder if he could have reached the top, he said he was at peace with his decision and even more so with his life.
"My wife had sent me a letter that said 'we just want you back, we don't care if you touch it or not,' " he said, referring to the summit. "It was more for myself, I guess, more for my ego. But none of my family worried about that, they just wanted me home."