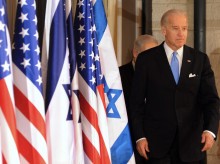 Then US Vice President Joe Biden on his way to speak to the press at the residence of Prime Minister Benjamin Netanyahu in Jerusalem, March 9, 2010. (AP Photo/Debbie Hill, Pool)
Israelis can count on the US president to have their country's most significant interests at heart, even if it comes with a dose of tough love. Op-ed published in The Times of Israel.
When Bill Clinton was elected president in 1992, his familiarity with the African American community prompted some to fondly call him the "first Black president."
According to that logic, Joe Biden can surely be considered America's "first Jewish president." U.S. presidents have long had close personal ties to Jews, from Harry Truman's haberdashery partner all the way to the sons-in-law of Clinton and Donald Trump. Al Gore even chose a Jew as his running mate in his failed 2000 presidential bid.
But no president can claim as deep and personal a bond to the Jewish people as the Irish-Catholic Biden. All three of his children who survived into adulthood married Jews. For decades, his closest aides and allies have been Jewish, and this kinship is reflected in his newly formed Cabinet. Besides his trusted chief of staff, Ron Klain, Biden's treasury secretary, attorney general, director of national intelligence, CIA deputy director and secretary of state are also Jewish.
His vice president, Kamala Harris, is also married to a Jew, making Doug Emhoff America's first-ever "Second Gentleman." And thanks to her tie-breaking vote in the Senate, Chuck Schumer has assumed the title of Senate Majority Leader, elevating him to the highest-ranking elected position ever held by an American Jew.
What does all this kvelling have to do with the Jewish state?
Well, to quote Rep. Jim Clyburn's stirring endorsement of Biden as an ally of the Black community: "We know Joe. But most importantly, Joe knows us."
Biden arrived at the White House owning the most intimate relationship a president has ever had with Jews, and his staunch support for Israel dates to the 1973 war. We know him, and he knows us.
Israel's current government may not have wanted Biden as president after being blinded by four years of Trump's insincere fawning. But Biden is the president Israel needs.
Yes, Trump recognized Israeli sovereignty over the Golan Heights, and he recognized Jerusalem as Israel's capital and moved the U.S. Embassy there. He also helped broker four normalization deals with Arab states and provided cover against Israel-haters around the world.
But anything he ever did for Israel will forever be tainted by its association with him and his historically toxic term. And while he was a great ally of Prime Minister Benjamin Netanyahu and the ruling Likud Party, the same can't be said for the US-Israeli relationship as a whole.
Netanyahu and his followers reaped all the symbolic benefits and in return turned a blind eye to Trump's bigotry and destruction. Israel therefore became intrinsically linked to Trump, and that eroded the traditional bipartisan support it had enjoyed in American politics and threatened to turn the divide with U.S. Jewry into a potentially unbridgeable chasm.
Trump's anti-PC persona made Israelis feel good following years of criticism in liberal and progressive circles. But did Trump's diplomatic candy ever taste authentic? Was his unvarnished support a reflection of true appreciation or merely pandering to an evangelical base and its suspect pro-Israel interests? Was there any doubt Trump would turn on Israel in the blink of an eye if his interests changed or if his ego was slighted?
Biden is a friend. He may not sign off on every Israeli policy, his approach to Iran may not be Israel's chosen path, and he won't give the government a blank check on settlement construction or military adventures. But when he does back Israel it will be genuine, and the rest of the world will take it more seriously.
What Israel can expect is a dose of "tough love" that will likely enrage hardliners and put a damper on the Trump-Bibi era bromance. But it will be love.
None of this will be new to the tightly-knit Jewish community of Wilmington, Delaware that has been close to Biden for decades.
Much of the connection goes back to Biden's first campaign for Senate in 1972, when the Jewish community rallied behind him amid unfounded accusations of anti-Semitism and took out a full-page newspaper ad vouching for his character. Biden has maintained loyalty to that group ever since.
When he was vice president, Biden arrived unannounced to pay a shiva call to one such leader, Bernard L. Siegel, showing up without bodyguards and with just his son Beau and a black kippa in his pocket.
"He was all heart, all good, bending down to speak to my mother and just schmoozing with everyone there," recalled Siegel's daughter, Debbie Kedem of Kochav Yair. "He actually reminds me of my father. He looks like him and acts like him."
Since Biden's inauguration, Kedem's group of Jewish high-school friends has been regaling each other with similar tales of Biden's friendship to the community. It turns out he made a habit out of making such quiet shiva calls and knew nearly everyone there by name. He affectionately calls Wilmington rabbi Michael Beals "my rabbi."
Influenced perhaps by these relationships, Biden has repeatedly backed military aid packages to Israel, cited his commitment to the Jewish principle of "Tikkun Olam" and expressed a belief that "Jewish heritage is American heritage."
More consequentially, Biden says the resurgence of anti-Semitism in Charlottesville and Trump's failure to condemn it was what sparked his decision to run for president.
Naturally, some may say that those who love you the most can hurt you the most, and that friends can do harm with the best of intentions.
But Israelis can count on Biden to have the country's most significant interests at heart, and his tenure may well turn out to be a fleeting historical opportunity to cement the special relationship with the United States, because Biden is likely to be the last Democratic president of a generation that still sees Israel as a  beacon of light rather than an exemplar of the world of Trump.
Jewish or not, Biden's character is the perfect antidote to America's descent from Obama to abomination. And he's just the kind of mensch Israel needs in its corner.