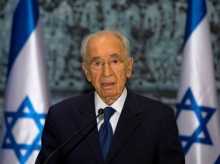 Israeli President Shimon Peres (AP Photo/Sebastian Scheiner)
TEL AVIV, Israel (AP) — Among those vying to become Israel's next president are a former defense minister, a former foreign minister, a former finance minister, a respected long-serving lawmaker and a Nobel Prize winner. Amazingly, the man they all seek to replace has held all of those titles and more during a legendary 65-year political career.
Shimon Peres, the indomitable 90-year-old elder statesman of Israeli politics, concludes his seven-year term as the country's ceremonial head of state this summer. While the group of potential successors is locked in a heated battle over the lofty post, whoever emerges victorious likely faces an even tougher task of breaking out of Peres' enormous shadow.
Officially, the president has only two primary powers: assigning a potential prime minister to build a coalition government after elections and issuing pardons to criminals. But Peres, a two-time former prime minister, has risen above the post.
He restored honor to the presidency after replacing the disgraced Moshe Katsav, forced to resign in a sex scandal and later convicted of rape in 2007. Peres quickly became the country's most popular political figure, finally basking in the public adoration that eluded him for most of his lengthy career.
He also became a de facto foreign minister who promoted Israel abroad thanks to his wide network of global contacts, presenting a respectable face for the country when Prime Minister Benjamin Netanyahu's government was often under fire for its West Bank settlement policies. He offered a bridge to the Arab world and was greeted like royalty in Europe and Washington, where President Barack Obama awarded him the Presidential Medal of Freedom.
"Besides the fact that in my eyes he represents the story of the state of Israel, he rehabilitated the presidency and turned it into a lighthouse, both inwards and outwards," said Binyamin Ben-Eliezer, one of the contenders for Peres' job. Ben-Eliezer is a former defense minister and one-time head of the Labor Party — another position Peres once held.
"Peres today is the last of the founding fathers of the state of Israel. He is the last one who remains from that generation, the generation that built the nation," he added. "Peres is a very hard man to replace."
Whoever does will have to forge his or her own path.
Ben-Eliezer, 78, a former general who came to Israel from Iraq as a child and maintains good relations with Arab leaders, promises he will be a unifying leader who will try to reach out to neighboring countries. He was particularly close to deposed Egyptian President Hosni Mubarak and says he also has a good relationship with Turkish Prime Minister Recep Tayyip Erdogan.
"I am unhateable," he told The Associated Press at a Tel Aviv cafe. "My expertise is taking an enemy and turning him into a friend."
Ben-Eliezer said Saturday that he will soon undergo a kidney transplant but that it will not affect his run for president.
His main rival is Reuven Rivlin, a former speaker of parliament and stalwart in the ruling Likud Party. Most public opinion polls show he is the preferred candidate of the public. But the vote itself is held in a secret ballot among parliament's 120 members, adding to the unpredictable nature of the race. The vote is set to take place in June.
Rivlin, 74, says his popularity and ability to connect to all elements of Israeli society make him most suitable for the role. Unlike the globe-trotting Peres, he says his focus will be domestic.
"He has no intention of trying to fill Shimon Peres' shoes. He has his own shoes," said Harel Tubi, a top adviser.
The wild-card candidate is Silvan Shalom, a Likud politician whose long career has included stints as Israel's foreign and finance minister. Shalom's campaign took a big hit when a former aide alleged he committed a sex offense against her. Shalom calls the accusations part of a political conspiracy aimed at removing him from a race he has yet to formally enter.
Either way, the campaign has been characterized by mutual mudslinging between the candidates for an office typically filled by respected elder statesmen expected to serve as a moral compass for the country.
A pair of outside candidates looking to tap into the public's aversion to professional politicians has thrown their hats into the ring. However, both Dan Shechtman, a Technion professor who won the 2011 Nobel Prize in chemistry, and Dalia Dorner, a retired Supreme Court justice, appear to have little chance of winning.
Two other longshot candidates are Meir Shitreet, a former finance minister, and Dalia Itzik, another former speaker of parliament.
Peres himself is expected to continue promoting peace and development in the Middle East through his non-governmental Peres Peace Center. He has refrained from commenting on the race to replace him, saying only that the presidency "isn't about ruling, it is about serving your people."
The race remains wide open particularly because Netanyahu, who wields the most political power in the country, has yet to make his preference known, said Amit Segal, a political analyst for Israel's Channel 2 TV.
His own Likud Party is divided between Shalom and Rivlin, two men with whom Netanyahu has testy relations. The prime minister is reportedly looking for another candidate to support, with the former Soviet dissident, human rights activist and author Natan Sharansky considered his preferred candidate. Sharansky has not said whether he wants the job.
Whoever wins will likely return the position to its natural dimensions after Peres' larger-than-life term. Even though Peres helped Netanyahu internationally, he often overshadowed him.
"Whoever is elected, Netanyahu will reclaim his position as Israel's No. 1 citizen," Segal said. "He'll once again become the face of the country and in the long run that is good for him."