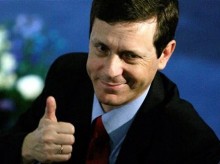 Israel's new opposition leader Isaac Herzog (AP Photo/Ariel Schalit)
JERUSALEM (AP) — Israel's new opposition leader is a pragmatic lawmaker and scion of the Labor Party who is likely to focus the movement on a diplomatic agenda. Isaac Herzog might even give a boost to the prime minister's coalition should progress be made in peace talks with the Palestinians.
Herzog cruised to an impressive upset victory in the Labor primary election, unseating incumbent Shelly Yachimovich by winning 58.5 percent of the vote, according to results released Friday.
Herzog, a 53-year-old father of three, has been a leading lawmaker for a decade and served as Cabinet minister in a series of governments. He was previously a top aide to former Prime Minister Ehud Barak and a high-profile lawyer in the private sector.
Affectionately known by his nickname "Bougie," he enjoys a kind of royalty status in the party. His late father, Chaim Herzog, was president of Israel from 1983-93 and also was its ambassador to the United Nations. His uncle was legendary Foreign Minister Abba Eban.
"I grew up in this party and have been party member my whole life. I am honored and aware of the responsibility to stand where so many great leaders have stood before," he said in a victory speech. "We will work day and night to return the party to its rightful place."
Under Yachimovich, who two years ago became the party's first female leader in nearly four decades, Labor veered away from its traditional dovish platform of promoting peace and security and focused almost entirely on jobs, the economy and Israel's other social ills.
She was buoyed by a massive social protest movement in the summer of 2011 against the country's high cost of living and was credited with revitalizing Labor at one of its lowest points.
But the policy shift also earned her critics who said it turned the movement that led Israel to independence and ruled it for its first 30 years into a single-issue party.
Herzog is expected to focus once again on the diplomatic-security sphere and, unlike Yachimovich, has not ruled out joining Prime Minister Benjamin Netanyahu should he make progress with Palestinians and lose the more hard-line members of his coalition, said Reuven Hazan, head of the political science department at the Hebrew University in Jerusalem.
General elections are still three years away, and Netanyahu's hold on power appears to be unchallenged.
Hazan said Yachimovich was never a truly viable option to replace Netanyahu as prime minister, and it would be Herzog's challenge as party leader to turn the party from "a combative opposition to a viable ruling alternative."
In his victory speech, Herzog vowed to refocus the party's agenda on diplomacy. Under his leadership, he said the Labor Party would offer a real alternative to Netanyahu and "challenge the government until we return to running the country."
After a five-year lull in peace talks, Netanyahu's government is conducting quiet negotiations with the Palestinians. But critics accuse the government of merely negotiating for appearances' sake while continuing construction in West Bank settlements — territories the Palestinians want for their future state.
Herzog said peace with the Palestinians should be Israel's top priority. "And I have big doubts whether the prime minister knows this and is acting toward this," he said.
In national elections earlier this year, Yachimovich led the party to a disappointing third-place finish with only 15 seats out of 120 in parliament. Unlike former Foreign Minister Tzipi Livni's new party and the centrist Yesh Atid faction, Yachimovich refused to join Netanyahu's coalition. Instead, she led a tough opposition that challenged the prime minister's free market policies at a time when more Israelis were suffering.
Although Labor's roots are socialist, Yachimovich's economy-focused approach alienated some of its traditional supporters. Critics accused her of turning Labor — which dominated Israeli politics for the country's first 30 years and produced prime ministers like David Ben-Gurion, Shimon Peres and Yitzhak Rabin — into a party that ignored diplomatic and security challenges and allowed the security-obsessed right to control that agenda.
Peres, now president of Israel, called Herzog to congratulate him. In a Facebook post, Yachimovich said she called Herzog to concede defeat and promised to cooperate with him in posing an alternative to Netanyahu's right-wing government.