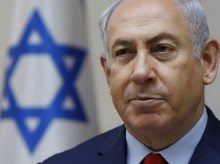 Israeli Prime Minister Benjamin Netanyahu attends the weekly cabinet meeting at his office in Jerusalem. (Gali Tibbon, Pool, via AP)
JERUSALEM (AP) — Israeli Prime Minister Benjamin Netanyahu's circle attempted to convey calm Sunday amid reports of a slew of corruptions charges against him that threatened to force him from office.
Netanyahu himself did not address the latest developments at his weekly Cabinet meeting, but a close ally said he was relaxed and confident despite reports that police were preparing to recommend he be indicted.
"I am not worried at all. The prime minister is not worried either," said Sports and Culture Minister Miri Regev, one of the few ministers to rush to Netanyahu's defense. "As he has said repeatedly: 'there will be nothing, since there is nothing.' Part of the media and the opposition are doing everything they can to topple the right and topple Netanyahu. It won't help them. You replace the leadership at the ballot box, not in investigations and not in headlines."
On Thursday, Israeli police revealed they suspect Netanyahu of being involved in bribery, fraud and breach of trust in a pair of cases. On Friday, Netanyahu's former chief of staff and longtime confidante Ari Harow signed a state witness settlement in which he agreed to testify against his former mentor. This has raised speculation that Netanyahu could be indicted shortly, and sparked calls from opposition figures that he step down.
Harow will serve six months of community service and pay a fine of 700,000 Shekels (about $193,000) for his involvement in a separate corruption case — apparently a lighter-than-expected sentence in exchange for his testimony against the prime minister.
Netanyahu has repeatedly denied wrongdoing and calls the accusations a witch hunt fueled by a hostile media opposed to his hard-line political views.
Netanyahu has been questioned several times "under caution" about his supposed illicit ties to executives in media, international business and Hollywood.
One investigation involving Netanyahu dubbed by police as "File 1000," reportedly concerns claims he improperly accepted lavish gifts from wealthy supporters, including Australian billionaire James Packer and Hollywood producer Arnon Milchan.
The second investigation, "File 2000," reportedly concerns Netanyahu's alleged attempts to strike a deal with publisher Arnon Mozes of the Yediot Ahronot newspaper group to promote legislation to weaken Yediot's main competitor in exchange for more favorable coverage of Netanyahu by Yediot.
A third investigation, "File 3000," relates to a possible conflict of interests involving the purchase of German submarines, in which Netanyahu's cousin and personal attorney represented the German firm involved in the deal.
Netanyahu has done his best to belittle suspicions. In a Facebook post Friday, he dismissed them as "background noise" and vowed to push forward. None of his coalition partners or fellow Likud party members has condemned him yet.
Netanyahu, the second-longest serving leader in Israeli history, has escaped several scandals before related to his and his wife Sara's expensive tastes and personal conduct. But in the current imbroglio, "Netanyahu is liable to find himself in a bind from which even he, the savviest politician in Israeli history, is going to be hard put extricating himself," wrote Yoav Fromer in the Yediot Ahronot daily.
Legally, Netanyahu appears to be on solid ground for now. Though his predecessor, Ehud Olmert, resigned at a similar stage of the investigation into his corruption cases, Netanyahu is not obliged to step down. Israel law stipulates that the prime minister can only be removed by parliament, though the Supreme Court has since established precedents that ministers and mayors had to resign if they were indicted. Israel's justice minister has said the prime minister, on the other hand, is not compelled to do so.
But should police recommend an indictment, there will likely be a legal challenge that will make it difficult for Netanyahu to cling to power, said Barak Medina, a law professor at Jerusalem's Hebrew University.
"Formally, he won't have to resign," he said. "But if all the information comes out and the police recommend he be charged with a serious crime, it is unlikely he will be able to carry on in his job."
The investigations are expected to drag on several more months, with commentators predicting a long slog ahead.
"Netanyahu is now playing the lead role in the tragedy of 'Regime Change in Jerusalem,'" wrote Haaretz Editor-in-Chief Aluf Benn. "The season is still in its first episodes, but spoiler alerts are already warranted: in the season finale, a new leader will sit on the throne."