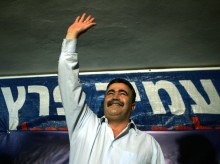 Labor Party leader candidate Amir Peretz waves to supporters. (AP Photo/Ariel Schalit)
JERUSALEM (AP) — As Israel's Labor Party prepares to choose its new leader, it already has taken a big step toward shedding its image as a bastion of liberal, upper-class Israelis of European descent.
A party primary on Tuesday chose two candidates of Middle Eastern heritage as finalists for next week's runoff, handily defeating a trio of established blue-bloods associated with the old guard. In a strategy that could spell trouble for Prime Minister Benjamin Netanyahu, the party is now hoping its next leadership will appeal to the ethnic working-class voters who make up the core of Netanyahu's support.
Labor still has a long way to go before returning to its former glory days as the movement that led Israel to independence in 1948 and dominated Israeli politics for three decades. But both candidates for Labor leadership, Amir Peretz and Avi Gabbay, have made it clear that they are aiming to rebrand their party.
"You have proven that you are an open party that truly calls on new publics to join it," Gabbay, the seventh of eight children born to immigrants from Morocco, told his supporters after the first-round vote. "Choosing me is a call to new constituencies saying: 'We want you to join us.'"
The party's early leaders of European, or Ashkenazi, descent took a paternalistic attitude toward Jewish immigrants from Arabic-speaking countries in the Middle East and North Africa. Many of these immigrants, known as Mizrahi Jews, were sent to shantytown transit camps and largely sidelined.
They found their political savior in the Likud Party's Menachem Begin, who cultivated an outsiders' alliance that appealed to their sense of deprivation. With massive backing from Mizrahi Jews, he swept to power in 1977. In many ways, Labor has been fighting back ever since, rarely wrestling control from Likud.
It made some inroads in 2006, after Peretz was elected party leader. But that came at the expense of support from the party's traditional Ashkenazi voters in big cities and kibbutz communities, many of whom bolted to the newly established, and short-lived, Kadima Party. Peretz, who took on the post of defense minister, also suffered from a widely criticized war in Lebanon.
He was replaced a few years later by Ehud Barak, the former prime minister who once famously apologized to Mizrahi voters for the party's previous misdeeds.
Opinion polls show the Labor Party in the doldrums, ranked just fourth or fifth in size, and observers fear many of its traditional voters could once again bolt, this time to the centrist Yesh Atid party and its telegenic leader, Yair Lapid.
But Peretz, a former union leader who has pushed social issues like raising the minimum wage, says he can expand the party's base considerably. He hails from Sderot, a former development town that borders Gaza and has been battered by both rockets and unemployment and has long complained of government neglect. In the 2015 election, Likud earned 43 percent of the vote in Sderot, to just 7 percent for Labor's bloc.
"I'm proud of being born in Morocco and glad that Middle Eastern Jews see my breakthrough as something they are proud of," the 65-year-old Peretz told a news conference Wednesday.
"That two Middle Eastern Jews have reached the end of the race is a badge of honor for the party. But I want people to vote for me because I promise a better future and I am the only one who can attract new constituencies and beat Netanyahu," he said.
In contrast to Peretz, the 50-year-old Gabbay is a political newcomer. He served a brief stint as environment minister under Netanyahu, but later resigned. A former telecom executive, Gabbay nonetheless stresses his humble beginnings and was accompanied to Tuesday's vote by his mother.
Opinion polls show the Likud, which takes a much harder line toward the Palestinians than Labor, well ahead of its rivals. But if Gabbay or Peretz can siphon away a few parliamentary seats from Likud, the party could theoretically position itself to serve as a coalition partner with Lapid. The next election is scheduled for 2019, though could be held earlier.
Israel's exact population breakdown is hard to calculate because intermarriage is common. But Mizrahi or part-Mizrahi Jews make up roughly half of Israel's Jewish population.
Social gaps have closed considerably but still remain. There has never been a Mizrahi prime minister, for example, and Ashkenazi Jews far outnumber Mizrahi Jews in areas like academia and the judiciary. Many Mizrahi Jews still hold a grudge against Labor because of discrimination their parents or grandparents faced decades ago.
Peretz received over 32 percent of Tuesday's vote, with Gabbay coming in second with 27 percent.
The result ousted the current party chairman, Isaac Herzog, who came in a distant third with less than 17 percent of the vote.
Herzog, the son of former President Chaim Herzog and nephew of legendary former Foreign Minister Abba Eban, has long been viewed as party royalty. He was followed by two others who fit the traditional image of a Labor leader — Erel Margalit, a wealthy U.S.-educated high-tech entrepreneur, and Omer Bar-Lev, a former military commando leader and son of war hero Haim Bar-Lev.
The final party leadership vote will take place Monday.
Eli Amir, a prominent Israeli author of Iraqi descent, said the preliminary result already symbolized that the party's "aristocracy" has shifted.
"Generations come and go and every generation brings with it a new spirit. This is a welcome phenomenon that shows the Labor Party's maturity," he wrote in the daily Yediot Ahronot. "Amir Peretz and Avi Gabbay represent a change and that starts in the periphery and development towns. It's clear that if the current balance is not broken, there is no real chance in the vote for prime minister."