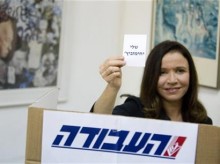 Israel's Labor party leader votes (AP Photo/Ariel Schalit)
JERUSALEM—Just seven years after quitting her job as a high-profile media commentator, the leader of Israel's Labor Party appears to be on track to become head of the country's second-largest parliamentary faction and the leading voice against Prime Minister Benjamin Netanyahu.
And if Netanyahu's coalition somehow falls short of a majority in next week's election, Shelly Yachimovich would likely wind up with a far more important job: prime minister of Israel.
Yachimovich, 52, took over Labor, the once-storied movement that led Israel to independence, in late 2011 at one of its lowest points. Buoyed by a social protest movement, she revitalized the party by veering away from its traditional dovish platform of promoting peace with the Arabs and focusing almost entirely on the economy, jobs and the country's various social ills.
Her political ascent, along with the strength of the Israeli right wing, underscores that pursuing peace with the Palestinians is not a winning campaign issue among Israelis, who appear to have lost faith that West Bank lands can be traded for peace.
Skeptical Israelis point to the rising strength of Hamas militants in Gaza Strip, the uncertainty roiling the region as the Arab Spring unfolds, and the wide gaps with moderate Palestinian President Mahmoud Abbas that have kept negotiations deadlocked the past four years. Even when Israeli leaders proposed what they considered far-reaching offers, during the 2000-2001 negotiations and again in 2008, no deal was reached.
Abbas disputes this claim, saying that while progress was made in 2008, Israel's offers were not so generous as billed and that key gaps remained.
Netanyahu's Likud-Beiteinu bloc remains far ahead in the polls before the Jan. 22 vote, and Yachimovich has vowed not to serve in a Netanyahu government. As a result, she looks likely to become the country's new opposition leader, a forum that could allow the articulate populist to further burnish her credentials for any future race for prime minister.
Yachimovich appears set nearly to double Labor's presence from eight to as many as 18 seats in the 120-seat parliament. That would leave it well behind Likud-Beitenu but still the second-largest party in parliament.
Although Labor's roots were socialist, Yachimovich's economy-focused approach has alienated some of Labor's traditional supporters. Critics accuse her of turning Labor—which dominated Israeli politics for the country's first 30 years and produced prime ministers like David Ben-Gurion, Shimon Peres and Yitzhak Rabin—into a niche party that ignores Israel's diplomatic and security challenges and fails to present a viable alternative to the security-obsessed right.
Last week, acclaimed Israeli author Amos Oz attacked Yachimovich for neglecting the Palestinian issue, saying she was worse than former Labor leader Ehud Barak, who serves as Netanyahu's defense minister. Barak's defection from the party in 2011 opened the way for Yachimovich to take the helm.
"He (Barak) says there is no solution. She (Yachimovich) says there is no problem," said Oz, one of the most eloquent voices of Israel's left.
Yachimovich has also tiptoed around some of the traditional targets of the left—the huge government outlays on West Bank settlers and ultra-Orthodox Jews—in an effort to appeal to working-class voters who like Netanyahu's hard line on security but have been hurt by his economic policies.
Israel Radio political analyst Hanan Kristal gave Yachimovich high marks for making the party younger, more dynamic and "changing its DNA." But he said she was not a strong prime ministerial candidate like Netanyahu, or Barak and Ehud Olmert before him, because of her narrow focus.
"She's channeled the Labor Party into a one-issue party," he said. "That's her ideology, but it's also her strong suit. She's not as strong when it comes to diplomacy and security."
Public opinion polls confirm that most Israelis do not see her as prime ministerial material, and overwhelmingly see Netanyahu as best suited for the job. But if pre-election polls prove dramatically wrong and Netanyahu and his allies don't win enough support to form the next government, that task could fall to her.
Yachimovich's one-time mentor-turned-rival, former Defense Minister Amir Peretz, abruptly left Labor last month to team up with former Foreign Minister Tzipi Livni in a new party whose focus is resolving the Israeli-Palestinian conflict. Peretz, a former Labor leader, assailed Yachimovich for avoiding the conflict with the Palestinians.
"Labor gave up its historic role as the leader of the peace movement," he charged.
Yachimovich told the Yediot Ahronot newspaper website recently that Labor "is not a leftist party and never was. … It strived for peace out of pragmatism and not out of some romantic dream of peace."
"It is much harder to deal with the socio-economic agenda," she added.
As a journalist, author and radio show host, Yachimovich made her name as a passionate advocate for the downtrodden. She has acknowledged voting in the past for Hadash, a party which has communist leanings. The daughter of Holocaust survivors from Poland, Yachimovich often invokes her working-class roots by mentioning that her father worked in construction. She has two children and lives in Tel Aviv.
In politics, she has been an energetic lawmaker, passing legislation on behalf of the poor and promoting woman's rights. But it was the mass grassroots protests against Israel's high cost of living that erupted in the summer of 2011, drawing hundreds of thousands into the streets, that provided her tail wind.
Taking aim at Netanyahu, she has depicted him as a cold capitalist out of touch with the average Israeli.
While the country has a per capita income approaching Western Europe's, the gaps between rich and poor are wide, and many people have trouble making ends meet. Few seem to have benefited from the country's impressive economic growth while many have suffered from the erosion of social welfare safeguards.
Unlike Netanyahu, Yachimovich tends to favor a strong government safety net.
Netanyahu's campaign has focused on how he has fought Palestinian militants and stood strong against Iran's suspected nuclear program. But this week's news that Israel's 2012 national deficit ballooned to twice its initial projection, roughly $10.5 billion, played right into Yachimovich's hands.
"Netanyahu is leading the Israeli economy to total collapse," she said. "Four more years with him, and the damage will be irreversible."