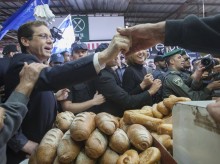 Israeli Labor Party leader Isaac Herzog, left, visits a market in Tel Aviv, Israel. Labor party will vote for new leader early July. (AP Photo/Dan Balilty)
JERUSALEM (AP) — Israel's venerable Labor Party, which led the country to independence and steered it for decades through wars, crises and the pursuit of peace is now fighting to merely stay relevant.
With Prime Minister Benjamin Netanyahu's Likud firmly in control, Labor is trying to overcome years of missteps and regain some of its former glory with the election of a new party leader next week.
But even as it prepares for the vote, the question remains whether a new chairman can return the party of David Ben-Gurion, Golda Meir and Yitzhak Rabin to the prime minister's office — or have it continue to languish in the opposition.
"I think the party needs a new mission and the mission needs to be very clear: not joining Netanyahu but replacing Netanyahu," Erel Margalit, a high-tech entrepreneur-turned-lawmaker who is among nine candidates vying for the party leadership, told The Associated Press.
Though the next national election is scheduled for late 2019, polls show the party currently winning just 10 to 15 seats in the 120-seat parliament — making it Israel's fourth or even fifth-largest party. Labor has not ruled since then-Prime Minister Ehud Barak was defeated in 2001, following a failed attempt to reach peace with the Palestinians.
The past 16 years have been a downward spiral as the public has grown disillusioned with Labor's moderate message of Middle East peace. The party has vacillated between meekly opposing a string of hawkish governments and serving as a junior partner to Netanyahu's Likud in what critics saw as a feeble attempt to cling to power.
The current nadir follows one of Labor's greatest recent successes, when it garnered 24 seats in the 2015 election after its leader Isaac Herzog joined forces with the centrist former Foreign Minister Tzipi Livni to form The Zionist Union.
But the merger still fell short of unseating Netanyahu, who has ruled since 2009. With Labor squabbling internally, the anti-Netanyahu votes in Israel have increasingly migrated toward the centrist Yesh Atid party and its telegenic leader Yair Lapid.
"Labor is at one of the most dire points in its long history," said Nadav Galon, an independent consultant and former adviser to several key members. "There is just this sense that the party is not a true alternative to the government anymore."
The next leader's main task will be inspiring confidence among its members and the wider public.
Herzog, who has been chairman since 2013, has seen his popularity tumble after a series of failed attempts to join Netanyahu's coalition. The 56-year-old is trying to defy the party tradition of quickly dumping its leaders by calling for continuity and running for re-election on a promise to merge with even more centrist factions to create one big bloc that can finally topple Netanyahu.
"It happened in Canada, it happened in France, it happened in Italy. When you want to replace the government, that is what you do," he said at a recent campaign rally. "I'm the ninth chairman since 2000. Is that reasonable?"
Polls indicate that his main challenger is Amir Peretz, a former chairman who left the party and recently returned.
Peretz brandishes his credentials as a former defense minister who helped initiate the Iron Dome missile defense system, which shot down hundreds of rockets during the war in Gaza three years ago. His background as a former union leader could also draw voters from working-class towns that typically vote Likud and are turned off by Labor's image as a bastion of liberal, upper-class Jews of European descent.
"The peace camp has turned the concept of peace into an elitist product… I am going to turn peace into a product of the people," Peretz told the AP. "Peace is the greatest social and economic missed opportunity that we've had."
But critics say that, like Herzog, Peretz represents more of the same and the party needs to choose a fresh face.
Margalit, the former entrepreneur, and ex-telecom executive Avi Gabbay — both marketing themselves as outsiders — are locked in a battle to reach a second round of voting.
The two top finishers in the July 4 primary are to face off in a runoff the following week, unless someone receives an outright majority in the first round.
Margalit accuses Netanyahu of corruption and fear-mongering, and says he is the only party member who can offer a real alternative to the prime minister.
"The other major task is to give hope where he gives fear," he said. "While Netanyahu is scaring, I know how to be inclusive rather than exclusive."
Margalit has pinned his campaign on restoring Labor to its glorious roots under the banner "the leftists are coming back."
But recent surveys have shown that only about 10 percent of Israelis still identify themselves as being on the "left," with the vast majority firmly in the political center. That's where Gabbay is aiming, with his personal biography of humble beginnings and a rise to prominence in the business world.
Gabbay earned a reputation for integrity when, as environment minister with the centrist Kulanu Party, he was the lone vote against a government decision to extract off-shore natural gas. He then resigned in protest last year and joined the Labor Party when Netanyahu ousted Defense Minister Moshe Yaalon in favor of nationalist Avigdor Lieberman.
Another longshot candidate is Omar Bar-Lev, a former military commando leader and son of war hero Haim Bar-Lev.
And waiting in the wings is Barak, who says he has no plans of returning to politics but would do so if called upon to save party and country. The ex-premier has emerged from time to time with stinging critiques of Netanyahu. Last week, he warned that the government's current path — with its continued control of millions of Palestinians — could lead to an apartheid state.
The next Labor chairman will automatically become the country's opposition leader, a formal role that affords meetings with visiting foreign dignitaries and high-profile speaking opportunities. But that job is not guaranteed beyond the next election, which Netanyahu could move up according to his own political calculations.
Tal Schneider, a leading Israeli political blogger and commentator, said that despite dire projections, it was too soon to write off Labor. But it still had a long way to go.
"All the candidates are trying to create hope but I don't think the voters feel it yet," she said. "They mostly want the party to have honor and a political backbone. They want it to be a real opposition. So this is really a race for opposition leader, rather than for future prime minister."