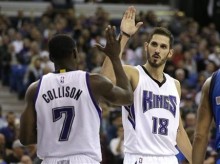 Sacramento Kings forward Omri Casspi, right, high-fives teammate Darren Collison. after scoring during the Kings' NBA basketball game against the Dallas Mavericks in Sacramento. (AP Photo/Rich Pedroncelli)
TEL AVIV, Israel (AP) — When Omri Casspi was 13, his family took him on a Bar Mitzvah trip to the United States, the highlight of which was a visit to New York City where the Israeli youngster stood in front of Madison Square Garden and boldly vowed he would one day play there.
"It was more of an illusion. I'm sure thousands of other Israeli kids did the same thing," Casspi recalled, "but it's a dream that somehow came true."
Eight years later, Casspi captured his country's imagination by becoming the first Israeli to have success playing in the NBA. Just being drafted, and suiting up, was considered a moment of national pride in this sports-crazed country. But Casspi has persevered and now, in his seventh NBA season, the 27-year-old is having a breakout season, averaging career highs in minutes, points and rebounds and helping lead his Sacramento Kings into the mix of a tight playoff race that could mark the team's first postseason appearance since 2006.
His career year has already included a stint as the top three-point percentage shooter in the league and an epic shootout with Stephen Curry during a career-high 36-point performance against Golden State in December. For the 6-foot-9 forward averaging career highs of 12.3 points and 6.4 rebounds a game, it's the culmination of a lifelong basketball journey.
"There are a lot of components (to success), it's not something that happened overnight. It's a process of years of work, of dedication, of learning," he said. "When I was younger I was very raw. I had the potential but I hadn't worked on it all yet … my game is a lot different now."
Casspi's renowned work ethic has been a common theme throughout his career. He wasn't a blue chip prospect like former University of Connecticut standout Doron Sheffer or Euroleague star Oded Katash, a pair of local prodigies who most predicted would be the first Israelis in the NBA but couldn't break through. Casspi was more of a natural athlete whose skills needed work before he rose to stardom at Maccabi Tel Aviv, Israel's most prominent club.
"What characterizes Omri is perseverance and dedication. Even when he goes through difficult stretches he just doesn't give up," said Guy Goodes, who coached Casspi at Maccabi. "When everyone else is hanging out at the beach, he is working on his game and improving."
After the Kings drafted him in the first round of the 2009 draft, he had a solid rookie season, averaging 10.3 points a game. But then his production steadily began to drop and his NBA future came into question as he struggled through tough times in Cleveland and Houston. The turnaround began when he returned to Sacramento last season and found a permanent place in veteran coach George Karl's rotation.
"He understands the philosophy probably better than most of the guys," Karl said. "For me, he's come back with such a great attitude toward the defensive end of the court. He's been a pleasure to coach this year."
Karl noted how Casspi, whose reputation used to be primarily as a slasher, has seen his biggest improvement as a 3-point shooter.
"He's worked at it to the point where he's, I think, shocked himself to be honest with you. I don't think he could have thought he could be a 40, 40-something (percent) 3-point shooter," he said.
Goodes credits Karl for shifting Casspi from small to power forward.
"Playing him at the four gives him a lot more options to shoot the 3-pointer and put the ball on the floor and that is doing wonders for him," Goodes said. "He's got a coach and a team that believe in him and he's playing with a lot of confidence."
While Casspi remains a role player in Sacramento, he's a star in Israel.
Others have been drafted and guard Gal Mekel played very briefly for the Dallas Mavericks and New Orleans Pelicans, but Casspi has remained the only one to truly fulfil a national obsession of reaching the NBA.
The sports channel broadcasts almost all his team's games and many Israelis stay up late, or wake up early, to watch. The newspapers have a daily recap of his performance and the radio morning shows often include his stat line in the headlines. He captains the national team, appears on breakfast cereal boxes and TV ads and is generally considered the country's most adored athlete.
Casspi also relishes being one of its most prominent ambassadors.
His nonprofit foundation aims to show Israel in a positive light and last summer brought a group of his NBA buddies to Israel for a weeklong visit. Teammates DeMarcus Cousins, Rudy Gay and Caron Butler were joined by Iman Shumpert, Tyreke Evans, Chandler Parsons and others. Another trip is planned this summer, after Casspi's June wedding.
"It was amazing to show the guys the country and also that we will have goodwill ambassadors who enjoyed our country and will speak warmly about it all over the world with the platform that they have," he said. "I represent the country and I do it proudly and happily. I am an ambassador for Israel and I am proud of where I came from and who I am."