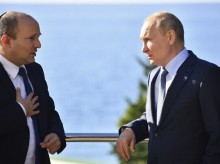 Russian President Vladimir Putin (right) and Prime Minister Naftali Bennett speak during their meeting in Sochi, Russia, on October 22, 2021. (Evgeny Biyatov, Sputnik, Kremlin Pool Photo via AP/ File)
Naftali Bennett is an entrepreneur, a product of Israel's vaunted high-tech startup nation. It's a culture where high-risk and high-reward ventures are encouraged and where only the most daring score big. Op-ed published in The Times of Israel
Israeli Prime Minister Naftali Bennett's stunning weekend gambit in Moscow, where he became the first Western leader to meet Russian President Vladimir Putin since the invasion of Ukraine, naturally raises plenty of questions.
Is this the endgame Bennett had in mind for Israel's highly-scrutinized equivocal stance on the Russian belligerence against Ukraine?
Is Israel being short-sighted in worrying more about placating Russia so it can continue to operate freely in Syria than in siding with the West as a matter of principle and clearly condemning Putin's wonton aggression?
And, perhaps most significantly, who does Bennett think he is in offering little Israel – itself a hotbed of frequent fighting – as the would-be mediator to save the day?
Lost in the fallout is perhaps the most logical explanation to the unlikely turn of events. Bennett, at heart, is an entrepreneur, a product of Israel's vaunted high-tech startup nation. It's a culture where high-risk and high-reward ventures are encouraged and where only the most daring score big.
Bennett explained that Israel had a "moral obligation" to try and mediate, even if the chances of success were low. That he, an Orthodox Jew, undertook such a long shot mission on a Saturday no less, thus breaking the Sabbath observance of avoiding travel, only underscores the entrepreneurial spirit of the maneuver.
Bennett knows a thing or two about rolling the dice. In 1999, in his pre-political life, he founded the anti-fraud software company Cyota. Six years later, he fulfilled the Israel dream, scoring a big "exit" in selling it to RSA Security for $145 million. Bennett also served as CEO of Soluto, a company providing a cloud-based service enabling remote support for personal computers and mobile devices. He and a partner raised $20 million from investors and eventually sold it to Asurion for more than $100 million.
Trying to avert World War III, of course, is a whole different ball game. However, those who know Bennett, and his background, would speculate he is now deploying the same creative, outside-the-box thinking that has rewarded him, and so many other enterprising Israelis, in the world of high technology.
By extension, the current global crisis can be seen as a problem to be solved. With no one else taking the initiative, Bennett is stepping into that void. It's a typical Israeli startup strategy – find an untapped niche and go all in before anyone else does. Yes, most startups fail but, as Bennett knows, those that succeed can be highly lucrative.
Israel is uniquely positioned to try its luck as one of the few countries with close ties to both the Russian and Ukrainian leaderships. Israel has large ex-pats communities from both countries that immigrated after the fall of the Soviet Union, and it is concerned about the well-being of the large Jewish communities that remain in both countries today – including Ukrainian President Volodymyr Zelensky himself.
Like the rest of the world, Israel hopes to end the bloodshed and suffering in Ukraine and the ensuing instability that has rocked global markets and psyches. But it also has one eye toward a potential looming nuclear deal with Iran that it strongly opposes. Russia's influence in neighboring Syria, where Israel needs Russian say-so to frequently target Iranian-allied militants, also complicates Israeli calculations on how strongly it can confront Putin.
Israel isn't a world power and it doesn't have the diplomatic tools that may be needed to resolve such a complex crisis. It's easy to envision Bennett being played by a master manipulator like Putin and this diplomatic high-wire act carries grave risks.
If Israel fails, as expected, it could end up on the so-called "wrong side of history" and be tainted by its association with Russia when the rest of the West has so uniformly condemned and sanctioned it. Already, there are concerns that Israel could be painted as the Russia to the Palestinians' Ukraine and that its intimate involvement could spark outbursts of antisemitism at the point of conflict and beyond.
But what if this unlikely mediation works?
For Bennett, the upside could be huge and would seem to surely exceed the risk. As the leader of an unwieldy coalition of eight disparate parties that has just a razor-thin parliamentary majority, in which his own tiny faction enjoys the loyalty of just six of Israel's 120 lawmakers, Bennett could already be living on borrowed political time.
He is slated to swap the premiership with Foreign Minister Yair Lapid in less than 18 months and with his faction cratering in the polls Bennett has no political base to speak of and no obvious path to return to power.
But this precarious standing comes with a silver lining: He owes nothing to no one.
None of his coalition partners appears likely to bolt for fear of a return to the rule of Benjamin Netanyahu. Their own political ambitions prevent Bennett from becoming a lame duck, even with the clock running out on his brief term in office. The result is that, ironically, Bennett is perhaps more liberated than any previous Israeli prime minister to follow his gut and take big swings. That includes trying to mediate an end to the most dangerous European conflict since World War II.
Success could resurrect Bennett's domestic political career. But even if it doesn't it would achieve something far more impressive – securing him a place in history as a stateman like no other Israeli leader.
Bennett mediating peace in Europe would be the greatest Israeli "exit" of all time.