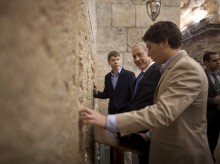 Israeli Prime Minister Benjamin Netanyahu, center, prays with his sons Yair, background, and Avner, right, at the Western Wall (AP Photo/Uriel Sinai, Pool)
JERUSALEM (AP) — Since becoming an adult, the eldest son of Israeli Prime Minister Benjamin Netanyahu has repeatedly drawn media criticism for what has been portrayed as a life of privilege at taxpayers' expense.
Yair Netanyahu, 26, has been described as someone who hobnobs with world leaders and enjoys a state-funded bodyguard, while living at the prime minister's official residence.
But his recent behavior, including a crude social media post, has now drawn public rebuke from the children of a former Israeli leader, along with threats of a libel suit. It has also revived criticism of the Netanyahu family's perceived hedonism and sense of entitlement, at a time when the prime minister faces multiple corruption allegations.
Israeli police on Thursday disclosed that Netanyahu is suspected of fraud, breach of trust and bribes in a pair of cases, just as his son was being pilloried in the press.
The younger Netanyahu hit the tabloids last weekend when a neighbor posted an account of how he refused to pick up after the Netanyahu family dog at a public park and then, when confronted, gave the neighbor the finger.
Yair Netanyahu then lashed out on Facebook at a website run by a liberal think tank that detailed what it said was his lavish lifestyle at taxpayers' expense.
In the post, Netanyahu alleged the site is funded by what he claimed are foreign interests, referring indirectly to the dovish New Israel Fund, which he renamed the "Israel Destruction Fund." He signed the post with emojis of a middle finger and a pile of excrement.
Avner Inbar, the chairman of the Molad organization that runs the site, said they had served the younger Netanyahu with a notice of intent to sue if he does not retract his comments. He said Molad stopped receiving money from the NIF last year and that the posts "had no iota of truth to them."
He also said their item on Yair Netanyahu was the most viral in their four years online and viewed by 1.25 million Israelis.
"It's probably because his antics have just irked so many Israelis," said Inbar. "It's not just that he lives off the taxpayers in an unprecedented fashion but that he thinks he belongs to the royal family and is therefore immune from criticism. He thinks he is above the people."
The New Israel Fund noted that Yair Netanyahu posted the comments on Tisha B'Av, the day Jews mourn the destruction of their biblical Temples, brought upon by internal divisions and hatred.
"On this day … it would be appropriate for the prime minister to educate his son to spread the love of Israel," the fund said in a statement.
But perhaps the harshest reactions came from some of the other targets of his post, in which he claimed the children of former Israeli leaders Shimon Peres, Ariel Sharon and Ehud Olmert did not come under such scrutiny.
It included an insinuation that one of Olmert's sons had an "interesting relationship with a Palestinian man" that affected national security.
Olmert's son Ariel fired back on Facebook, denying he was gay, dismissing the claims as a fabrication and accusing the younger Netanyahu of "racism and homophobia."
"I've ignored that until now, maybe because in my opinion there's nothing negative about being either gay or Palestinian," he wrote. "Your attempts to drag me into your twisted reality are doomed to fail."
Ariel Olmert added that he works for a living, never slept in the prime minister's residence and "on principle, try to pick up my dog's doody."
His older brother Shaul then chimed in, calling Yair Netanyahu a fascist thug.
Their sister Dana Olmert declined comment when contacted by The Associated Press.
The online exchanges highlighted Yair Netanyahu's pronounced presence of late around his father.
In May, he was on hand to welcome President Donald Trump and first lady Melania Trump at the official Netanyahu residence and was heard telling Mrs. Trump how he related to their youngest son Barron's struggle with the spotlight.
He has also reportedly taken a leading role in his father's social media platform.
Yair Netanyahu has also been questioned — though not as a suspect — about a corruption scandal in which his father was asked by police "under caution" about ties to executives in media, international business and Hollywood.
Benjamin Netanyahu and his wife, Sara, are said to have received more than $100,000 worth of cigars and liquor from Hollywood producer Arnon Milchan, who reportedly asked Netanyahu to press the U.S. secretary of state in a visa matter.
Australian billionaire James Packer has reportedly lavished Yair with gifts that included extended stays at luxury hotels in Tel Aviv, New York and Aspen, Colorado, as well as the use of his private jet and dozens of tickets for concerts by Packer's former fiancee, Mariah Carey.
Police are trying to determine whether these constitute bribes, since Packer is reportedly seeking Israeli residency status for tax purposes.
The prime minister has repeatedly denied any wrongdoing, portraying the accusations as a witch hunt against him and his family by a hostile media.
His office declined comment Thursday on the latest affair.
David Bitan, the coalition whip from Netanyahu's Likud party, said Netanyahu's son was not involved in policy and dismissed the chatter as kid's stuff on Facebook.
"He's a private person and that is how it should be treated," he told Israel's Army Radio.
Others disagreed.
Columnist Sima Kadmon wrote in a front-page piece in the Yediot Ahronot daily Thursday that the prime minister's plea to the media to leave his family alone had no merit once his son had written "one of the nastiest and most vile posts ever."