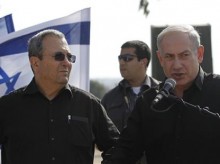 Israel's Prime Minister Benjamin, right, and Defense Minister Ehud Barak, left, speak to journalists .(AP Photo/ Tsafrir Abayov)
JERUSALEM—He's been Israel's prime minister, military chief, the country's most decorated soldier and, for the past five years, its defense minister and moderate face to the West.
Now Ehud Barak's long and distinguished career might be coming to an end. He is unpopular with the public, and polls predict his Independence Party will barely make it into parliament in the Jan. 22 election, if at all. Most commentators predict his days in politics are numbered, but others say it may be too early to count the wily general out.
"Barak is all alone now. He just has too many enemies," said political analyst Hanan Kristal. "So why is he running? Is that how he wants to end his career? The only explanation is that he is a fighter, and a fighter doesn't give up."
The 70-year-old Barak earned his reputation as a warrior through a military career that included commanding some of Israel's most daring hostage release operations and raids.
As commander of the elite Sayeret Matkal unit, Barak led the 1972 raid on a hijacked Sabena airliner on the ground in Israel with the commandos disguised as airline technicians. A photograph of Barak standing on the wing in white overalls as the freed hostages were disembarking has become part of Israeli lore.
The following year, he led a commando operation in Beirut, sneaking into the city disguised as a woman.
A war hero hailed as a brilliant military strategist, he was once seen as a worthy heir to his mentor, the assassinated Prime Minister Yitzhak Rabin. But in politics, Barak rose and fell quickly.
In 1999, just four years after retiring from the military, Barak became prime minister. Political allies and foes alike considered him aloof and imperious, resenting the go-it-alone style that served him in the military. His term lasted less than two years—the shortest ever for an elected Israeli premier—his government crumbling with the outbreak of a Palestinian uprising that followed an unsuccessful summit with the Palestinian leader and U.S. president.
He was crushed by hard-liner Ariel Sharon in a 2001 election, leaving behind a legacy of failed peacemaking with the Palestinians and Syria, despite unprecedented offers of sweeping territorial concessions, and a contentious decision to abruptly end Israel's 18-year military occupation of south Lebanon. The overnight unilateral withdrawal from southern Lebanon created a vacuum that was quickly filled by the anti-Israel Hezbollah guerrilla group.
Despite the dramatic collapse, Barak credited his wide-reaching offer to withdraw from nearly all of the West Bank and Gaza with exposing Palestinian leader Yasser Arafat's essential rejection of the peace offer—a view endorsed by President Bill Clinton.
Barak easily recaptured the leadership of Labor in 2007, replacing civilian Defense Minister Amir Peretz, who led a botched war in Lebanon the previous summer. But he remained personally unpopular and his party, which had led Israel to independence and governed it for its first three decades, had lost its public appeal.
After leading Labor to an all-time low of 13 of 120 parliamentary seats in the 2009 election, Barak enraged his dovish base by joining a coalition government led by Prime Minister Benjamin Netanyahu, who takes a hard line toward the Palestinians.
Israeli hard-liners didn't like him any better, accusing him of undercutting the West Bank settlement movement by withholding construction approvals, clearing squatters from West Bank homes and encouraging Netanyahu to support a now-expired, U.S.-initiated slowdown in settlement construction.
Barak eventually broke away from Labor to form his new party, Independence, with a few junior allies. The party never resonated with the public, but Barak himself retained his clout in the Netanyahu government, acting as the prime minister's point man to the United States. There, he was welcomed as a moderating influence on Netanyahu's hard line toward the Arab world and Iran's nuclear program.
Yet even that alliance—dating back to the 1970s, when Barak was Netanyahu's commander in the commando unit—seems to have suffered with reports that the two are at odds over whether to defer to the U.S. on any attack against Iranian nuclear facilities. Barak's detractors in Netanyahu's Likud Party want him replaced and have begun criticizing him openly.
Ahead of elections, Barak is trying to carve out his electoral place in the center, by staking out more dovish positions on Iran and separating religion and state.
This strategy does not seem to be working. A new poll published Monday in the Maariv daily predicted Barak's Independence Party would not receive enough votes to win even a single seat in parliament. The survey, conducted by the TNS/Teleseker agency, questioned 500 people and had a margin of error of 4.5 percentage points.
Similar polls in recent days had forecast Barak would win a maximum of three seats. Under Israel's system of proportional representation, the number of votes a party receives determines how many seats it controls in parliament.
Last week, Netanyahu announced plans for an alliance with a party led by his hard-line foreign minister, Avigdor Lieberman, creating a superbloc that appears positioned to coast to victory.
That partnership has fueled speculation that centrist and dovish parties may also join forces. But even that does not bode well for Barak, who has rocky relations with all the major candidates and whose party would likely lose its already small base of supporters to a larger bloc.
Leaders of that potential bloc, however, are new political faces generally considered not experienced enough for the top job.
Barak's party is hoping that his experience will be his salvation at a time when the region is churning with popular dissent, civil war and, perhaps, war with Iran. His party's election ads depict him gazing sternly above the slogan: "Ehud Barak—because we need a responsible adult here."
"There are many who have eulogized Ehud Barak, and most aren't in politics anymore," said Einat Wilf, a lawmaker in Barak's party. "He's the first who will tell you there are people who don't like him. But we don't have many leaders of his caliber, and people will consider that when they vote."
Barak, who did not respond to multiple interview requests, hopes to cling to the Defense Ministry whatever happens.
If he doesn't make it into parliament, he could still hang on to his job. Under Israeli law, Cabinet ministers besides the premier do not have to be elected lawmakers, and such appointments have been made in the past.
"With so few potential leaders in the ring, he can still fill a role," said Yossi Beilin, Barak's former justice minister. "Therefore it is no surprise that Barak is still a great hope."